Written by: Stan Gabruk owner of Master Baiter´s Sportfishing & Tackle
For the last three weeks now I've been surprised at the amount of Striped Marlin in the bay. As water temperatures rise we normally see Striped Marlin leaving the area. But when there is so much "Fast Food" why would you leave? Smaller Dorado are in the bay which is encouraging. For now we're focusing on the "water" conditions. We're in a "current" transition period where clashing currents can create dirty water and hair pulling frustration.
The real title of this article should be "On and Off Fishing". Which of course means one day you'll find plenty of fish, the next day, same place, nothing. This is what's happening at Corbetena as well. There are "some" Sailfish in the area, but they've been hard to temp and they're not taking baits. They're eating something, but not giving your "presentation" as Marlin Mag likes to call your bait, a look. Yellowfin Tuna are in the area, but they're small for even bait at 20 lbs. Striped Marlin are also in the area at 150 to 220 lb range. So there is some motivation to hit this famous Deep Sea Fishing location. Water is also that clear green. Colder currents can come in like this, green water is cold water. There are some areas of dirty water, coffee colored, but not much as yet. So lots of indicators springing up. Trying to figure out what is going to happen in the coming days is like reading tea leaves! Also, there was also word that there was a Blue Marlin at 150 lb released! So this is all encouraging for the coming weeks! El Banco has had some Sailfish and there are also reports of Blue Marlin in the area, but nobody seems to a picture of any, stay tuned.
The area around the Punta Mita point to El Morro is still on the quiet side, but there seems to be some life. We've seen some floating debris, obviously from storms up north which can have Dorado. For the most part the Dorado are in the 12 to 12 lb range. Find a log or debris and you'll find Dorado! Always throw the females back to insure a strong breeding population, please. Sailfish have been spotted north of San Pancho, that's a ten hour trip. Bonito are moving in but are in the bait size ranges. The up side is the enticement for larger fish to move into the area. For the most part there won't be much in this area you can't find in the bay. Shorter day means less to "pay". All and all unless you hear some exciting news, save your fuel money.
Which once again brings us back in to the bay and the bay is where it's at amigos. Jack Crevalls have found their way back into the bay, they were at the points and not very interested in what we had to offer. Dorado again are in the middle of the bay to Los Arcos and back again to La Cruz area. Now you shouldn't have big expectations of any sizeable Dorado for the moment. They're 15 lbs at their largest. This is all encouraging. We haven't seen Dorado this early in the season for many years now. Could be the result Mexicos new laws governing the shipment of Dorado out of the country without extensive permissions. Dorado can breed pretty quickly if left alone and the females are not taken! Stripers are all over the place and while on the smaller size of 50 to 120 lbs. They're still fun to catch and then release as these are babies, let them grow up amigos. Sierra Mackerels are still hanging around at 10 lbs and tasty. So we have some great fishing in the bay. When you can catch Stripers at this time of the year, in the bay, well… you can't complain about that.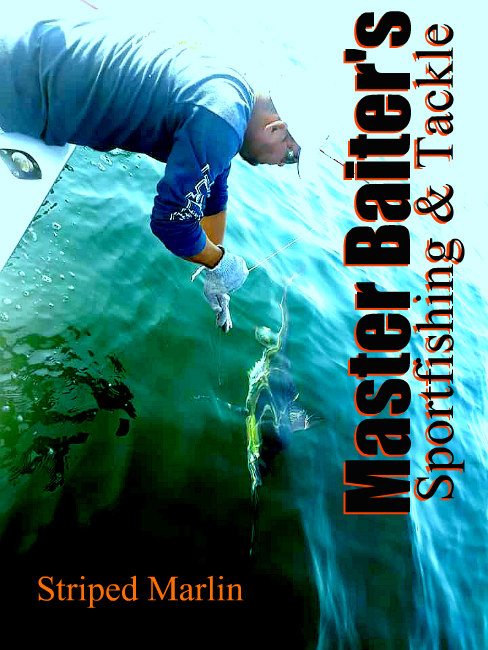 With water temperatures now between 80 / 81 degrees it looks like we're leading into the season nicely. Massive amounts of Flying fish in the 2 to 3 inch range are out there in the Billions! Then put baby Skip Jack Tuna the size of Goggle eyes (which are also out there in the bay) and you've got a real "fish attention getter". One thing to keep an eye on is the water itself. We're seeing the clean green, cooler water in the area. Normally that's an indicator of changing currents which of course will eventually means dirty water from stirred, not shaken ocean floor silt. For now the dirty water hasn't slowed the fishing down and nobody is avoiding it. So it must be pretty much a thin layer. The bite has moved to an earlier time in the morning now to about 08:00 a.m. This means you'll be getting up earlier as the tides and the Moon phase are finally looking like they'll be working together again. What does that mean, who knows?
The Tuna Report: Here's the deal when it comes to Yellowfin Tuna, they're 100 miles north to the Tuna Grounds, but they're still moving around. One thing about this area outside the Tres Maria islands is there aren't many boats here. It's wide open, so fish are where you find them. Long distance or multi-day trips will guarantee you get at least one Cow, but the reality is you'll get several. Larger Tuna in the 300 lb range in the coming weeks will become a regular thing. World Record YF Tuna are a possibility every time you hit this area, especially in the "warm water" months. This is the real Tuna Season, not Febuary and March.
Now many seem to question the Hurricane situation. I have to ask "what Hurricane Situation"? Many of the Southern California long range types will tell you that they leave because it's Hurricane Season and it's "Dangerous" to be out there. The reality is May is the beginning of the So. Cal fishing season, so they hit their home field. Well folks, that is just crap. Cruise ships, Sailing Groups and "Fisherman" are moving around this area freely. Private Yachts etc travel between Cabo and PV all the time. The only danger is not paying attention to the weather reports or not keeping up with swell conditions. There is nothing out there we can't run or hide from. The Tuna Grounds are almost equal distant from Mazatlán, Cabo or Puerto Vallarta. In fact I hear there are going to be running fishing operations targeting this area from Mazatlán shortly. So this is not a dangerous place to be fishing in summer. Get that notion out of your head and share this information with your friends.
We have a wonderful Yellowfin Tuna Experience fishing trip that is both luxury and cheap by comparison to these "long range, high density people Party Boats". In fact we're substantially cheaper and we have several boat options to choose from. So you want to save money on a world class operation that's less expensive than the stuffed long range guys on a luxury 60 ft. Sportfisher? Then if you didn't at least talk with us, you paid too much, much too much. Contact me, I'll show you a better way.
Until next week, Don´t forget to kiss Your Fish!
Tuna Season is upon us, Monster Yellowfin Tuna over 300 lbs is happening now! Our 60 ft. Hattteras Sportfisher was made for this exact type of fishing trip. We invite you to investigate your Yellowfin Fishing Charter / Company options. If "your" money and comfort is key, then we're the standard to be measured against. Mention this article and get a thousand dollars off! This is pure value!
Local Phone at: (044) 322 779 7571 or our international number is: 011 52 322 209 1128 10 to 9 local time. #MasterBaitersSportfishing on Instagram, Facebook, https://www.facebook.com/pages/Master-Baiters-Sportfishing-Tackle/88817121325
The trade name Master Baiter's ® Sportfishing and Tackle is protected under trade mark law and is the sole property of Stan Gabruk.