Maestro Limpio
Capt. Armando, the original Captain from the Maximus, the bloody decks boat heading to these fishing grounds and he made these trips famous. He is one of the most experienced and consistent "Tuna" Captains in Puerto Vallarta. Capt Armando has worked with Master Baiter's for many years and is a true professional!  Capt. Armando will also be on-board along with 1st Mate / Chef Armando our world famous first mate and Chef! The food is incredible and of course the company is fun and interesting. 
We invite you to compare your options, then share this information with your friends. If you compare this option to what is available on the local market you will agree this is your nicest, best and most affordably priced option in Puerto Vallarta, period!     
Maximum Capacity 6 People
2.5 Day Trip …. $9,800.00
3.5 Day Trip …. $12,025.00
4.5 Day Trip …. $14,400.00
This is an all inclusive Fishing Trip. Food, Drinks, Lodging, Fuel, Equipment, Tackle everything for this trip is included in the price. We need to know how many people will be on the boat so we can provision accordingly. 
Crew all speak English. 

50 % Deposit required at time of Reservation.

trips.
So you want to boat a Monster Yellowfin Tuna, well you're not alone! But you don't want to be stuck on a 55 ft boat with 10 or more guys for a 2.5 day trip? I don't blame you! In that case, We've got your Ride amigos. Our 60 ft Hatteras Sportfishing Yacht is Nicer and More comfortable in a luxurious setting for less $$$ per person than the "Sardine Can" Operations. Why would anyone get on a "Sardine Can" when they could have this, cheaper and with a famous crew? Best YF Tuna Fishing Value in all of Puerto Vallarta!
Maestro Limpio is designed for multi-day long distance trips such as this. We have an Eskimo 220 Ice maker that can make pellet ice up to 2,500 lbs per day. So your catch will stay fresh. We also have a Agua Whisper water maker capable of making 1,200 gal. / Day! We never mix dock water in our storage tanks so this is purified water safe to consume! As far as freezer space goes we can freeze over 1,200 lbs of fish filets easily. Live Bait capacity is between 250 and 300 Squid and Cabbies.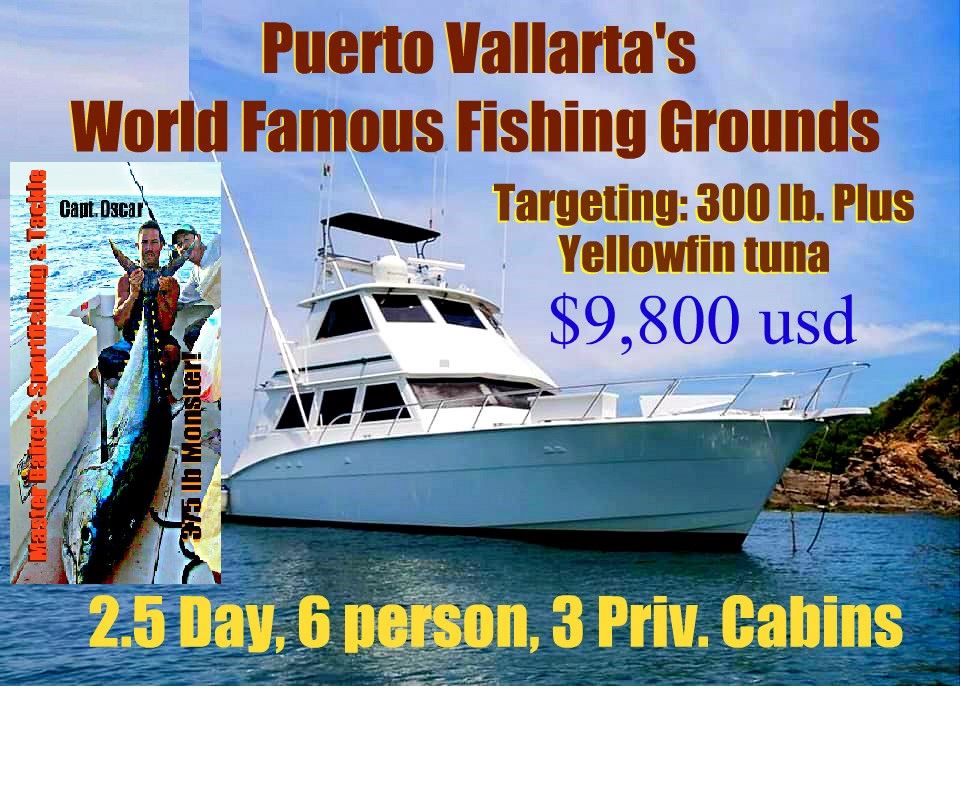 We do not provide unlimited booze. Drunk or in appropriate behavior will result in the cancellation of the trip with no refund

. Enough said.

There are no rain cancellations. Weather can always be an issue and if there are weather issue we can reschedule or delay trips. This is a seldom occurrence but our clients safety and our own is of paramount importance.  
If you would like to make a booking or have an enquiry please leave your details and we will get back to you ASAP.
---
By submitting this form, you are consenting to receive marketing emails from: . You can revoke your consent to receive emails at any time by using the SafeUnsubscribe® link, found at the bottom of every email.
Emails are serviced by Constant Contact