Signs of Improvement, Sailfish Taking Bait, Bay Marlin                             Written by: Stan Gabruk owner of Master Baiter´s Sportfishing & Tackle
All andall things have not changed much from last week. We still have perfect conditions, perfect water temperatures and more than enough bait. The water is blue, the seas are fairly smooth and frankly the only thing that that could make it all perfect are the seasonal Gamefish we´re still waiting to see. But there are signs of change, Sailfish are taking bait, Dorado are still small, but increasing in numbers and while there is a too much bait in the water, they have a chink in their fish armor. While still held for fish, we´re optimistic and we should see some positive changes by next week, I think, but then again, I´ve been wrong before, just ask my ex-wife.
Those heading out fishing this past week were under whelmed to say the least. Hard work and an experienced crew would insure you came in with at least some fish. The last few days have seen some strange, in my mind anyway, things. Sailfish have started taking baits, why? Who knows and who cares as long as it continues to pick up we´ll just be happy. If you´re in the area off the Marietta / El Morro Islands about ten miles the Sailfish have been taking dead baits (goggle eyes, Skippies). Also lures of pink and blue or petrelaros (brown and orange) in six inch lengths are working well, actually better than live bait. Near the islands Needle fish, Snappers, Bonito in the 35 lb range are also taking baits. Dorado are small, very small and they´re throw backs, just remember to throw them back no matter what your captain says. Plenty of bait, but when dead bait works better, then kill some bait in the live well….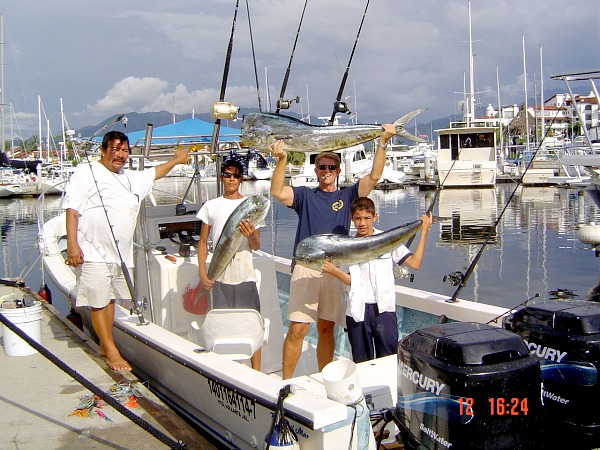 Corbeteña and El Banco is less than exciting. Snappers in the 35 lb range, Smaller Dorado, Sailfish are the saving grace, but why go the distance when the Marietta Islands are ¨cooking¨. My prediction is there will soon be larger Marlin at the deep water locations and we have some positive signs that are indicators, more on this later. All and all no real reasons to head to El Banco and Corbeteña, but again, this can change in a heartbeat.
Up near Punta Mita at the Anclote reef area, Jack Crevalls have taken over and are running in the 35 to 45 lb ranges. A winter species this is surprising to find them in the local summer time waters. But nature is confusing and those in the area will have some arm burning action you can rely on. These Jack Crevall have been in this area for the last two weeks and I see no reason for these things to change in the near future. Small Dorado are here as well just like everywhere else. Sailfish are in the area and will most likely now take your trolled baits.
Inside the bay the trash line is still working its magic. Near Yelapa at the south end of the bay there are schools of Skip Jack Tuna, Bonito and assorted other smaller fish. For the short time or short day angler this is a great option. Affordable, and fast, a super panga is made for this sort of day. Early departures mean early returns which of course means your spouse can join you and still have time to soak up some sun and shop. One strange thing that happened just the other day was a commercial fisherman was pulling in some Skip Jack Tuna and hooked into a good sized Blue Marlin. This shocked the day-lights out of these fisherman and ultimately were not geared to keep the Marlin, but the simple fact a Marlin came into the bay and took bait on a hand line is encouraging.
Me, along with all the salty Captains and Crew members are expecting to see large Gamefish show up any day. Normally by the second to third week of July we´ll see the larger species like Yellowfin Tuna, Blue and Black Marlin along with Dorado move in gradually. So don´t be discouraged, everything is happening on time. So save those fuel dollars and spend them wisely, which of course means to go for short days or hold off and wait for Tuna.
So there you go, the fishing is not as good as we would like, but this is not surprising since it´s still early in the Fishing Season. With the perfect water, sea and bait conditions it´s only a matter of time before the inevitable happens. So hang in there and be ready to act. Before this week ends I am sure we´ll see fish move in and then we´ll be off to a spectacular Fishing High Season. If you head out for eight hours or more you´ve got a better than 60 /40 chance of boating Sailfish, Dorado, Needle fish and Snappers. Not bad and eight hour fishing days are about the limit for most good wives. Smaller fish are in the bay, short days and with the Trash Line, you´ve got action on the cheap. The bite is starting to move earlier, so later departures are not helpful for now.
One thing to remember at this time of the year is as the rain washes down the organic materials, it also washes down Stumps, Furniture, Refrigerators and I´ve even seen a dead horse floating in the bay.
These of course are the larger items, but the smaller items under the surface of the water. A boat traveling at a fair speed will find these obstacles with a prop, support or shaft. Pre-dawn departures are going to be a slow go until the sun comes up to do the best to avoid damaging the boat. Important to the clients the following day and of course the boat owner and crews. So keep this in mind, leaving before the sun comes up, doesn´t mean you´ll be at the fishing grounds any earlier than leaving in the sun-up morning hours. If you are not a local or a professional, then heed this warning amigo, even private boats will find the expense of a broken shaft is not preferable to a slower and safer speed. Even with the sun up, it´s best for non-locals to remember this fact when they return as well. The bay if full of stuff that will hurt the boat and your wallet. So be safe and use this knowledge wisely….
Until next time don't forget to kiss your fish and remember at Master Baiter's Sportfishing & Tackle " We Won't Jerk You Around"!
Master Baiter´s has changed locations in Marina Vallarta between docks A and B on the boardwalk. Email your Questions to me at: CatchFish@MasterBaiters.com.mx  Web page:  www.MasterBaiters.com.mx , Local Phone at: (044) 322 779 75 71 or if roaming: 011 52 1 322 779 75 71 cell phone direct Facebook: http://www.facebook.com/pages/Master-Baiters-Sportfishing-Tackle/88817121325 The trade name Master Baiter's ® Sportfishing and Tackle is protected under trade mark law and is the sole property of Stan Gabruk.