Welcome back to another exciting week of world class fishing in Puerto Vallarta. After years of writing about fishing and the conditions, I've learned that nothing is predictable when it comes to the oceans. Last week we were talking about the dropping water temperatures and the "clean green" water that wouldn't go away. This lasted for two weeks and it's an indication of changing seasons with changing currents. While people were catching fish in these clean green conditions, fish don't cotton to it. Things have changed now and conditions are more favorable. Blue water has finally replaced the green water. Water temperatures are up, Krill is down a bit and more bait is moving in. This puts Puerto Vallarta fishing in a favorable position and these conditions should last past New Years. Thankfully we have warming water temperatures, Blue Water, Dorado and a host of world class action! Fishing is still in a transition period, but the good news is these recent changes are for the positive. YeHa!
Again, after the last two weeks of green water, I thought the summer fishing season was over. Then the water started changing, now it's mostly blue water at the deep water fishing grounds. Along with the blue water came warmer water temperatures. When the water changes from 74 to 81 degrees, that's a drastic increase in a time when the water temperatures should be going in the other direction. Now you may think with warmer water, Marlin and Sailfish numbers would increase and you'd be wrong amigo. In fact what happened is Jack Crevalles in the 50 lb range in massive numbers have pretty much taken over Corbetena. If you're out there circling the rock, then you'll have great action, but they'll all be Jack Crevalles. And you can get Jack Crevalles in the bay. Sailfish and Marlin have moved north a bit, but are still roaming the area, barely. The main action north of Corbetena is Dorado and lots of them. Dorado are running from 10 to 35lbs with many larger bulls. There is plenty of bait all over the place, half inch Sardines have basically replaced the Krill and of course smaller species like Skip Jack Tuna are chowing down on them. I expect things will change pretty quickly with the blue water, but for now Corbetena may not be the location you want to head to. Unless you want Dorado, then Corbetena is the place to be. Stay tuned…
Right now your best bang for your fishing dollar most likely is the area from El Morro to Punta Mita. With blue water moving in to this area also, fishing conditions are improving. Right now Amber Jacks of good size and Rooster fish at 30lbs plus are waiting for you to show up! What also we've seen is a return to Sailfish and Dorado concentrated from 2 to 7 miles off the point. You'll find Sailfish, Dorado, Skip Jack Tuna, Bonito and even Rooster fish. Striped Marlin and Blue Marlin are also in the area, but if you're fishing off the point, there seems to be a "dead" area from the 7 mile mark to about 12 miles out. At that point the fishing improves with Sailfish, Striped Marlin and possible Blue Marlin. Even with blue water, the area between 7 to 12 miles is "slow" at best for now. One interesting this, Rooster fish in the 35 lb plus range have reappeared off Carreyes beach! Not much info except I'm getting some reports of nice sized Rooster fish. Remembering things can change before you read this, be sure to check the recent reports before heading out.
Inside the bay, the fishing is incredible. Also this week, the Whales have returned. Last week the Whales were all over Punta Mita, so the Krill was thick in the bay, which means all the smaller species were stuffed with Whale food. This week, the krill is thin since the Whales have returned. It takes a little longer for blue water to find its way into the bay, but now that it has the Dorado are nice sized in the Los Arcos area to Yelapa. You may want to pay special attention to the area around Garza Blanca hotel or Punta Negra with their sandy beaches and structure with the possible Rooster fish. Jack Crevalles are all over the bay starting at 30 lbs, plentiful Skip Jack tuna only get to around 8 lbs, but they're still Tuna and taste great! I eat them all the time personally. Sierra Mackerels are small but taste great and are fun on light tackle or for younglings who you wouldn't want to hook into "Moby dick". I suggest a six hour trip to get you to the southern end of the bay where the action is best. If near Nuevo Nayarit the Jacks have been taking baits and are in decent numbers. So there is plenty of action in the bay for those looking for smaller gamefish.
It's nice to see the green water move out and now that we have blue water once again the fishing has the potential to improve. With rising water temperatures the summer species should hang around a little longer. The bite has gotten a little weird. The morning bite which is happening around 09:00 is a touch weak this past week. The late bite around 2 p.m. is a bit stronger. With the bites being 9 and 2, with an eight hour trip you can catch both bites and increase your "fun factor". Water temperatures increased to 81 degrees and we have plenty of fish in the area. When it comes to bait, Depending on where you are, if you're 2 to 5 miles off the point of Punta Nayarit lures and dead bait are working well. Once past the 5 mile mark, you have to change your bait strategy to only live bait. Use this info wisely….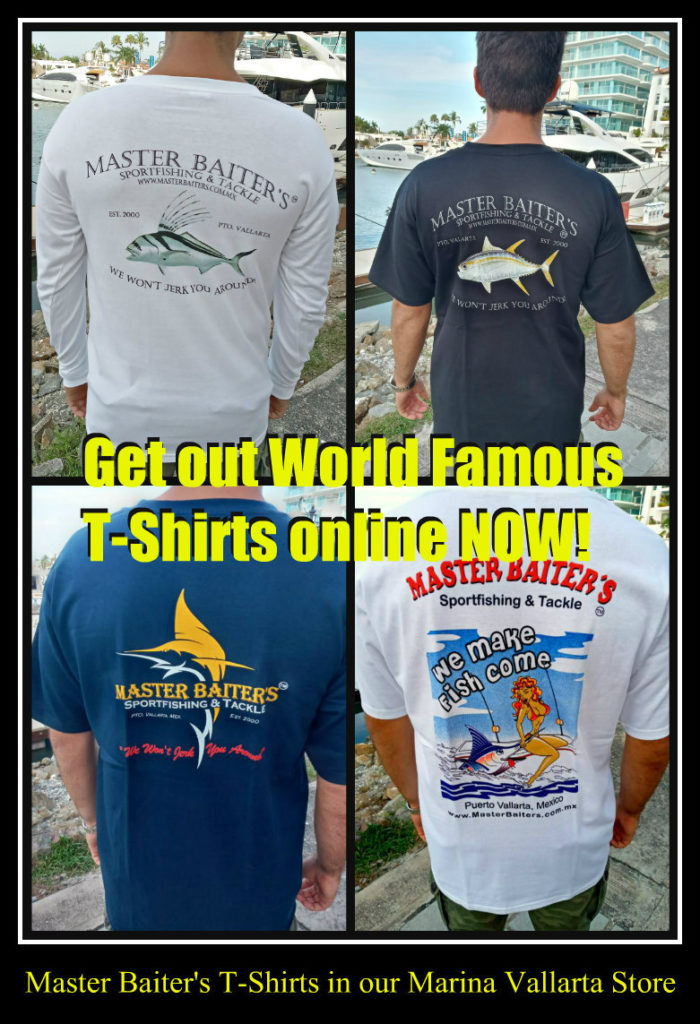 Thanks for your continued support and until next week, don't forget to kiss your fish!
Web page: www.MasterBaiters.com.mx , Local Phone at: Our international number is: +52 322 209 1128. #MasterBaitersSportfishing on Instagram, Facebook: Master Baiter's Sportfishing & Tackle. The trade mark Master Baiter's ® Sportfishing and Tackle is protected under trade mark law and is the sole property of Stan Gabruk.