It was amazing, last week, what was looking so promising for the rest of "high season" for fishing, has now changed with the early indicators of early winter currents. Suddenly the drop in water temperatures dropped from 84 degrees to 79 degrees in a matter of a few days with early winter currents are going take it's toll. We're also seeing the winter currents stirring up the sediment on the ocean floors in some areas. When we get these winter currents, Krill or Whale food show move in as expected at this time of the year. The annual challenge of competing with local baits versus the baits you're running is nothing new. It happens yearkly and the local Captains know how to deal with this. Having Said that, Blue Marlin are picking up in numbers and size. Dorado are still thick at Corbetena, Sailfish are spread out, with concentrations from Punta Mita aka Punta Nayarit to Corbetena and El Morro. Fishing is always the process of dealing with daily challenges, nothing new there. Normally they come about a month later in the season. Are you up for the challenge?
We had our yearly Marlin Tournament sponsored by the Club De Pesca and it was another local "happening". You always know what will be targeted, but you never know how big they'll be. Well this year the tournament had a decent sized Marlin win. Those targeting marlin were heading to Corbetena, not El Banco! All the real action when it comes to our larger world class species is happening at Corbetena and the "Ridge" which is located about half way between the rock and the high spots. I predict we'll see trickle changes, this means little by little we'll see warmer water species drifting out of the area. Now when we have the amount of bait we're famous for, these "fish" will hang out until there's a real reason to follow the currents. Enter Krill, the teeny tiny squids Whales love. The funny thing is all the smaller species will be stuffing themselves on Krill. These smaller species will then be fed on by Marlin, Sailfish etc. So we'll have decent fishing for a while yet, but we need to change our thinking and use what's working. Dead bait with Orange skirts or Pink skirts, Krill colors, are working well for now. Any other color will be ignored, so keep this to yourself and catch fish! Marlin are running anywhere from 150 to 600 lbs. Sailfish are nice sized and spread out. Dorado are thick and taking baits, even though they're stuffed with Krill, imagine that. Capt Manny boated a Yellowfin Tuna just under 200 lbs to win the Tuna Category in the tournament for the "Mad town Anglers" team. So there are still big fish out there, but you'll never know until you're out there. The last word is the Mahi are abundant. For every three strikes, you'll get a Dorado hook up. It's the fun to frustration factor. The females are in the 15 to 30 lb range. The bull Dorado can be over 40 lbs, feeling lucky?
Once you get on the back side of El Morro to Corbetena and back to Punta Mita, this whole area is Sailfish "Landia". That's a spread out area, so expect to use some fuel if targeting Sailfish. Dorado are also in the area, but they're inching down in size. If you're off the Point of Punta Nayarit, Marlin and Sailfish have been boated at the two mile mark off shore! This isn't too unusual, it's been happening more than we think possible. The bad news is there is some brown, dirty water close to shore. About seven miles out you'll find "light blue" water. Not the deep blue we get, but blue is blue and fishing is on par. You'll also find nice sized Jack Crevalles in the 35 lb range and the possibility of Rooster fish in the shoreline of sandy beaches.
Inside the bay, the fishing has been pretty solid. Sierra Mackerels have returned in mass. Early morning bite at the marina buoy guarantees many Mackerels in the 10 lb range. Guaranteed table fare, don't blow them off, Sierra Mackerels taste great and with light tackle can be a gas to catch. Jack Crevalles from 20 to 40 lbs are taking over the north end of the bay from Nuevo Vallarta to Punta Mita. Dorado are still around the middle of the bay to Yelapa with Los Arcos being a "hot spot". As mentioned, Dorado are inching down in size and yes, in the bay they're chowing down on Krill as well. So run dead bait with orange nose skirts or pink. Start there and use lures of this color, including poppers. There are some areas with dirty water from the swirling winter currents, not a real issue as yet.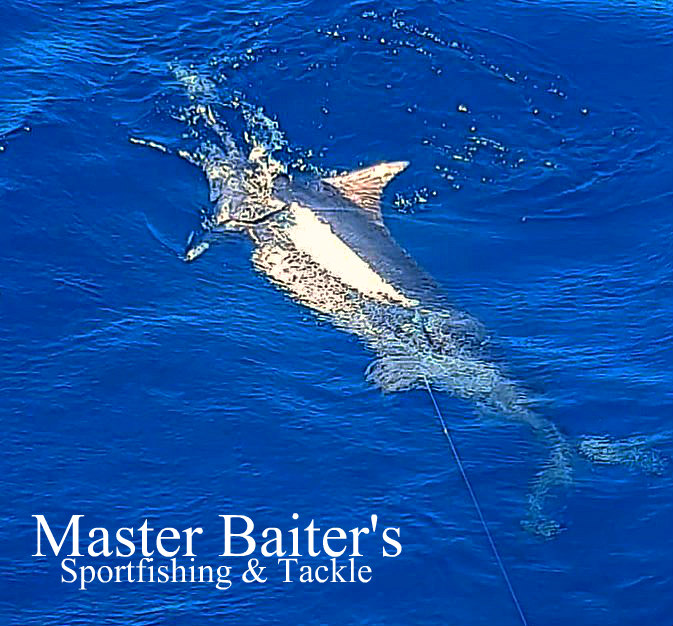 Don't let the "glass half empty" comments keep you from going fishing, Being a little "fish jaded" comes from expectations of perfection, it's what we're used to at this time of the year. The fishing is great, the captains know what to do and where to go. For now the bite is still happening at 09:00 and it doesn't hurt to be at your chosen fishing grounds a touch early. I suggest leaving the dock about 06:00. So hit the sack early amigos or you can follow my lead and don't go to bed at all. I love Redbull in the morning! Keep your eye on the water temperatures, this will be our leading indicator as we move deeper into the month. FYI, with the holiday season upon us, if you're coming to PV and planning on fishing, make sure you reserve before you get to PV or you may find you're taking the "left overs" when it comes to charter boats available.
As always, thanks for your continued support and until next week, don't forget to kiss your fish!
Web page: www.MasterBaiters.com.mx , Local Phone at: Our international number is: +52 322 209 1128. #MasterBaitersSportfishing on Instagram, Facebook: Master Baiter's Sportfishing & Tackle. The trade mark Master Baiter's ® Sportfishing and Tackle is protected under trade mark law and is the sole property of Stan Gabruk.