You know I've been writing these articles now for something like twenty years. In that time, writing and paying attention to conditions, you begin to learn and see what happens with the seasonal changes. That means how currents work, water temperatures change, the results of these types of natural ocean movements and the things that just don't "fit" in the scenario. So it's not surprising to me when the seasonal changes comes and frankly we've been waiting for it. But it's a La Nina year, which throws a wrench into everything you'd expect, especially water temperatures. Then we come into March. March is a "transition" month, we start to see changing currents, changing species, dirty water and crazy amounts of bait. Being a La Nina year, these expectations get a little squirrely. One thing that normally happens is Dorado move into the area normally the second week of February. They're here for a few weeks and then they're gone. But this year with all the Krill (aka Whale food) and frankly weird water conditions, they never left! In fact Striped Marlin and Sailfish along with the Dorado decided to lounge around in fish paradise. But things are changing, how this all fits in with the La Nina situation remains to be seen. For now species like Striped Marlin, Sailfish and Dorado that shouldn't be here, still are. And for now, it looks like these warm water species will continue to enjoy the perfect environment the entire area of the Bay of Banderas offers to the "fish kingdom".
So here we go again, with all the action happening in other areas, there really isn't any reason to visit Corbetena, one of the most popular fishing grounds on the entire west coast of Mexico. Things will change soon enough, but for now the predictable action is elsewhere. Enough Said.
So where is the action? Well for those looking for Billfish or Dorado, then you have to head to the point of Punta Nayarit (aka Punta Mita until a few months ago). The water in this area isn't exactly blue, in fact it's the "clean green" water we've been seeing now for months. Normally the clean green is cooler and not the place our normal summer species like to hangout in. But the Krill Factor is a force of nature. Massive amount of Krill, the favorite food of whales and their babies, every species is just chowing down on them. With varying sizes, even the bait fish are stuffing themselves full of Krill. Having said this it's surprising we still have Striped Marlin in the smaller sizes of under 100 lbs, so release the babies. Sailfish are of decent size, Rooster Fish are around the Reefs in Sayulita and possibly off the point of Punta Nayarit. Dorado of 20 lbs and up are on and off, Capt. Cesar of Magnifico called them "Kinky". Throw in Jack Crevalles to 45 lbs, Bonito to 25 lbs, Sierra Mackerels and you've got a fund day on the water. Straight up, you have a 40% chance at boating a Billfish, but a ten hour day will insure action and memories for a lifetime. El Morro has been pretty much ignored as well, Sailfish and Roosters could be on the back side. Feeling lucky?
As we move into the bay, the swirling currents in the bay has changed the clean green water into a coffee colored mess. We get this yearly, but normally it's throughout the entire bay, not focused in spotty areas. So there are large areas in the middle of the bay as well. This will probably continue into next week so don't be surprised. For now the south end of the bay is where the action is. We're still seeing smaller action fishing with Bonito at 20 lbs, Sierra Mackerels at 12 lbs and fat. Possible Dorado at Punta Negra or in front of Garza Blanca hotel. If fishing off the beach anything is possible including Rooster fish. Jack Crevalles are throughout the bay, but seem to be focused more in the south end. Water temps in the bay have dropped to 72 degrees so the grouper fishing could improve as it's been "hit and miss" with raising then falling water temperatures, stay tuned. Six hours in the bay for family or action fishing is worth the time and money. You'll also see Whales for a little longer, a perk!
Water temperatures in the bay have dropped to 72 degrees. With the swirling water and currents for now it's hard to predict the near term. For now the area around Punta Mita is your best bang for your fishing dollar. I'd suggest ten hours, but eight is working. The bite has changed and those hitting the fishing grounds too early will be left waiting for the action to begin burning fuel and time. So leave the dock a little later and hit the bite right. When it comes to bait, it's massive. Flying fish or 6 inches, Sardines at 4 inches, Green Mackerels at 6 inches is the big bait dominators. Massive amounts of five inch Green Mackerels are every species gettting close to these bait balls are enjoying the "new fast food". FYI: Need Box lunches or breakfast delivered in the morning? Or how about freezing and storing your catch? We can help, call for details.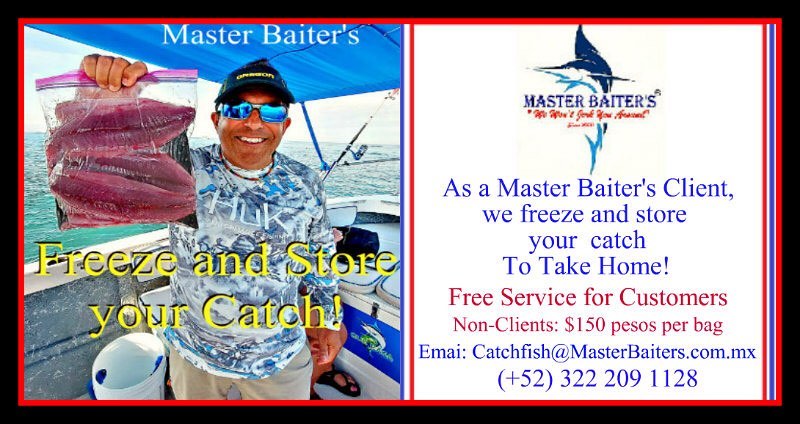 Thanks for your continued support and until next week, don't forget to kiss your fish!
Web page:  www.MasterBaiters.com.mx , Local Phone at: Our international number is: +52 322 209 1128. #MasterBaitersSportfishing on Instagram, Facebook: Master Baiter's Sportfishing & Tackle.
The trade mark Master Baiter's ® Sportfishing and Tackle is protected under trade mark law and is the sole property of Stan Gabruk.