Written by Stan Gabruk     
Every year during Tourism high season, we have millions of visitors. Those interested in fishing and watching my videos and written fishing reports understand fishing has seasons. Yes tourism has a season as well with perfect weather. But Tourism High Season is not Fishing High Season. Those interested in Fishing in Puerto Vallarta will find plenty of action. But they won't be targeting Marlin and Yellowfin Tuna. Freak Dorado are still in the bay, but it's way past their season. For now the fishing is  great in Puerto Vallarta as long as your expectations are in line with the season and the species available.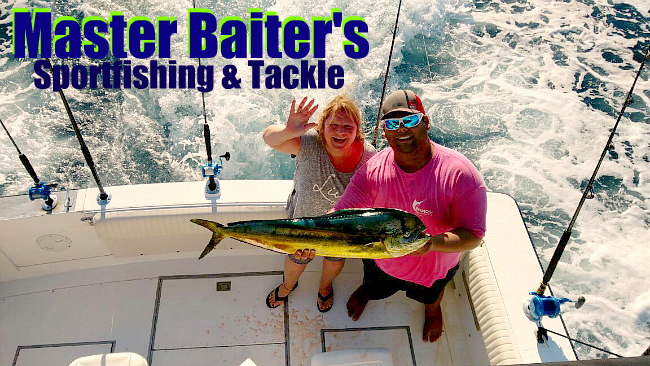 Straight up, we're in a transition period. That means summer species are moving out slowly and the winter species are picking up in numbers. With continued dropping water temperatures it's time to "transition" your thinking as well. Yes we are still seeing freak Dorado, Sailfish and Striped Marlin. But that doesn't mean they're taking bait. The biggest reason species like these are hanging around is because of the super abundant bait in the water. I mean it's insane, you can come across a section of water in the bay, about a kilometer, where the water is red. You might it's red tide, but in reality it's Krill Shrimps and Squids about the size of your thumb nail. There is an old saying "Elephants eat peanuts too". If that's not enough, there are massive amounts of Shrimp in the 3 inch range. The same stuff we're paying big bucks for! Challenge on top of challenge is what we're dealing with. Pile on Flying fish, Goggle Eyes, Sardines, and more, only the best and most experienced captains know what to do. The point I'm trying to get across here is the fish are out there, it's up to us to figure out how to convert this into "catching". An experienced captain will know what to do and where to go.
Right now we have basically two fishing options. You can target billfish and Dorado or you can fish in the bay with plenty of arm burning action. Or troll all day for the one shot you could possibly boat a billfish like a Sailfish or Striped Marlin. Of course we're talking about the area from El Morro to Punta Mita. With Punta Mita being the best area for fishing if you "know what to do". With the "bubble" continuing, warm water is the biggest draw for fish these days. But you'd think the entire area was fertile ground for fishing, you'd be wrong. At Punta mita, anywhere from 3 miles to 30 miles of the point, anything is possible. I had at least eight boats hit this area last week targeting Striped Marlin, Sailfish and Dorado. Baits were "smashed", which means fish went to the bait, then ignored it. If that doesn't drive you crazy, nothing will. But here's the secret, stay closer to short. 3 to 6 miles offshore is the best area right now to drop baits. More than 6 miles your chances of catching billfish drops dramatically. Don't ask me why, it's just the way it is right now.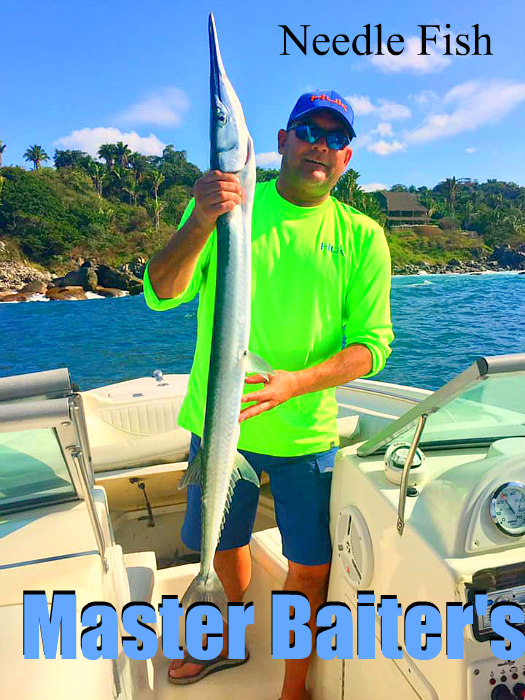 Right now your best bang for your fishing dollar is six hours in the bay. Bonito averaging 20 lbs, Jack Crevalles to 50 lbs, Sierra Mackerals are the equivalent of Ocean Trout, plentiful but no larger than 10 lbs. We're still seeing the occasional Dorado, but with thirty boats heading out, maybe 2 Dorado boated. Which means they're out there, but it probably won't be you catching it! A couple of tricks you might want to try is using a downrigger, which seems to be working. The other is use light leader. Many of these guys, local Captains use heavy fluorocarbon leader of 80 to 125 lbs. When fishing for smaller gamefish, it's like connecting a minnow to T.V. Cable! Drop your leader to 40 or 50 lbs and you'll have better results. Keep these secrets to yourself.
Don't forget to check out my weekly Video Fishing Reports on YouTube, they're very popular! Also if you're looking for tours, Airport transfers and somebody to freeze your catch, call us, we'll fix you up.
Until next week, don't forget to kiss your fish!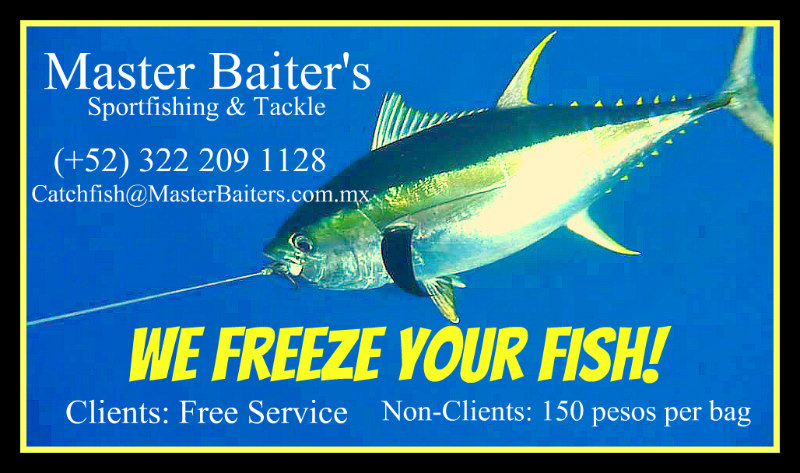 Web page: www.MasterBaiters.com.mx , Local Phone at: Our international number is: +52 322 209 1128. #MasterBaitersSportfishing on Instagram, Facebook: Master Baiter's Sportfishing & Tackle. The trade mark Master Baiter's ® Sportfishing and Tackle is protected under trade mark law and is the sole property of Stan Gabruk.