Written by Stan Gabruk, owner of Master Baiter's Sportfishing & Tackle
"Things" this week are really mixed up. When you stop and think about fishing, we all naturally assume water temperatures are pretty much the same at all our fishing grounds. But when you're fishing in Puerto Vallarta you know fishing logic many times doesn't apply. Right now as cold water is moving in daily, there are still some "hot spots" where you'll find Marlin and Sailfish. Then again inside the bay the water temperatures are still dropping as expected. La Nina threw a monkey wrench into this year's fishing schedule. As a result you can find your favorite summer species and winter species at the same time. It's the one time of the year you can do that but only for a short time, now would be that time!
This week let's start at El Banco, not exactly the fishing grounds they used to be, this week was a little different. Capt Nacho was there and boated nine 25 lb or larger Dorado! But Sailfish and Striped Marlin are also in the area. Surprising actually, seems water temperatures at the high spots are 70 degrees! Corbetena is also showing signs of life that are surprising. Blue Marlin at 250 lbs are picking up in numbers strangely enough. Sailfish and Striped Marlin are also running with them. Dorado have been boated as well in the 20 to 30 lb range. Yellowfin Tuna from 40 to 120 lb possible as well. Throw in Bonito, Cubera Snappers and you'll catch something. The down side, it's work, they're all spread out and using fuel is a no brainer. Worth a ten hour trip if you have a high pain threshold.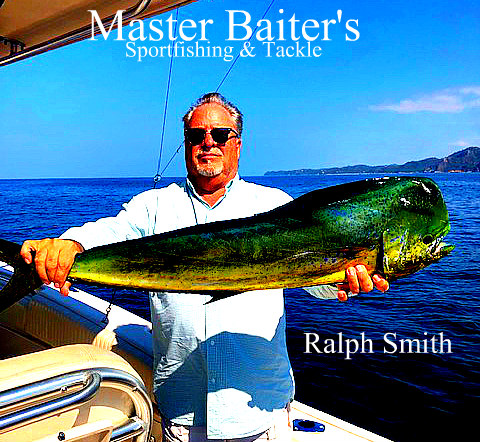 El Morro to Punta Mita is still a little "slow". Basically think "cold water fishing" and you'll be in the right state of mind. Cubera Snappers, Amberjacks, Bonito, Pompano are there waiting for you to show up. Throw in roaming Sailfish and Striped Marlin and you've got all the justification you need to get on the water. Strangely there are also some Dorado here as well for the lucky or extremely skilled fisherman. Find something floating or debris and you'll find Dorado! Feeling lucky?
Inside the bay it's much the same. Water temps in the bay are much cooler than Corbetena. This means is almost strictly winter species fishing. We're talking Jack Crevalles, Bonito, Sierra Mackerels, and possible freak Dorado around Los Arcos. The mind blower this week was the 150 lb Blue Marlin for the luckiest person in the world! Most of the action in the bay will be smaller fish, with possible incredible "accidents" like Dorado or Marlin. Remember whales are an extra perk, but you also need to remember fish mostly aren't around whales as they may be "breakfast"!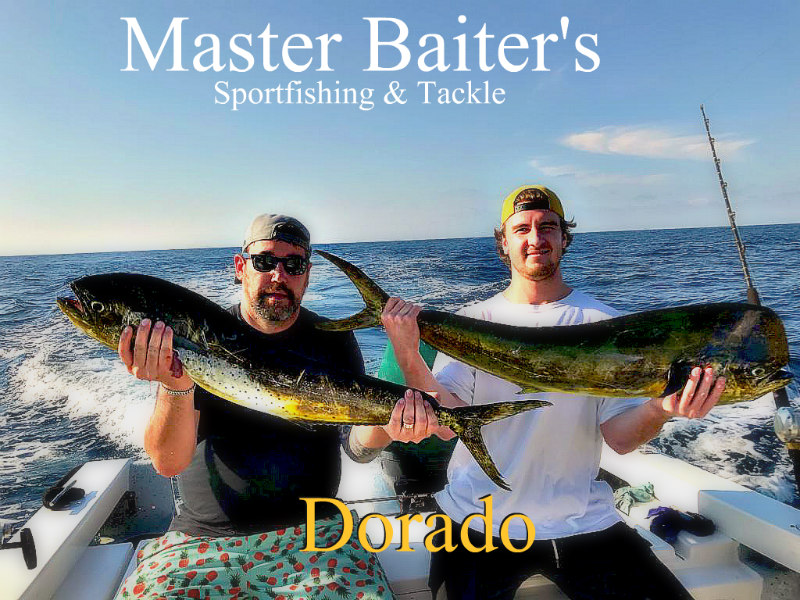 You can see from this report the conditions are fluctuating with Blue water and mixed up water temperatures. You can still pretty much target your "fish", but it will be work. Bait is increasing to insane levels with Krill squids, Sardines, Goggle eyes and more all over the area. This makes the whole process a little tougher naturally. Water temps in the bay are a cool 77 degrees and dropping as Corbetena and El Banco are at 80 degrees or more. With an early bite, you have to get on the water early. These mixed conditions will continue for a while, but the early cold snap is due to La Nina so everything is mixed up for now.
We're sharing boats again, a great option for those on a budget looking for larger species. We also freeze and store your fish if you want to bring some home. You can bring up to fifty pounds in your luggage. And of course we can get you where you want to go with our Airport transfers and private tours with Carla! Not to mention the normal and private tours Carla handles as well. So we have you covered for most anything you want to do amigos, give us a call!
Until next week, don't forget to kiss your fish!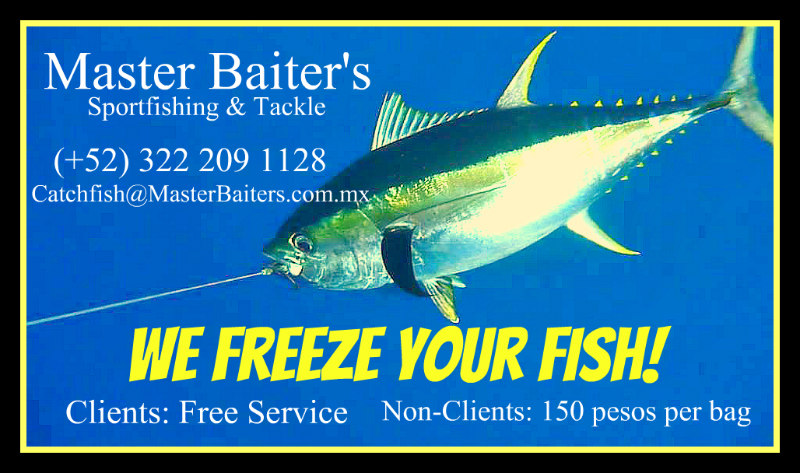 Web page: www.MasterBaiters.com.mx , Local Phone at: Our international number is: +52 322 209 1128. #MasterBaitersSportfishing on Instagram, Facebook: Master Baiter's Sportfishing & Tackle. The trade mark Master Baiter's ® Sportfishing and Tackle is protected under trade mark law and is the sole property of Stan Gabruk.