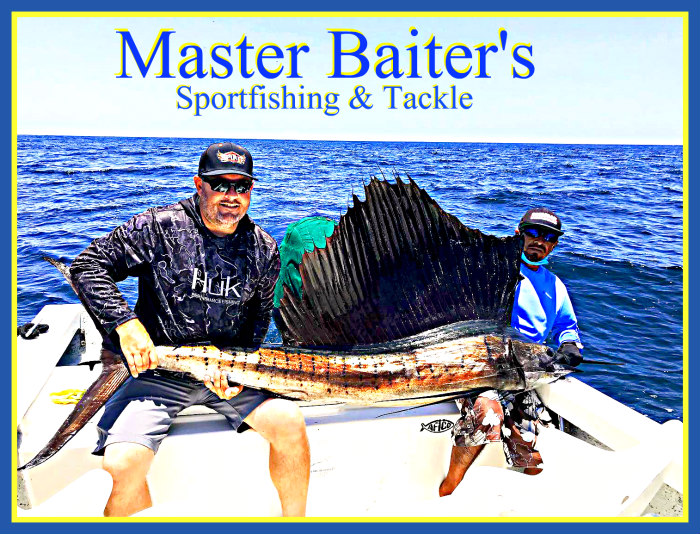 Now that we're moving, finally, out of the winter seasonal transition period, things are picking up. As normal the "first" of the summer species start moving in and those are always Striped Marlin and Sailfish. And right now, that's where we're moving into now. Is it perfect for the jaded? Of course not. Is it a positive sign of things to come, of course it is. Last week we were feeling positive as Sailfish started to pick up in numbers. All that dirty water and red tide has faded away for the most part. The water is warmer every day, more bait for the moment doesn't seem to be an issue. And the fish are close in for the most part. For now I couldn't be more positive, but things change quickly and this could all be "less" exciting in a few days. What does this all mean, well if you're in the mood to have crowd free fishing, then now is the perfect time to boat that Bucket list Sailfish or Striped Marlin. You may even run into some Dorado out there, anything is possible. Feeling lucky?
Flat out, if you're focusing on Corbetena and El Banco, then you need to change your gaze to other fishing grounds for the moment. What was promising last week, isn't happening now. Yes you'll catch fish at both these fishing grounds, but they'll be species you can get much closer in and save some money. If you want to target Jack Crevalles, Bonito and Sierra Mackerels, then be my guest. But you can get those species in the bay. Yes we have Blue Marlin and Striped Marlin running the area, but they're not at El Banco or Corbetena. Don't waste your time or fuel dollar.
The real story this week is all about Punta Mita. On a heading of 300 off the point of Punta Mita, five to six miles maximum, you'll find Sailfish in numbers greatly increased from last week. On average boats are having at least five strikes. Sailfish are running in schools of three to ten in the side by side formation they like so much. Even "bozo" captains who can't find their butts with both hands are finding Sailfish! And they're not "babies" at 90 to 120 lbs, big for Sailfish. Striped Marlin are also running with the Sailfish. Striped Marlin are in the neighborhood of 175 to 250 lbs. Even a small Blue Marlin of 190 lbs was boated in close. Jack Crevalles for the Corbetena disappointed, Bonito to 20 lbs, Sierra Mackerels and who knows, maybe Rooster fish north of Sayulita because of all the Sardines that moved in. Right now the Red tide and dirty, coffee colored water if not gone is only spotty. Clean Green water is still running the area, which has brought with it tiny baby shelled squids of 1.5 inch length. It doesn't seem to be an issue with the bite. Larger squids without shells, Sardines, Flying fish, there's plenty of reasons for those fish to hang around. Your best bang for your fishing dollar in in this area for the next day or two. Don't delay, things could change quickly. We're also seeing Dorado, some days there are more than others, but if you find a buoy, you hit the mother load!
Inside the bay, not much to say, Sierra Mackerels at 12 lbs, Bonito to 20 lbs, Jack Crevalles to 40 lbs and we're seeing baby Dorado also, which is a complete surprise. Not much else to say about the bay, but the fishing has been great and families, especially the younger members, love the great family fishing the bay has to offer.
Quickly, the bite I all day! I suggest you hit your fishing area by 08:00, but the late bite around 15:00 is very active as well. Which bait is a challenge, but lures and live bait are working well. Guacamayos are the preferred lure right now. Water temperatures are still at 79 degrees, but this will change in a real hurry increasing into the 80's soon, but we're still on the tail end of a La Nina year so this could be a little weird.
Until next week, don't forget to kiss your fish!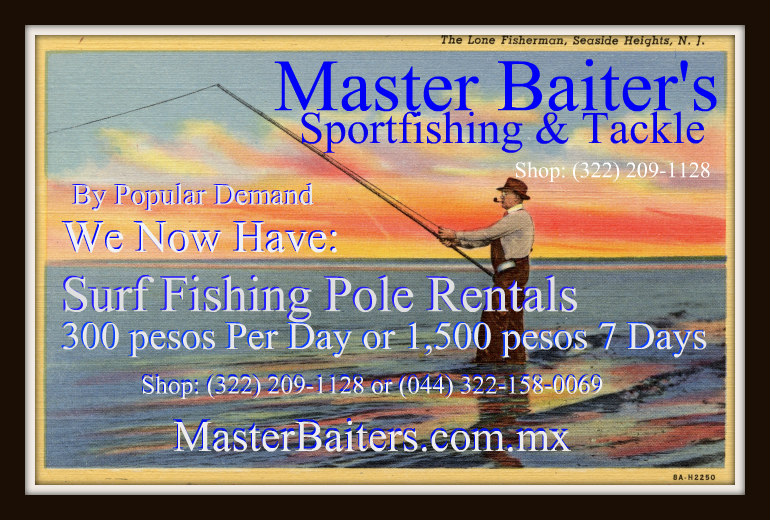 Web page: www.MasterBaiters.com.mx , Local Phone at: Our international number is: +52 322 209 1128. #MasterBaitersSportfishing on Instagram, Facebook: Master Baiter's Sportfishing & Tackle. The trade mark Master Baiter's ® Sportfishing and Tackle is protected under trade mark law and is the sole property of Stan Gabruk.
Written by Stan Gabruk, owner Master Baiter's Sportfishing & Tackle