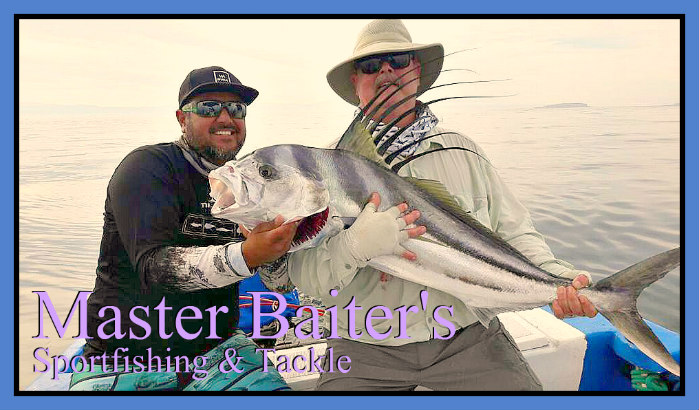 Fishing is never stable or predictable, there is no way around that amigo. But there are yearly patterns and those patterns can be predictable within reason. For now we're moving into the predictable seasonal changes. Once we move into spring, we see the days get longer, the water get warmer and many species move into breeding season. As this is all happening there are the changing currents, changing species and increasing water temperatures. Puerto Vallarta's world famous fishing grounds are entering this phase now. We try and keep a finger on the "pulse" with the daily changes and this works well for us. What happened yesterday, can be an indication for tomorrow expectations, but not always, you see fish move. For now we're dealing with the fact many species are breeding and ignoring baits, while other species are moving out. For now with the conditions changing daily and the fickle nature of breeding species it's important to remember "fish are where you find them". That means start where you they were yesterday, then develop a plan. Finding fish isn't a problem, getting them to take bait is another thing.
Heading into week four, Corbetena which is our most flexible and consistent fishing area has be flat at best. The last few weeks it's been all about the Bonito and Jack Crevalles taking every bait in the water. It looks like the Skip jack Tuna and the Jack Crevalles have moved on, finally. The good news is there are Striped Marlin and Sailfish in the area. The bad news is: They're spread out and thin in numbers. For now unless you're very lucky or run into a freak current full of Sailfish, heading to this area is an optimistic roll of the dice. We are in "Sailfish" season, but they're not here yet. Stay tuned.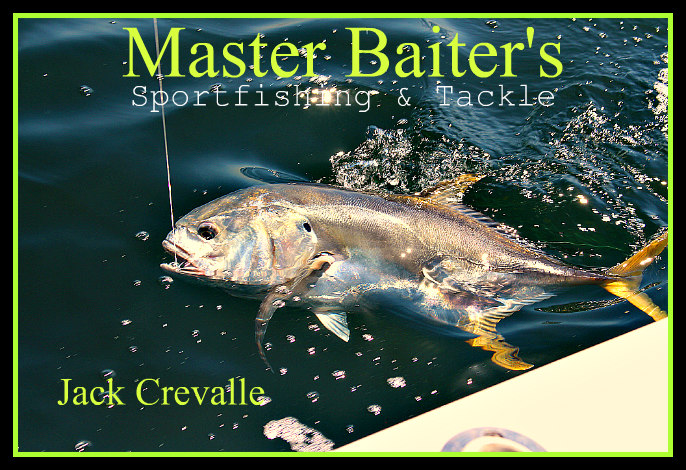 From El Morro to Punta Mita, conditions haven't changed much. The area is still full of Jack Crevalles and Bonitos, which are fun to catch, but not the "finned fantasy" people are looking for. You still have a chance at a possible Dorado, but it's a low percentage chance. Sailfish and Striped Marlin could still happen as well if you're well north of the Punta Nayarit point. But the one interesting thing is around Caballeros area, just north of the Four Seasons hotel, Rooster Fish have started taking surface baits. Capt. Cesar of Magnifico says he hasn't seen Rooster fish boiling like this for at least three years. He continued that trolling "Stick Baits" and Poppers are working well. Funny enough Rooster fish are hitting small spoons, the size you'd use to catch Bonito! One little secret, troll a little faster here and you'll have better results. One last secret, once you get past the six mile mark from shore, the fishing gets slow and it's been like this for weeks now. So troll fast and no farther than six miles off shore and you've got your best fishing for your fuel dollar amigos. Good luck, send me pictures of your catch!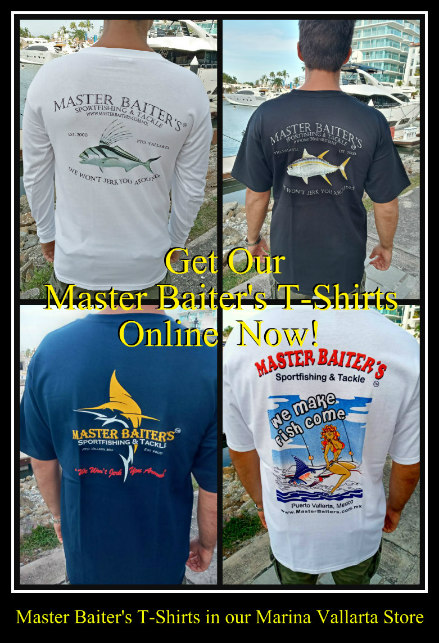 Moving into the bay, things are still pretty much the same. Jack Crevalles the dominant species in the entire area have thinned out for some reason, but are still in the 20 to 35 lb range in the bay. Now just like last week, the Jack Crevalles are full of eggs and will only bite when they're surface feeding. Since the bite is about 10:00 expect the surface feeing about this time of the day. Bonito are still throughout the bay as are Sierra Mackerels. Perfect for "Action Fishing", using light tackle, with plenty of Bonito or jack Crevalles in the bay, you've got a fun trip for both adults and younger people alike.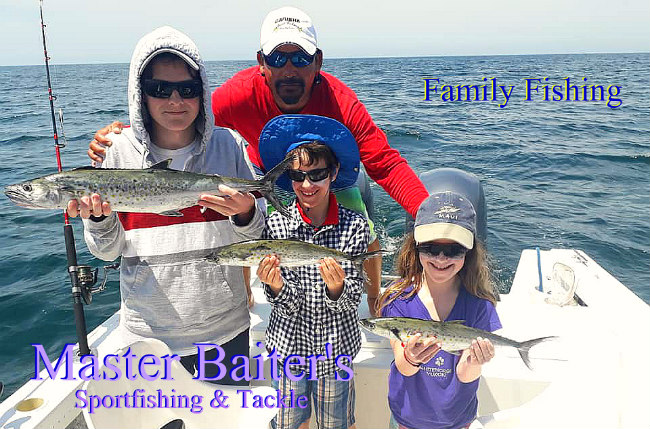 Fishing in PV has been on hold now for about four weeks. With the transition season coming into full effect we can expect continued breeding season which means on and off fishing. Sailfish will start moving into the area, this of course all depends on the currents. Water temperatures will start rising pretty quickly as we get ready to see the post Easter tourism drop. As tourism transitions from high season to the summer vacation season, the "lull" in fishing coincides with the drop, which is perfect for all involved. Soon we'll have the dirty, coffee colored water and that's when you see the clashing currents. Once we have this happen we'll know we have our summer species right around the corner. And that brings you up to date.
Water temperatures are still at 74 to 75 degrees, but with the spring sky surface temperatures may be a bit warmer. The bite seems to be stuck at 10:00 with the afternoon bite around 3 O'clock with the incoming tide which helps the cause. It's hard to say which bait is working best, but for now live bait, dead bait, Rapallas, poppers and stick baits are a good place to start if north of Punt Nayarit.
Until next time, don't forget to kiss your fish!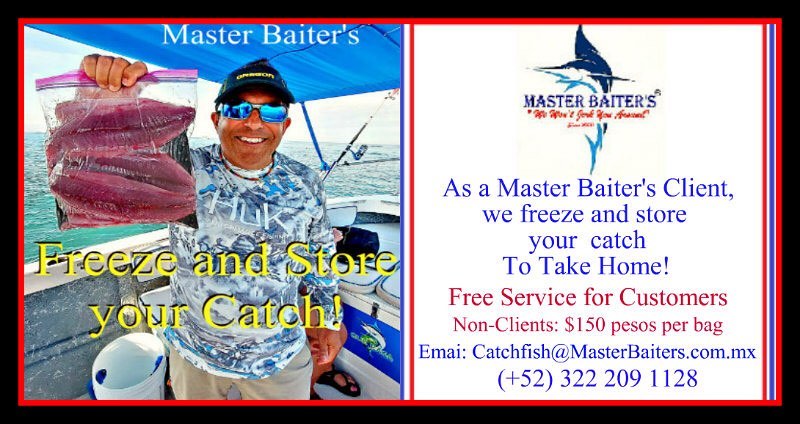 Web page: www.MasterBaiters.com.mx , Local Phone at: Our international number is: +52 322 209 1128. #MasterBaitersSportfishing on Instagram, Facebook: Master Baiter's Sportfishing & Tackle. The trade mark Master Baiter's ® Sportfishing and Tackle is protected under trade mark law and is the sole property of Stan Gabruk.