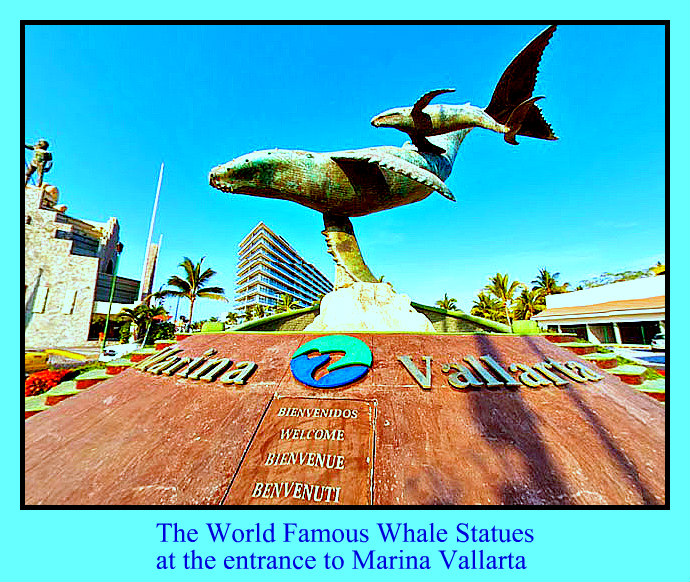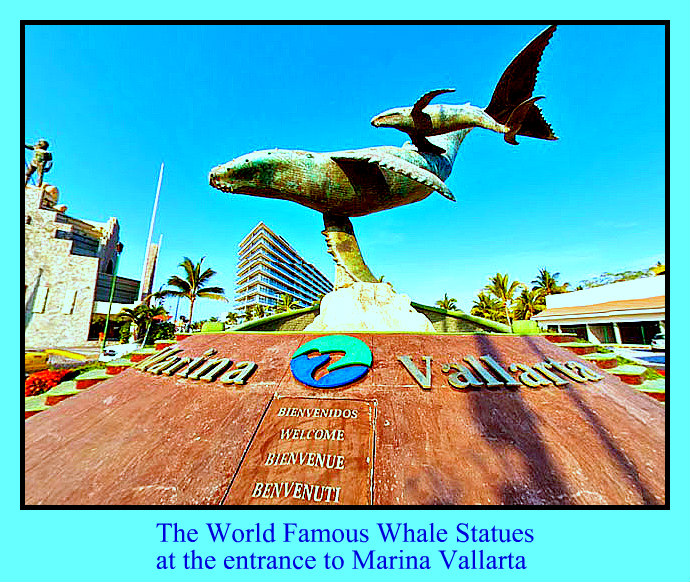 Living in Puerto Vallarta now for 22 yrs., I'm what you'd call a "Gringo Pata Salada" or American with salty feet, aka a long time local. And I can relate to this nick name, although through the years I've been referred to by many different names by many different types. I've watched Puerto Vallarta grow into a cross between a small town and the big city. Puerto Vallarta and area have in the neighborhood of eight million people a year come to this beautiful and safe location to vacation where the dollar goes a long way and the people are famous for their kindness and generosity. Yet at the last consensus, there are less than three hundred thousand people living in the entire coastline of The Bay of Banderas. Which of course encompasses both states of Jalisco and Nayarit. It's time you rediscovered Marina Vallarta!
Tourist have many options in Marina Vallarta
There are many options for tourist and visitors alike in Puerto Vallarta (PV) be it food, art, entertainment, fishing, tours or excursions, you will never forget Puerto Vallarta. Remembering the "Love Boat" program came to PV "weekly" from the 70's and promoted the city and the feeling of PV. But even being on a cruise ship, they never mentioned the Marina in those days where the fishing charters departed from. In those days it was the Las Penas Marina, which still exist, is connected to Marina Vallarta, you pass those docks on the way out for fishing or tours. So the concept of a Marina is not new to Vallarta.
At some point around 1980 the decision was made by the govt's to dredge out a swamp area and build a private marina with a Boardwalk, Golf course, and line the beaches with a broad price range of hotels. It was meant to be a tourist center. Great idea, until you ask the city mayor and how it threatens the whole commission structure of "herding" the visitors off the Cruise ships directly to their shops and to shops only in the El Centro area. There people wear wrist bands so shop owners know who gets the commission. We're talking about a lot of money there. Succumbing to pressure from the city business leaders, Marina Vallarta was ignored by the board of tourism and still is today. So Marina Vallarta was on its own, a beautiful government created hole in the water that was like ten miles out of El Centro. Ten miles, they would talk like how that was like being on another planet. Frankly for a guy who's walking, that is a long way.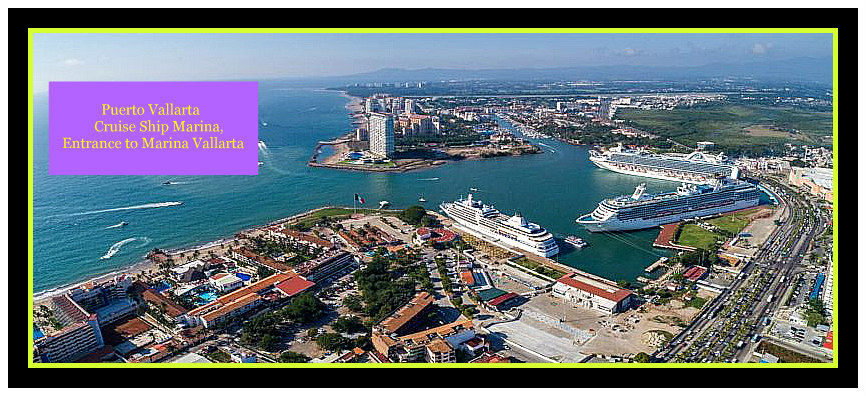 Fast forward, companies seeing the "investment opportunity" to Gringos built condos, a golf course, hotels were going up as were condo complexes on the water. You could literally see the future was springing up all over the area. Even with the new hotels and condos, nobody was coming to Marina Vallarta. Boat slips were mostly empty, many shops were closed and the ones that were open were selling tacos. A few restaurants had planted roots, but it was a rough haul for years. Then one day the condo owners trying to sell condos got the big idea to give a penthouse condo to Elizabeth Taylor, she was here in PV all the time anyway.
The "free" penthouse meant they could use Elizabeth Taylors name and advertise you'd be a co-owner with Elizabeth in Marina Vallarta. Once that happened, word got out and all the condos in Marina Vallarta sold quickly. This created "Gringo Landia" or more commonly known as Marina Vallarta. Many Mexican nationals live in Marina Vallarta, but when the medium range three bedroom condo or house will go for over three hundred thousand dollars, most of the locals can't afford a house in that price range. Rent was an option and things were cheap, rent wise and on top of the Marina. Things in Marina Vallarta picked up quickly after that. And with the success of Marina Vallarta and its beautiful boardwalk for walking, timeshare was created.
Gringo-Landia
Several "forward looking" types saw the future and built hotels for the incoming tourist. The problem was it was more of a trickle and now a downpour. Occupancy wasn't paying the bills, but everyone loved Puerto Vallarta! The idea of partial ownership of a hotel and being able to come back yearly for a fraction of their normal vacation cost, bla, bla, bla… The "Promoters" as they like to call themselves would get a percentage of any sale where they brought them into a presentation. The concept worked, "hotel" rooms sold like hotcakes. And of course "Gringo Landia" was the place to find new, financially stable gringos to purchase these "Timeshares".
Fast forward to today, you'd think Marina Vallarta would be the coolest place to visit in Puerto Vallarta and frankly it is. Here's the rub, nobody knows Marina Vallarta exist! Amazing but true. Not long ago I had this couple walk into my fishing shop. They were just amazed that there was actually a private Marina in Puerto Vallarta. They continued that they had come to Puerto Vallarta for the last ten years and stayed in the Marriott Hotel. For some reason this couple never knew that within walking distance was one of the top ten private Marinas in the world. It just amazed me. But, after a few seconds of thought I understood.
You see as you enter Marina Vallarta, passing the beautiful Whale Statue or the entrance to Marina Vallarta, you are now driving down Paseo De La Marina Avenue. You will never see a boat, water, anything that suggest you're in Marina Vallarta, nothing. You'll pass the Marina Vallarta Golf Course and you'll pass many luxury condominium complexes just before you arrive at one of many hotels in the area. You might ask, "Where is the Marina?" And that would be normal. In fact most people don't even know that Marina Vallarta's entrance is signified by our world famous whale statue! When in reality all you have to do is take a left down any street and Marina Vallarta is right there.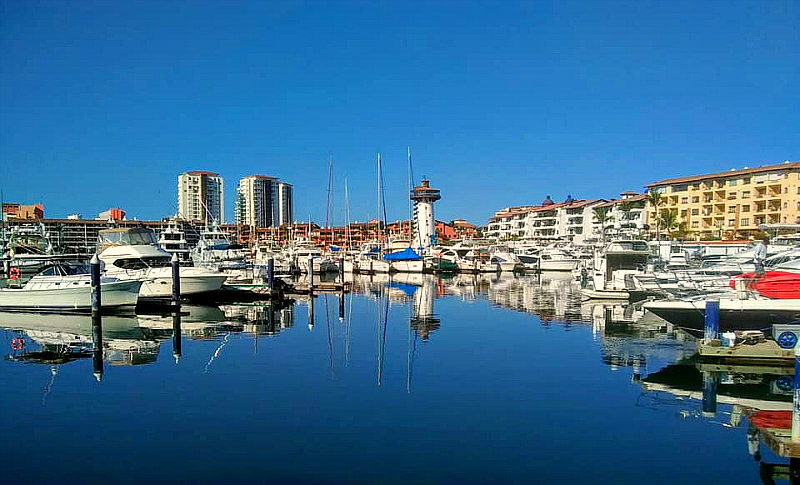 So you couldn't see the Marina, but you'd think the hotels would suggest visiting the Marina, right? I took the initiative and walked into a few of the hotels to see what they were sharing about Marina Vallarta and I was shocked. You see these hotels all have vacation ownership programs aka Time share clubs. They don't want any potential customers walking into Marina Vallarta for fear their clients will be approached by competing Vacation Club "promoters"! In fact one concierge told me they were discouraging people from coming to the Marina, going as far as to say it was "dangerous during the day and even more so at night". They told me this straight to my face!
I blew a fuse! You'd think that these "walking distance" hotels would be happy to promote our super cool Marina Vallarta! But they use a different thought process. Amazing but true. Can you imagine not saying you were a hotel near Disneyland? Or Marina Monte Carlo? It's backward logic and shows the influence of a time share mentality on Puerto Vallarta.
It was at this point I realized that there was no active promotion of Marina Vallarta, period. Even the board of tourism ignores Marina Vallarta even though they have an office on the Malecon or Boardwalk. So, realizing there is no promotional support for Marina Vallarta I went and talked with some local business owners, along with a few friends. I proceeded to discuss how if we wanted people in Marina Vallarta, first they had to know it / we exist! Strange but true.
So, here we are, now you may have been in PV many times and now you have new, hidden information in your back pocket. Now you know there is a super cool place to visit in PV and it's the biggest non-secret in town.
Marina Vallarta Rediscovered!
Surprisingly even people living in Puerto Vallarta don't know Marina Vallarta Exist. To them the Marina is 'Gringo-Landia" and it's expensive. No knowledge of boats. The Cruise ship marina, which is connected to the private Marina Vallarta via channel, is the only "Marina" in PV. I'd call that bad marketing.
These days Marina Vallarta is full of Yachts, Sportfishing boats, businesses of all kinds. I refer to it now as "Restaurant Row". As you come into Marina Vallarta, down the very first street, just after the Whale statue you'll find Starbucks on the corner. Down this street are no less than ten restaurants with many others on the other side of the street. It's a great walk down this cool street, you'll see Mast from Sailboats, walk a little further and you'll see the entire Marina Vallarta. As you continue walking you'll discover many more high quality, mid-range priced restaurants. You'll find El Faro or the Light House with a wonderful view of Marina Vallarta, the surrounding community, the Golf Course and the channel that leads to the ocean through the Cruise Ship marina.
The Marina now is a mixed bag of varied shops and services, with Coffee shops, Book Stores, Dentist and Doctor Offices, and Real Estate offices to begin with. There are hair Salons, Legal offices, Massage / Pedicure locations, Souvenir shops, Pharmacies, Jewelry Stores, Tattoo shops, Legal services, Art Galleries, Marine supply locations and more. It's amazing and these businesses mentioned just scratch the surface of what's available in Marina Vallarta. From October until the end of May Marina Vallarta is full of people attending the weekly "Flea Market" aka Tianges. With all sorts of foods, clothing, souvenirs, art, you name it, you'll find it.
Many restaurants will have entertainment on Wednesday evenings and it's a local's night. Several of the local restaurants have learned music: means people. To the search engines happy and not call this an advertisement I can't really mention names. But the locals know where to find dollar beers, local favorite tequilas for three dollars. There is live music many times on Wednesdays and Thursdays, great local bands for sure. One popular diner type location has an Elvis Impersonator which packs the house on Tuesdays I during high season. I don't have to tell you, just find your way to marina Vallarta and start walking. See the Yachts, have a bite to eat, get entertained, visit a shop, see a sunset, visit a Mexican Pharmacy, and maybe discover Marina Vallarta for the first time!
So there you go, come visit Marina Vallarta and discover for yourself one of the coolest places in Puerto Vallarta. If retiring, this is a perfect place to consider. If going on vacation, everything you want or need is close to Marina Vallarta so keep this in mind the next time you visit my favorite place in the world!
Written by: Stan Gabruk, owner Master Baiter's Sportfishing & Tackle