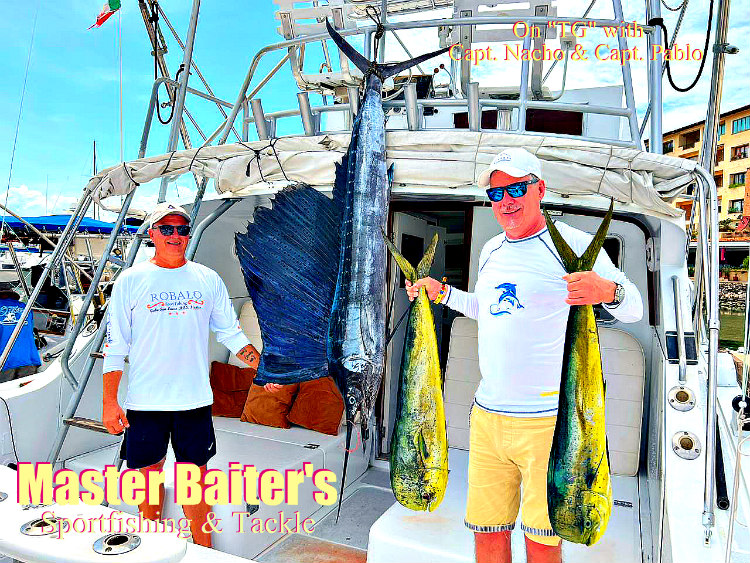 With pretty much 'back to back" Hurricanes, each reaching Category 4 intensity, it has pretty much put fishing in Puerto Vallarta on hold. Once you're outside the bay, both post Lidia and now post Norma has left us with some pretty rough deep water fishing conditions. Big swells, stiff winds and plenty of floating logs and debris. You can imagine these deep water fishing grounds for the last week weren't exactly where you wanted to be. But even then, for die-hards like me, you can't ignore the fact Hurricanes push fish either in or out of the area. With the paths of these monster systems, it pushed plenty of fish into the bay of Banderas. Now at this time of the year to get a big push of fish into the bay, during a passing Hurricane, well that's priceless. Dorado filled the bay and with the mature trash lines, fishing in the bay was about as good as could be expected at Punta Mita! It's more or less a "Hurricane Back Handed" fishing report.
First off, let's address the deep water fishing grounds. It seems we were just recovering, fishing wise that is, from Hurricane Lidia last week. Then right on Lidia's "coat tails", we had another Tropical Storm Norma march up the coast bringing with it more heavy seas and rain. Norma turned into a Hurricane and headed straight to Cabo San Lucas. Luckily enough it skirted the popular tourist town. The stiffest part of the storm missed Cabo! It force the cancellation of the Bisbee's Fishing tournament. The wealthiest fishing tournament I know of with prize winnings in excess of three million dollars! The Marlin Magazine "Black and Blue" tournament which is normally a week before the Bisbee's tournament was another "victim" of Hurricane Norma. People come from all over the globe for this world class event, so cancelling it was an expensive affair for many. I guess that's the way the fish cookie crumbles. So basically we didn't see any out of the bay fishing for the last week and now you know why.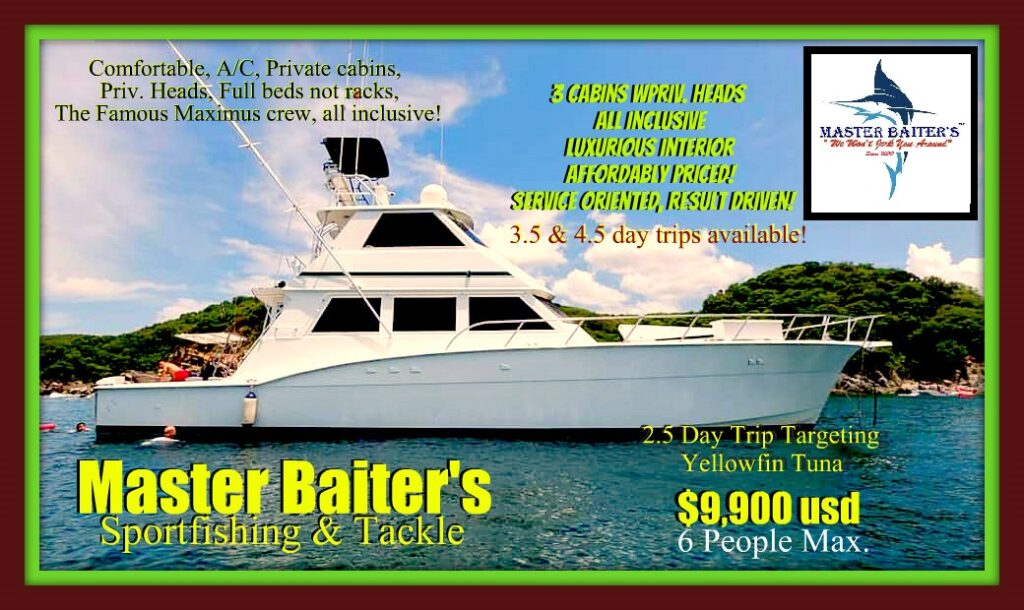 My Boat TG did take an eight hour trip two days after Norma passed, the swells were about two meters and the wind was blowing. Intervals between swells was just under 20 seconds, so if you're a sea sick type, you would be on your back. But the fishing was great at Punta Mita, Captain Nacho and Capt. Pablo working together came in with the header pic. This day they boated 2 Sailfish and 13 Dorado / Mahi all over 20 lbs. If this is any indication coming for this coming weeks fishing, then the fishing should be turbo charged.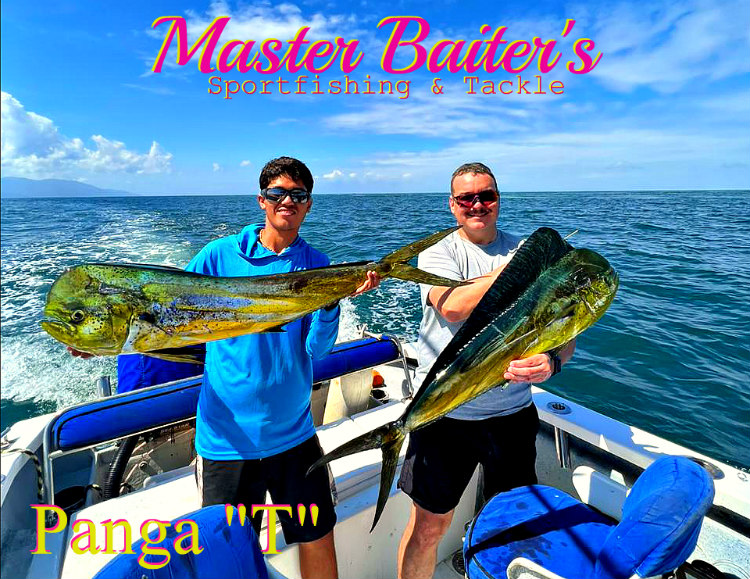 So this week all the action was in the bay. It was all pretty much "formula" fishing. Find the trash line, drop baits and see what happens. I went out with my friend Chris Peters and before 07:30 we had boated 7 Dorado and the bite was still on. Today as I was writing this article, Captain Nacho told me our Panga "T" headed out to this same trash line and boated 13 Dorado! So, it's safe to say the Dorado in the bay are "On Tap"! Sailfish in the bay, which used to be an oddity is now becoming almost "targetable". If you're around Los Arcos or La Cruz, they seem to like these areas. I know Los Arcos has a nice channel that runs directly to Corbetena, so Sails follow the currents and the bait into the bay. Everyone was on the trash line, about only six boats. The secret for us this day was dead bait! It worked better than live bait and lures, so let that be a lesson around trash lines. From Yelapa to Punta Mita, Dorado were and are everywhere. Not much else to say this week since Dorado were the dominant species. Yes there are Bonito, Jack Crevalles, Sierra Mackerels and more. But when you have Dorado, you chase Dorado!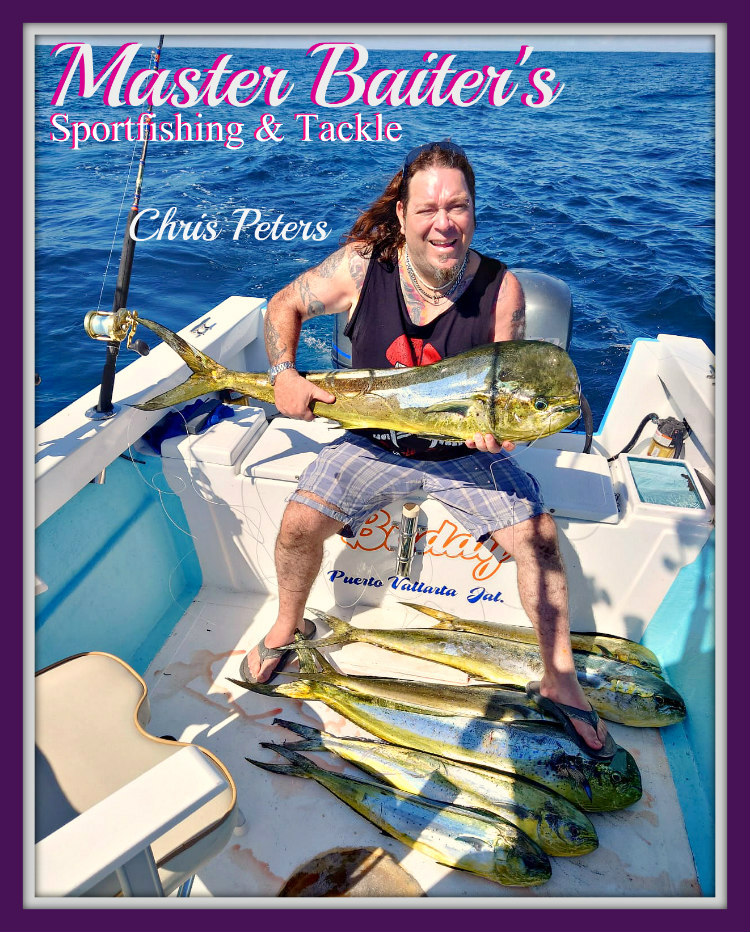 The bite has changed, you need to be on-top of your chosen location now before 07:00. From about 10:00 on, the bite can die abruptly, so timing is crucial. Water temperatures after Hurricane Norma are sitting at 87 degrees, but will most likely go back up a touch with the currents as they are. There is plenty of bait around the area, but as mentioned earlier, plain dead bait is working better than lures and live bait. Go figure. Obviously the deep water fishing grounds have yet to be tapped with continuing rough seas and larger Hurricane Swells. When things settle down a bit, I expect some larger Black Marlin and hopefully large Yellowfin tuna. Only time will tell so stay tuned!
Until next week, don't forget to kiss your fish!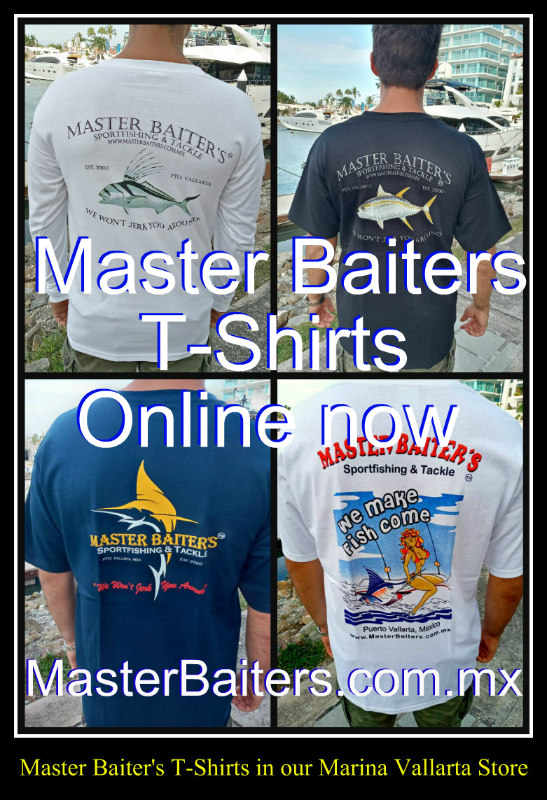 Web page: www.MasterBaiters.com.mx , Local Phone at: Our international number is: +52 322 209 1128. #MasterBaitersSportfishing on Instagram, Facebook: Master Baiter's Sportfishing & Tackle. The trade mark Master Baiter's ® Sportfishing and Tackle is protected under trade mark law and is the sole property of Stan Gabruk.