Written by Stan Gabruk, owner Master Baiter's Sportfishing & Tackle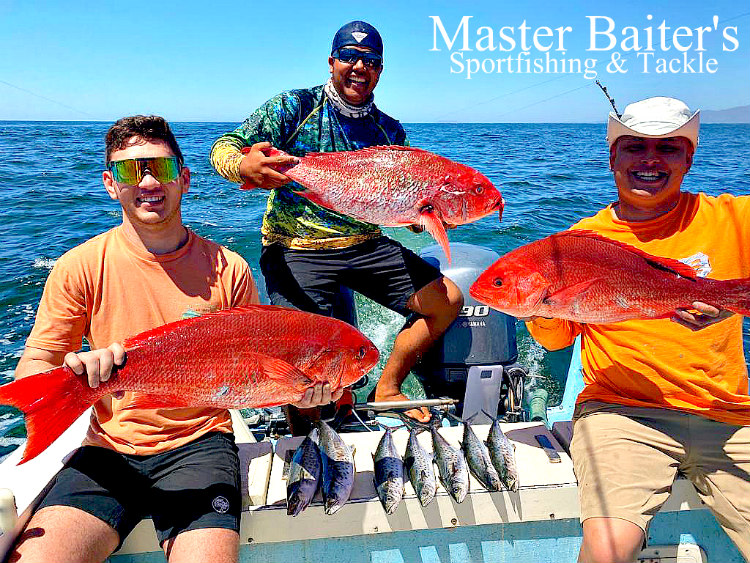 By now most of my weekly readers know that this is a "La Nina" year. La Nina is the opposite of El Nino snd is when the water is supposed to be in a "cooler range". El Nino and La Nina many times will follow each other by about 70% of the time. But this year, it was / is just a "La Nina" year with no indication it will be followed by a "warmer range" condition like El Nino. So what does that mean to you the average guy looking for a fishing report, not to mention trying to figure out what you want to in our world class fishing grounds? Well for one thing, it feels like we've been in a transition period since last November. We have fish, but they're cruising with erratic currents and stuffed full of fresh bait. Varied water temperatures, varied water conditions and species normally not in the area for this time of the year. Being a person who's supposed to be "more or less" an expert on the subject in the area. I have to tell you, this is driving me crazy. It's hard to predict what's happening on a daily basis. All I can really do is tell you what happened. Everything else right now is a "roll of the dice" Some days you're coming up all winners. Other days, you'll be wondering "What Happened"? And I'd be right there with you!
If I was going to put a positive spin on Corbetena fishing conditions, I'd say the water is mostly blue, plenty of bait and plenty of Jack Crevalles and Bonito. For the bottom fishing enthusiast Cubera Snappers possible, maybe an amberjack. I'd say Sailfish are in the area as are Striped Marlin. But those species would be very low percentage catches. And even if you found these "bucket list" species, you'd have a hard time getting them to pay attention to your offering, aka bait. You could find with some luck Yellowfin Tuna anywhere from 30 pounders running with Spinner Dolphin. And while this all may be fairly accurate, the "real spin" is that maybe you should look to other fishing ground which are more reliable and cheaper to get to! Now you could be the one lucky guy who's going to catch the fish of a lifetime, but I wouldn't bet on it. Feeling lucky?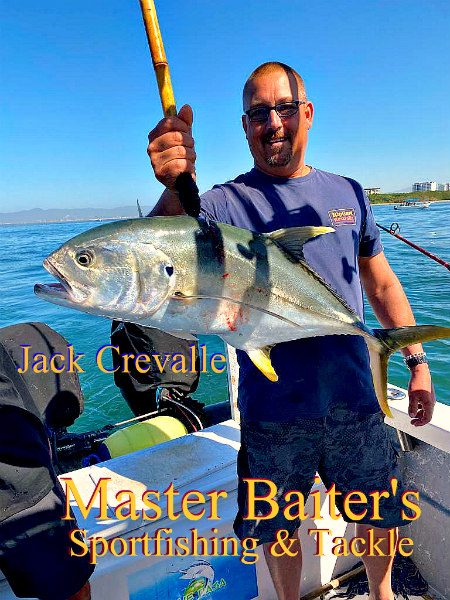 Now if you're looking in the direction of El Banco, then everything changes. Just when you would never expect them, Yellowfin tuna show up and so do the production fishing vessels aka Seiners. Decent schools of 200 lb tuna taken at will. It makes you wonder, foolishly, will we ever see the authorities take up the call to stop this illegal ecological disaster, but it's Mexico. If you want to catch fish, Dorado and Sailfish with Striped marlin, you'll need to be north of El Banco, then you'll have a real chance at boating these bucket list species.
At that point you turn your attention to our more reliable winter fishing grounds of El Morro to Punta Mita. One surprising thing was Red Snappers of 10 to 25 lbs were hanging around the rocks or Islands as the locals call them. For a few days we saw the rare Red Snapper, Jack Crevalls and Bonito in decent numbers. Then the next day the cold water moved in aggressively, yes it was 68 degrees for a few days which made the Snappers very happy. But cold water is not a favorite condition for many of the summer species that never left like Sailfish and Striped Marlin. You could still find them in the area, but with massive amounts of even more bait moving into the area, your challenges are ever present and in your face. I will say this, if you're closer in, just off the point of Punta Mita, things could be different. It's an on and off again conditions "thing". Let's hope it's on when you're there.
Inside the bay not much has changed. It does seem our "bread and butter" species is much less reliable this year than in most. I suggest a six hour trip in the bay. Four hours we go where they were yesterday, six hours gives you time to find where they went. One thing for sure, fish move and right now they're all spread out. Having said that the cold water species like Snappers, Bass and Grouper are still in the bay! Sierra Mackerels are an early bite and fairly abundant. With varied species around structure and possible Rooster fish around sandy beaches like Punta Negra or Estiladeras, you have some great short day fishing options.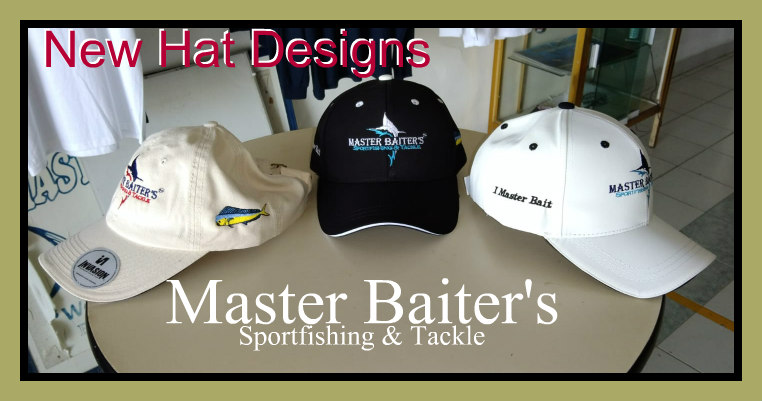 Remember if you're looking for tours, airport transfers, or just information, we can help. And remember "We Won't Jerk You Around"!
Until next week, don't forget to kiss your fish!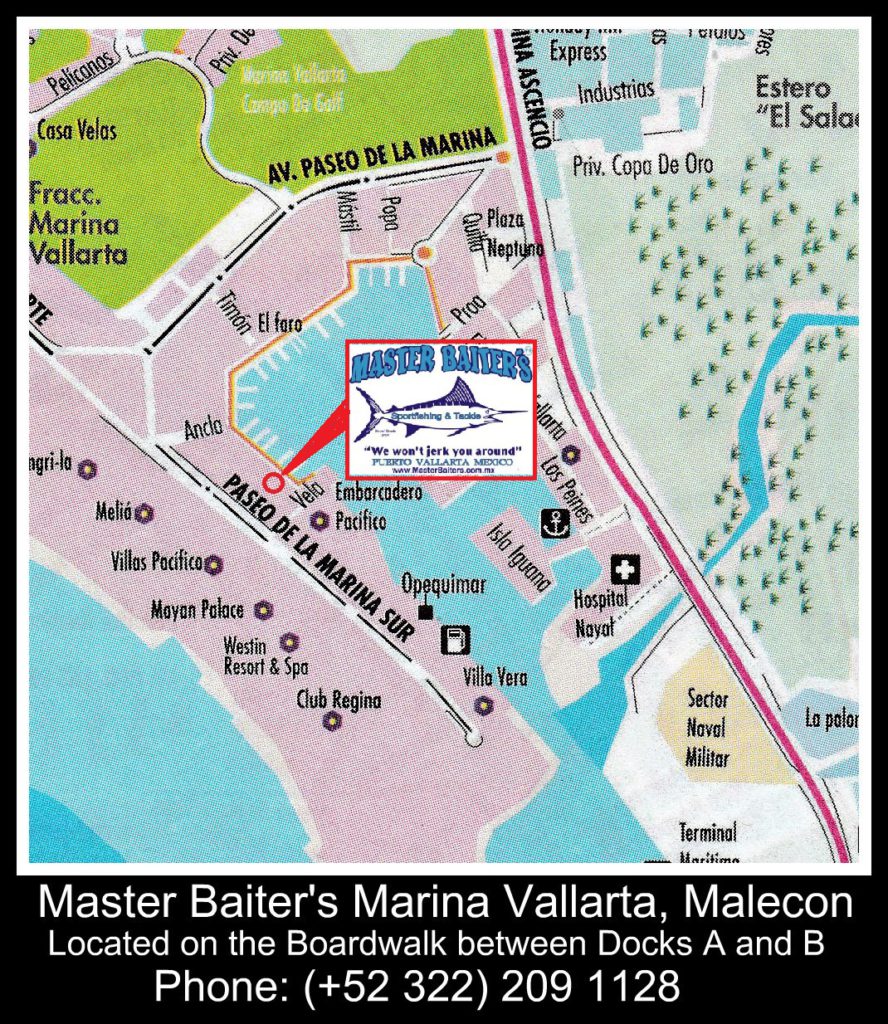 Web page: www.MasterBaiters.com.mx , Local Phone at: Our international number is: +52 322 209 1128. #MasterBaitersSportfishing on Instagram, Facebook: Master Baiter's Sportfishing & Tackle. The trade mark Master Baiter's ® Sportfishing and Tackle is protected under trade mark law and is the sole property of Stan Gabruk.