Written by Stan Gabruk, owner Master Baiter's Sportfishing & Tackle
Things have gotten even a little strange for a transition period. It's a yearly thing, cold water currents changing to warm water currents from the opposite direction can at times be "confusing". Right now the mix-up is with the species and the water temperatures. Honestly it's like they don't know if they're "coming or going" literally. The good news is normally when we see the "clashing currents" we get dirty water stirred up from the bottom of the bay. For now it's mostly blue water, but there is that "clean green" that is cold, not blue, it's somewhere in between. There has been some of that, but for the majority of the area the water is blue and waiting for you to arrive.
To get a good idea of the fishing I normally talk with several captains to see what they've seen besides my boats. And right now my most credible captains are telling me two basically different stories. With things changing so much, they're both right, depending on the day they went out. It's hard to predict what's coming out way, but one thing for sure, everything will change with time. So we'll do our best and keep moving forward.
The simple fact this week at Corbetena has been a mixed bag with conditions and limited number so species cruising the rock. For now we've seen the average temperature drop to 71 degrees! That's a shock to the system for a fish. A result of this the bottom fishing has kicked in again when I thought the winter jigging season was all but over. For that reason we have Cubera Snappers in the 50 lb range, which may be worth it depending on your mindset. Striped Marlin are still cruising and may actually increase in numbers soon. Cabo is stuffed with Striped Marlin as we are here in PV. But they're spread out and nothing is "easy" fishing wise at Corbetena. Throw in the Skip Jack Tuna which are fun to catch and a great bait. Jack Crevalles are still there but barely. Sailfish should be coming on but with cold weather don't expect any at this moment. Water temperatures will be warming up in the next day or so, so these conditions won't be long lived, I think, ja ja.
At El Morro we've seen the Guachilingo's Snappers come back for the time being at 15 lbs. Striped Marlin are here as well moving all over the area, Jack Crevalles are still roaming the area at 35 lbs, Skip Jack Tuna at 6 lbs and several other species are possible. In the Sayulita area there have been some reports of Rooster fish, but my boats haven't had any this week. Baby Dorado are moving and I've had some reports that Dorado can be much larger if you find a log or debris floating. Feeling lucky? All and All for right now your best bang for your fishing buck would be an eight hour trip.
Inside the bay is "On and off" like the whole area right now. Having said that we have Jack Crevalles back in the by with these cooler water temps. Sierra Mackerels that were backing off are now picking up in numbers again and who knows where they came from? Dorado are in the bay, but are still babies. This is a good sign to see them so early in the season and hopefully is an indicator for the coming weeks! There could be some football Tuna in the area for the lucky. Remember to use chum in this area and jig. Trolling won't help your cause, the locals know this and now you do too.
It's hard to get a handle on what's happening and I guess that's normal. Water temperatures dropped from the 80 degree range to the low to mid 70's which a shock to the system, if you're a fish. We haven't seen the dirty water from the floor bottom sediment yet, that's coming. The bite is thankfully a bit earlier now to about 08:30 or a touch later. Bait conditions are perfect, we even have Ballyhoos out there! For now run a mix of live bait and lures, with Petroleros and Guacamaya's as the first to look for in your bag of tricks.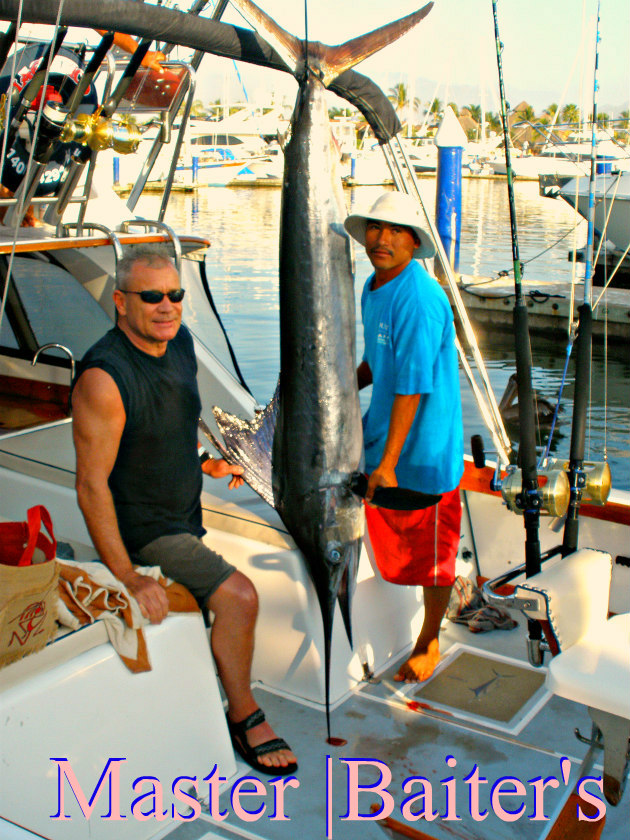 At the end of May, we see things start to settle down a bit, but anything is possible right now. Water temperatures will go back up and the summer species are on their way. Just a reminder we'll be having the normal fishing tournaments soon and we're getting information on them all. If you'd like to get into one of our several yearly fishing tournaments we'd be glad to help you. We have many boats with outstanding captains here to win you a tournament. So what are you waiting for??
Until next week, don't forget to Kiss Your Fish!
Master Baiter's has expanded into doing Tours (about time), Airport Transfers where we pick you up at the airport and of course private tours making us a one stop shopping network. And we won't try and sell you a timeshare!
Web page:  www.MasterBaiters.com.mx , Local Phone at: 322 779 7571 or our international number is: (011 52) 322 209 1128 10 to 9 local time. #MasterBaitersSportfishing on Instagram, Facebook, http://www.facebook.com/pages/Master-Baiters-Sportfishing-Tackle/ ..The trade name Master Baiter's ® Sportfishing and Tackle is protected under trade mark law and is the sole property of Stan Gabruk.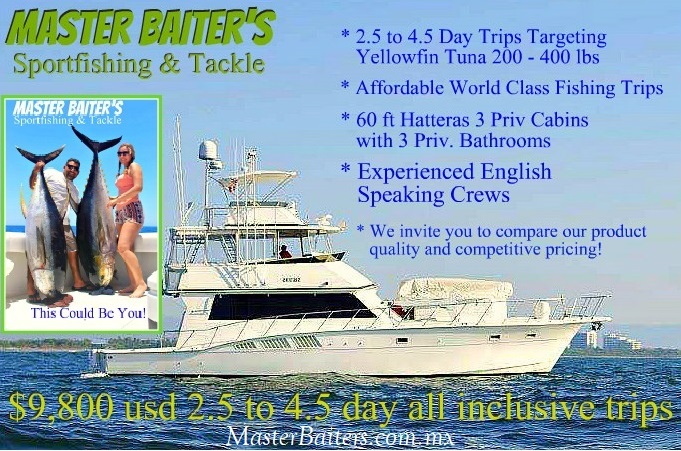 Make your own custom Master Baiter's T*Shirt with out Amazing Options and Products