We've been waiting now for warm blue water for months. We've had this "clean green" water, but frankly it's a sad substitute for warm, blue water. It's cold, green, not a fish's first choice. We're coming out of a three year "La Nina" running head first into what's being quoted as a "Super El Nino". We'll find out what that means soon enough, but the initial "symptoms" are the return of blue water, massive amounts of warm water bait, followed by Black Marlin and now sizeable Yellowfin Tuna. Puerto Vallarta's world class fishing is returning now and soon fishing conditions will be back to the level people have come to expect. This won't happen overnight, but Puerto Vallarta is back in the game and until the end of December, you can expect arm burning action, big fish and even bigger smiles!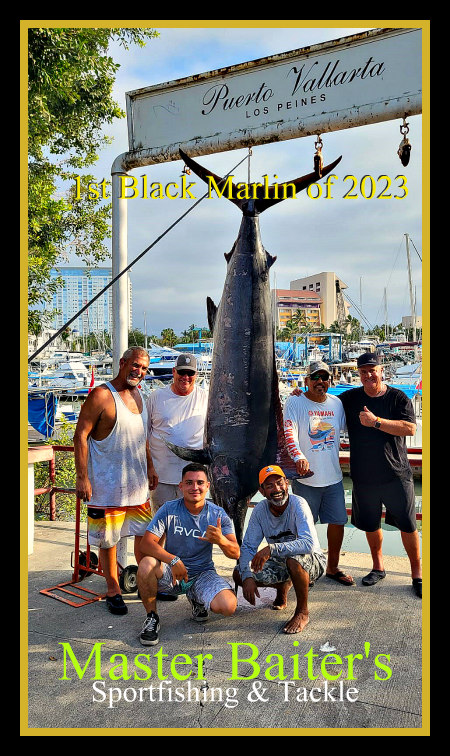 Flash! At Corbetena this week we've seen the first Black Marlin of the season move in on strong northern currents which brought blue water and warmer water temperatures with it! Along with these currents came warm water baits like Ballyhoos! But the massive amount of Skip Jack Tuna (aka Skippies), baby Bonito (Bullet Bonito), large and small flying fish, Sardines, the list is endless, will draw more fish into the area. On the boat Sisters, with Capt. Andres at the helm went out to Corbetena yesterday and boated a 600 lb Black Marlin, the second of the season from my vantage point and two Yellowfin Tuna at 80 lbs. One of the best fishing days I've been able to report about for a long time. Sailfish are also running in schools or rather packs as they like to swim side by side, just about 8 miles northwest from the rock. There is a lot of varied bait in the area, so you'll have to see what's happening and make bait out there possibly. Bring Goggle Eyes from the bait guy, but be prepared with casting nets and small bait daisy chains "just in case". Small Dorado are also moving into the area as well, very early for Dorado and we're very happy about that! El Banco is also showing welcome signs of life with Yellowfin Tuna about 4 miles west of the high spots, but there's nothing much on the high spots, but may be worth a try, who knows. Sailfish and Marlin should also be in the area, stay tuned!
We're not getting too much action from El Morro to Punta Nayarit and beyond. We do know the water is blue and warm here as well. Farther out there could be some Black marlin, but that's "iffy". Sailfish on the other hand are picking up in numbers, but they're still spread out and not concentrated in any one location. We're still seeing some Rooster fish at Marinal Rock at Caballeros. Dorado are small and short on numbers, but they're coming in and who knows, find a buoy and see what happens. Jack Crevalles are still in the area as are Bonito and plenty of bait. Things could change in a heartbeat here so keep your ears open amigos. With very few boats heading out to get reports, things could already be improving and with nobody to report, it leaves us nowhere to go but to guess and cross your fingers. A "tree in the woods" type of scenario.
Inside the bay, we have blue water in as well. It normally takes a little longer for the bay to turn blue. Last week, what seems like ten minutes after I posted my last report, the blue water was already moving in and the clean green was "spotty". Today, a week later, we're seeing changes for the positive. Jack Crevalles to 45 lbs are all around the northern end of the Bay of Banderas. Punta Nayarit, La Cruz and Nuevo Nayarit are where you'll find these "bull" fish doing their best to tear your arms off. For me Jack Crevalles are fun to catch and plentiful. Those who call Jack Crevalles "trash fish" are ignoring the action part of fishing. Looking to the south end of the bay, we've been seeing Dorado all around the Los Arcos area to Punta Negra where Garza Blanca is. Dorado are small running about 10 to 15 lbs, with the possibility of larger Dorado in the mix. Remember we also have a deep channel that runs from Corbetena straight to that end of the bay. Sailfish are not unusual and anything is possible from this point forward. Sierra Mackerels and Jack Crevalles are cold water species, but will hang around when bait conditions are perfect. This being said, we're looking down the barrel of what they're calling a "Super El Nino" so I expect Sailfish to be running the bay soon. Feeling lucky?
Everything is looking positive and in a few weeks we'll be in the best part of the year for targeting world class species, but not yet. With water temperatures hitting 85 degrees, this is yet another drastic increase in water temps. No worries, it's expected and with warmer water Flying fish of 7 inches to 3 inches are taking over the area. Ballyhoos, probably the best bait in the area are thick at Corbetena and hopefully soon the entire area. Goggle eyes, Sardines of 6 inches and smaller are also a gift from the fish gods. The sun is actually up now about 06:30, we never changed our clocks here in Mexico and the bite is about 08:00 now so make sure you're leaving the dock earlier now.
Until next week, don't forget to kiss your fish!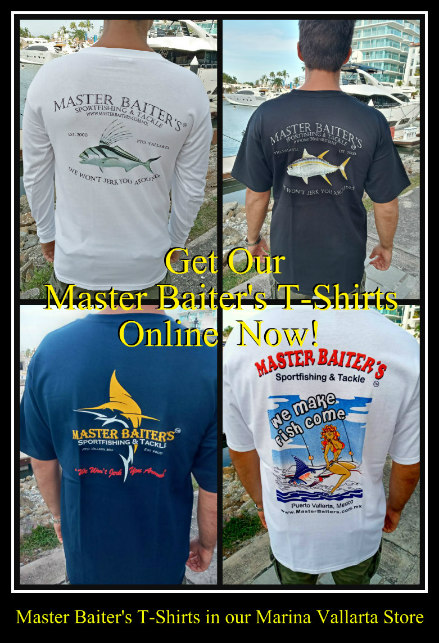 Web page: www.MasterBaiters.com.mx , Local Phone at: Our international number is: +52 322 209 1128. #MasterBaitersSportfishing on Instagram, Facebook: Master Baiter's Sportfishing & Tackle. The trade mark Master Baiter's ® Sportfishing and Tackle is protected under trade mark law and is the sole property of Stan Gabruk.