Written by Stan Gabruk, owner Master Baiter's Sportfishing & Tackle
We're seeing small changes, but not enough to say they're much different from last week. We're still seeing massive amounts of different baits. Squids, Sardines, Google eyes and the list goes on. We're still seeing the challenges of moving fish and the overabundance of food. Sounds tough I know, but there is plenty of positive stuff. Spinner Dolphin are touring the area near Corbetena. El Banco is your best fishing option with Sailfish, Dorado and Striped Marlin running the area. And of course there is always the possibility of Yellowfin Tuna the farther north you get. Water temperatures are ticking up and if things continue the way they are, once we get into a more stable situation, condition wise, we're setting up for a beautiful fishing season in Puerto Vallarta.
What we're seeing right now are the annual clashing of currents. What this does is stir up the sediment on the bottom of the bay, like putting cream in your coffee. The bay and many of the outlying areas are on the "spotty" dirty water side. We also have this "Clean Green" water which is cooler water that may be much cooler, which many times is full of bait like Squid and Sardines. As we continue to have "clashing currents", which means the entire area isn't clean water, and vice versa. This will be diminishing in the coming weeks. Having said this we're exiting a La Nina year. This means the currents will be settling down and the warm currents will begin moving in. This will normally happen by the end of May. With Tuna, Sailfish and Striped Marlin already in the area, not to mention increasing numbers of Dorado north of Punta Mita. So the future is positive. For the moment Corbetena is still on the quiet side. Spinner Dolphin are still in the area and they've been running with 20 to 45 lbs, if you're lucky enough to find them. Cubera Snappers are still possible, Striped Marlin have been there, same for Sailfish in thin numbers. With plenty of Skip Jack Tuna in the entire area, it's a positive. We're just waiting for the fish to move in. North or El Banco, by about twenty miles, we're still seeing Dorado. Some are smaller, but they're mostly in the 20 lb plus range. Sailfish, Stripers are also in the area. The positive here is it's all blue water and the bait isn't an issue there. It's all work and pretty challenging right now. Unless you have some very recent news, I'd shy away from the area for another week. UPDATE: 05/20/2022 Water temperatures are moving up a little to 79 degrees at Corbetena and as a result we have Spinner Dolphin running with 20 to 45 lb Yellowfin Tuna "footballs". Dorado may also be in the mix but there are few reports. Snappers are moving back into the area as well because just ten miles to the east at El Morro the water got cold again and Red Snappers to 35 lbs have returned… Go Figure!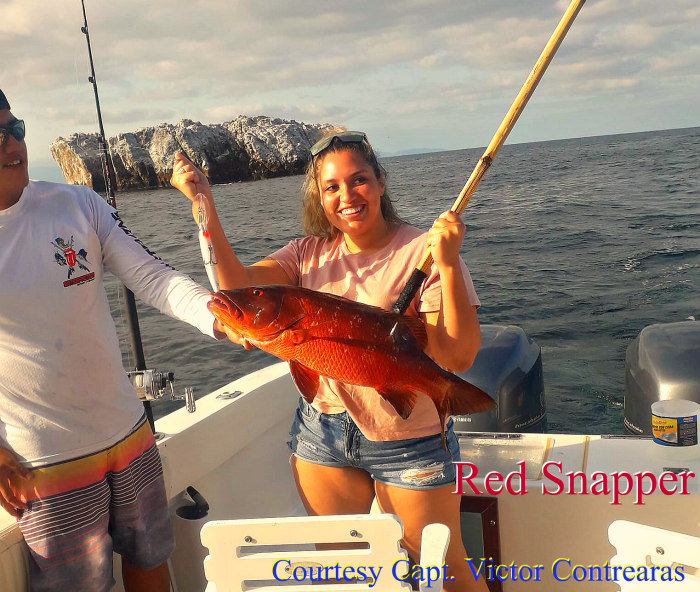 Punta Mita is still the same, but there is the chance of Dorado a few miles north of Punta Mita. Now it's a "chance", not a guarantee. Still there are Bonito, Jack Crevalles, possible Rooster fish at the sandy beach surf areas and around any rocks and upwellings. Sailfish and Striped Marlin could be in the area as currents move around. But for now, unless you're a die-hard type, I'd be waiting for some more positive indications. Once you're north of Sayulita anything is possible, I do want to say that. Most of the local fisherman who are posting "recent" catches are way north of Sayulita, FYI. UPDATE: Sailfish have started taking baits about 20 miles north of the point of Punta Mita. Rooster Fish could be hanging out there as well. Ye ha!
Inside the bay, the song remains the same. Plenty of 10 lb Sierra Mackerel action available for the early bite. Jack Crevalles have started taking baits, finally and are mostly in the middle of the bay. Bonito in the 20 lbs range. Possible Snook or Robalo near the rivers and off the sandy beaches near the river mouths. Six hours in the bay is fun and you'll find nice family fishing action.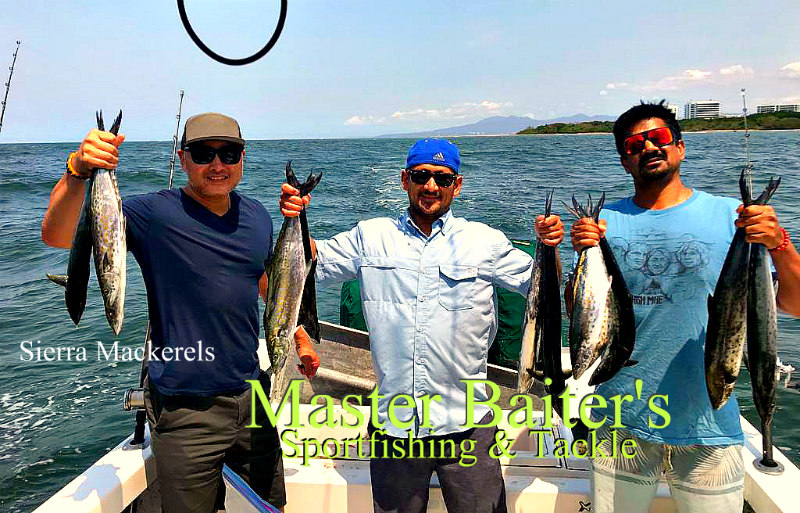 Baits right now are hard to determine. Lures that mimic Dorado, dead bait and live bait all could the daily "secret". With a full moon the bite is still on the early side so be where you want to be by 08:00. Water temperatures are at the 76 degree mark, right where they should be.
Until next week, don't forget to kiss your fish!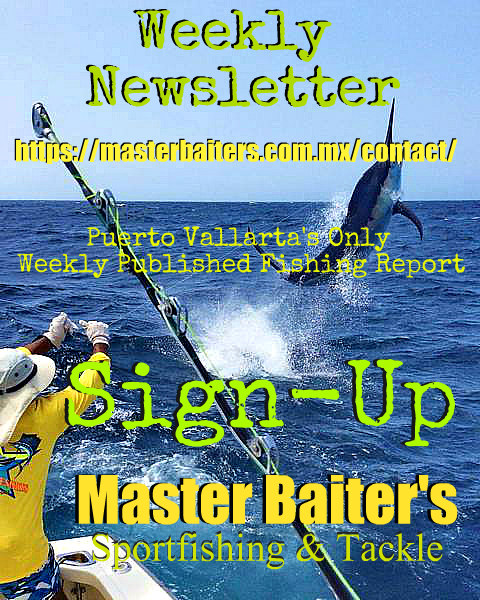 Web page: www.MasterBaiters.com.mx , Local Phone at: Our international number is: +52 322 209 1128. #MasterBaitersSportfishing on Instagram, Facebook: Master Baiter's Sportfishing & Tackle. The trade mark Master Baiter's ® Sportfishing and Tackle is protected under trade mark law and is the sole property of Stan Gabruk.