This past week was a real Rollercoaster. The good news is Striped Marlin are north of Sayulita. Grouper are in their "holes" in the bay. And of course we still have our fill of Krill. Here we are in late February and we're still seeing our late summer species hanging around. With water temperatures at what looks like a seasonal low, Grouper and Sea Bass are gracing the bay. Those with families and short budgets can find plenty of "Action Fishing" in the bay. At the opposite end of the spectrum we have Striped Marlin running the Sayulita neighborhood with Sailfish. Water temperatures have dropped, but that isn't affecting Puerto Vallarta's fishing in the slightest. The Krill Rollercoaster continues now for the third week in a row. But, we do have very happy Whales dancing around the bay. It's winter fishing, but you'd never know it. Dorado are still in the area as are Grouper. Normally words that are never mentioned in the same sentence. The challenges are obvious, the action is "arm burning" and the memories will last a lifetime.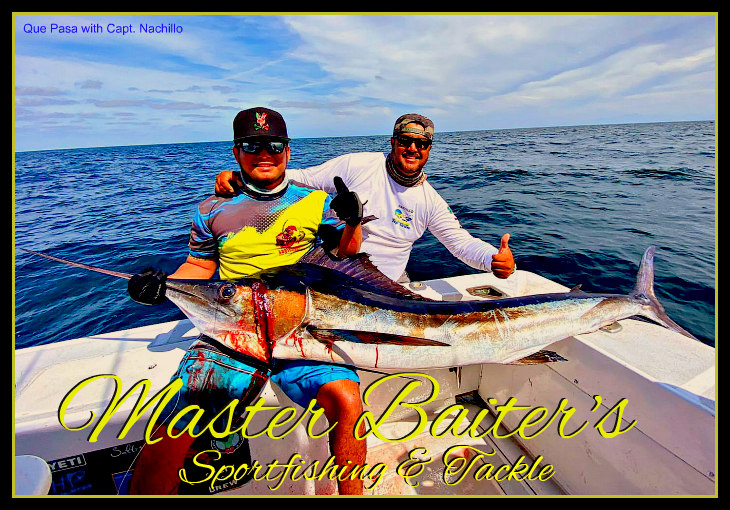 As we look to Corbetena, the same conditions for the last two weeks continue. If you recall, it's jack Crevalle and Skip Jack Tuna city. You still can't get a bait in front of any other species so Corbetena is being ignored by the local Captains for good reason. It's a ten hour day with 180 minutes of that as travel time. With beautiful blue water, the Krill is feeding every species from small to the tall. For now, just say "no" to Corbetena. Of course this will probably change twenty minutes after you finish reading this report. Stay tuned.
When it comes to the area from El Morro to Sayulita, this is where the action is. Nobody really goes fishing around the Marietta islands anymore as the area is protected. That leaves El Morro, just to the south were for two weeks now we've seen Pompano in the 20 to 30 lb range. Great tasting, fun to catch, totally ignored. As we turn our attention to Punta Mita, it's full of Dorado that won't take baits. Why, could be Krill, or the tiny Sardines, or they just don't like "you". The point is they're out there. Rooster fish are from Punta Nayarit to Sayulita. If you're serious about your fishing, then you'll be heading north of Sayulita. Sailfish are cruising the area in packs, no real pictures, but plenty of reports. Then there are the Striped Marlin which are finally taking baits. For now this is your best bang for your fishing dollar. Looking
for Yellowfin Tuna? We have Spinner Dolphin, we call them "Spinners". The Mexican Captains call them "Tornillos" because they spin as they fly out from the depths of the ocean. Yellowfin Tuna in the 40 to 60 lb range are with them at the ready. But you have to go to them. To do this take a heading off the point of Punta Nayarit of 310 to 350, heading out 15 to 25 miles. Now you may say "that puts you on the high spots of El Banco". And you'd be correct, this is what it takes if you're motivated, have the time and the fuel budget. Now here's the secret, the Dorado and the Rooster fish off the point of Punta Mita are biting at 08:30. But if you're targeting Striped Marlin and Sailfish and of course you're north of Sayulita, the bite for these species is 10:00! This makes for a perfect day, hit the buoys at the Marina Vallarta entrance. Then kick it in gear and race to Punta Mita to hit the 08:30 bite and if you're motivated enough, turn your attention to Sayulita and points north. It's a ten hour day, with 12 hrs. giving you the maximum opportunity to have the time of your life. The water is blue, the Krill isn't so bad and it's all happening now! Feeling lucky?
Those looking for four hour fishing trips to the middle of the bay will be experiencing frustrating conditions. The tiny Krill we've been talking about for the last few weeks has increased in intensity. By this I mean the whole middle of the bay is full of tiny, pea sized krill to the point they look like red-tide "ribbons" everything with fins is eating. That means Jack Crevalles at 50 lbs won't even consider your "offering" or bait. But if you head south is a six hour trip, Dorado of smaller size ranges are running in front of Garza Blanca hotel, aka Punta Negra. With 20 lb Bonito, it's not unusual to boat over 20 on this range. But let's not forget about the cooler water temperatures now at 73 degrees. To be honest normally the water gets a little colder than this, but having said that we have good sized grouper, White Sea Bass, and even Snook. Capt Cesar headed to his secret spot and while using Squid for bait, just bottom fished with excellent results. In fact Capt. Cesar boated 10 of these Snow Grouper in the 15 lb range. Short on money and time, this is the perfect situation for you.
The bite is still the same, unless you're targeting Sailfish and Striped Marlin north of Sayulita and that bite for some reason is about 09:30. Outside the bay, there is blue water and swirling currents. The challenges are obvious, but the captains have experience and plans of attack. Rapallas are your best bait for now, but small rubber squids are working well at times. Remembering that many times when the morning bite is less than exciting, the afternoon bite will make up for it.
Until next week, don't forget to kiss your fish!!
Thanks for your continued support and until next week, don't forget to kiss your fish!
Web page: www.MasterBaiters.com.mx , Local Phone at: Our international number is: +52 322 209 1128. #MasterBaitersSportfishing on Instagram, Facebook: Master Baiter's Sportfishing & Tackle. The trade mark Master Baiter's ® Sportfishing and Tackle is protected under trade mark law and is the sole property of Stan Gabruk.