Written by Stan Gabruk, owner Master Baiter's Sportfishing & Tackle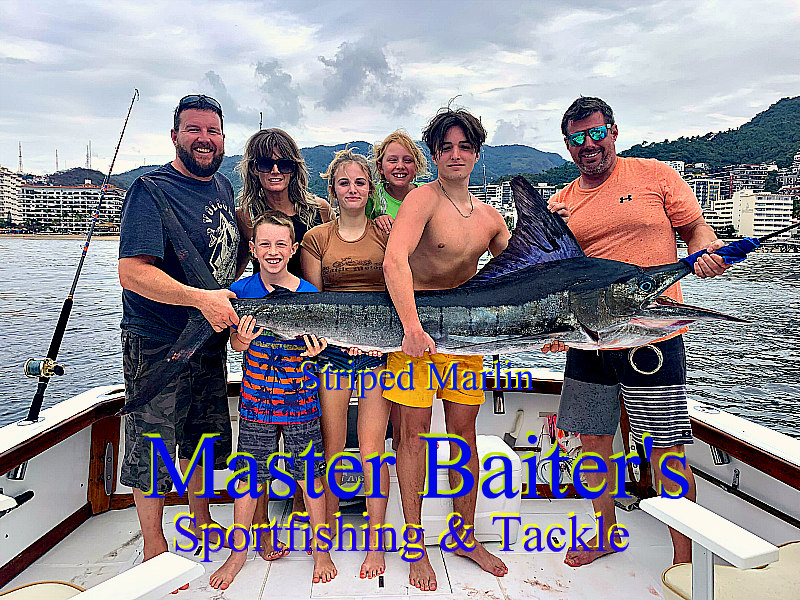 Strangely enough we're in the third week of the "Bubble". It's strange, but this freak situation of warm water hanging off the point of Punta Mita continues. Water temperatures seem to have stabilize a bit for the moment. Massive bait in the form of Squid and Red Crabs are all around the area as our yearly transition period continues. With plenty of action, everyone fishing in Puerto Vallarta right now are getting their fill of action. If you're looking for Billfish or just a family day on the water, we've got you covered!
Suddenly Corbetena springs to life again with massive amounts of baby or "bullet" Skipjack Tuna all around the "rock". As a result of this there are just fields of Football Tuna in the 30 to 40 lb range running the "neighborhood". Striped Marlin are also picking up in numbers everywhere including Corbetena. Sailfish possible and of course for those interested in jigging Cubera Snappers to 55 lbs, Rainbow runners to 12 lbs, Amber Jacks and the list goes on. Except for the Football Tuna, you can pretty much find these species closer in.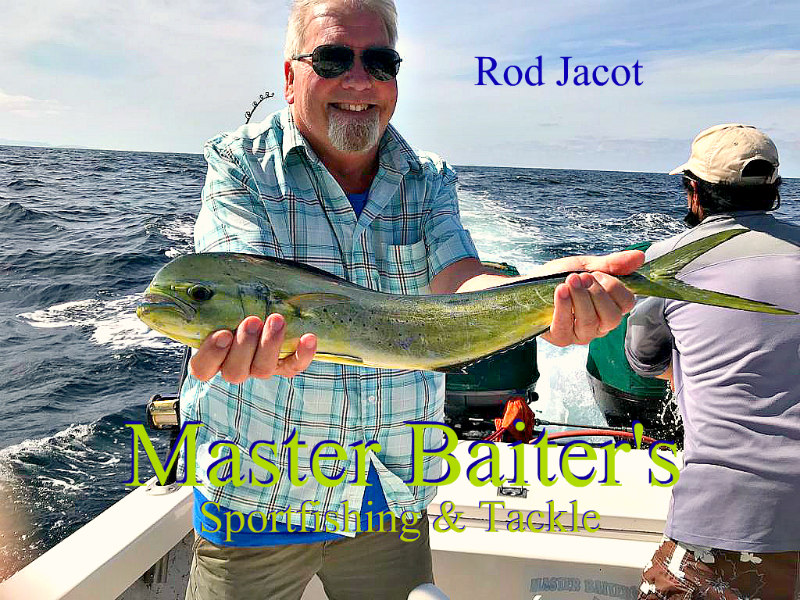 If you're looking for your best bang for your fishing dollar, you'd be heading out to Punta Mita. For the third week in a row, we have a bit of a strange situation where the water is a bit warmer by about four degrees than all the other fishing grounds in the PV area! That means if you take a heading of 330 off the point of Punta Mita and head out about 12 miles you'll find action. Sailfish, Striped Marlin are picking up in numbers, possible Dorado, Jack Crevalles, Bonito and now Rooster fish in the 30 lb range near Sayulita. What more could you ask for in a transition period! To be frank, most of the best fishing is happening in this area. With Sailfish, Striped Marlin, Dorado, Rooster fish and more available in the area, if looking for billfish and action, this is your best bang for your fishing dollar!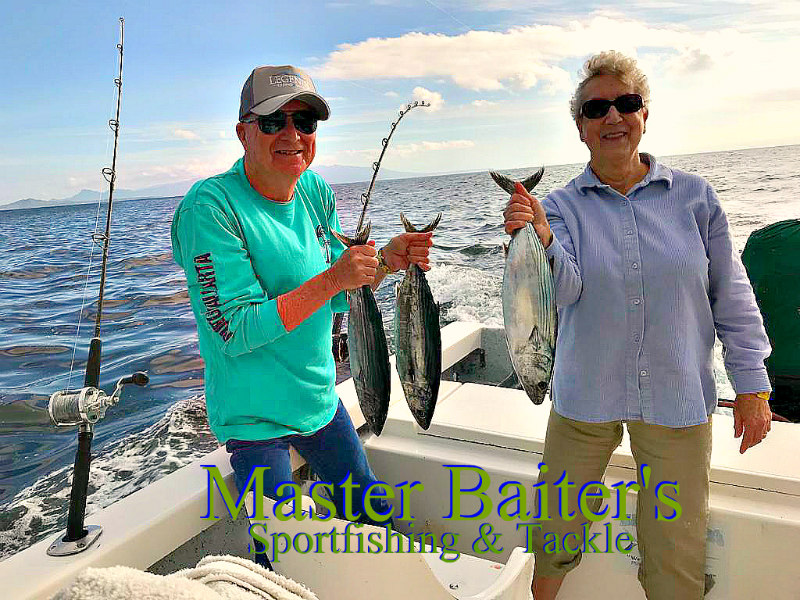 Fishing inside the bay right now is both fun and affordable. With Whales in the bay you get the opportunity to go fishing and see spectacular Whales at the same time. But be warned, fishing around Whales is normally bad, seems the fish have a tendency to fell like "bait", ha ha. Jack Crevalles have leaped in numbers this week and they're everywhere in the bay and running from 30 to 50 lbs. Freak Dorado can still be boated, but you should keep your expectations on the down low for them. Bonito are running 20 lbs and are abundant not to mention good eating. Sierra Mackerels are small, think large trout size and every bit as tasty! Rooster fish possible at sandy beaches. Plate sized Snappers around rocks or structure and of course the list goes on. For now bay fishing is great for beginners and for the "salty" types. I'd suggest six hours allowing time to find where "they're" at today.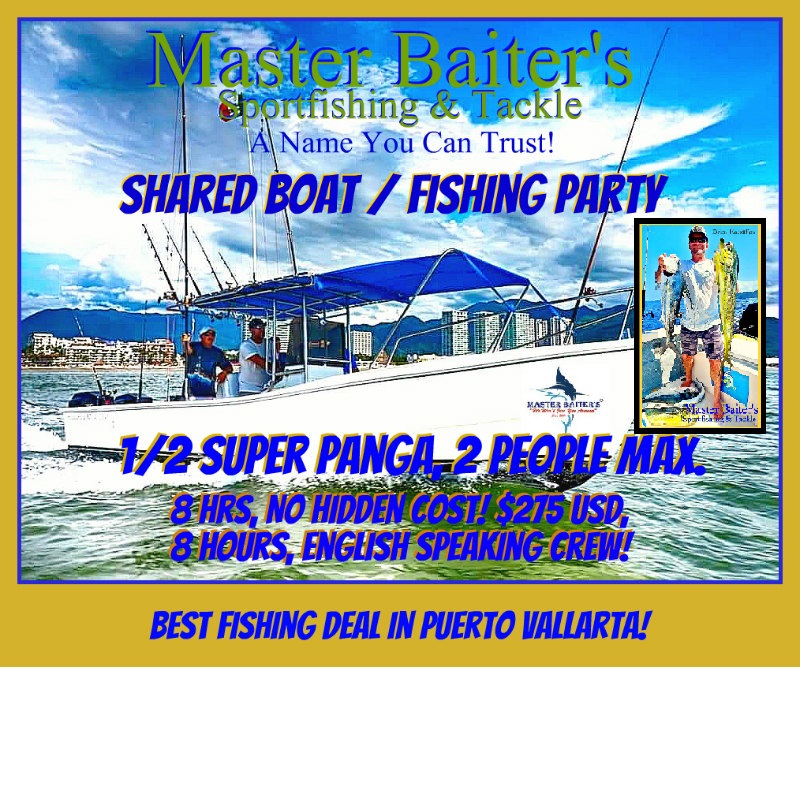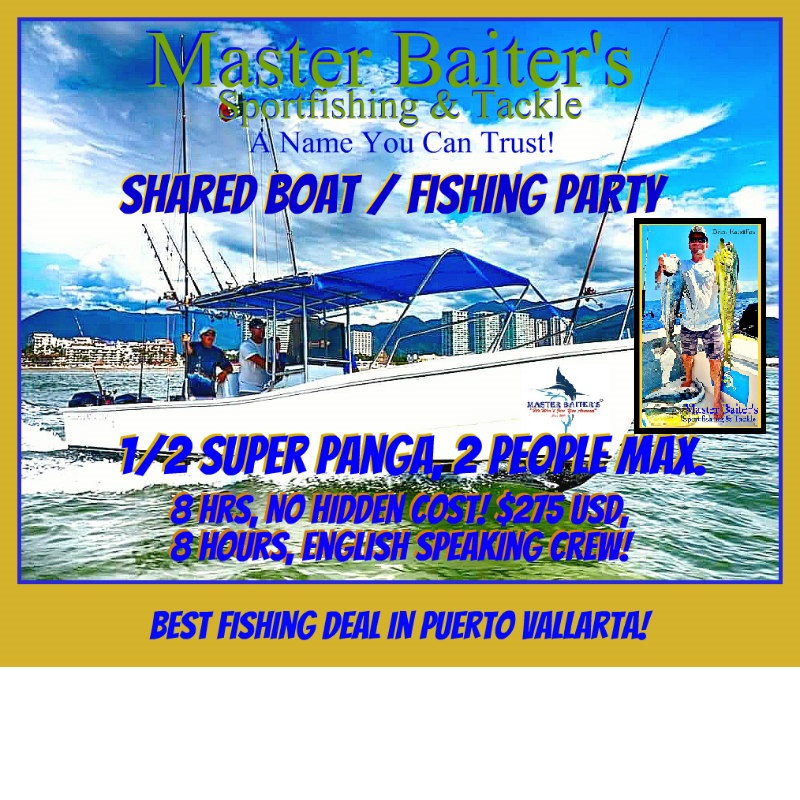 Water temperatures have stabilized a bit at 74 degrees, but there is still room for downward movement. This will bring in our short term cold water species of Snapper, Bass and Grouper in the bay. With massive amounts of 1 to 3 inch squids, baby Skipjack tuna, Goggle Eyes and more there are no bait issues at all. The bite is a solid 09:00 to 10:00 bite with Sierra Mackerels being "early birds" will of course take baits at sunrise! For now lures have been working as well as live bait. I'd suggest Dorado mimic colors and pink or squid colored lures but Petroleros are always top of the list.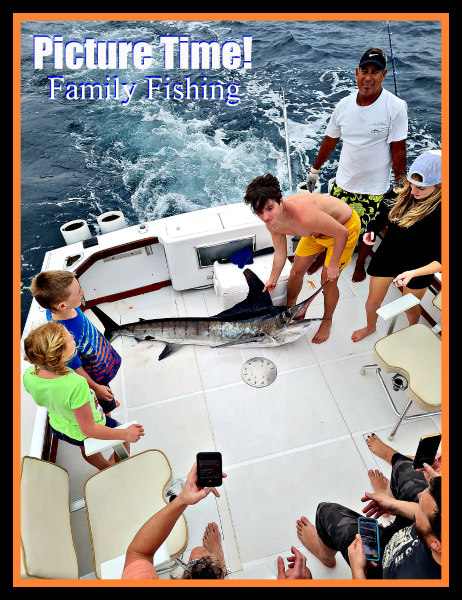 Don't forget to check out my weekly Video Fishing Reports on YouTube, they're very popular! Also if you're looking for tours, Airport transfers and somebody to freeze your catch, call us, we'll fix you up.
Until next week, don't forget to kiss your fish!
Web page: www.MasterBaiters.com.mx , Local Phone at: Our international number is: +52 322 209 1128. #MasterBaitersSportfishing on Instagram, Facebook: Master Baiter's Sportfishing & Tackle. The trade mark Master Baiter's ® Sportfishing and Tackle is protected under trade mark law and is the sole property of Stan Gabruk.