Written by Stan Gabruk, owner Master Baiter's Sportfishing & Tackle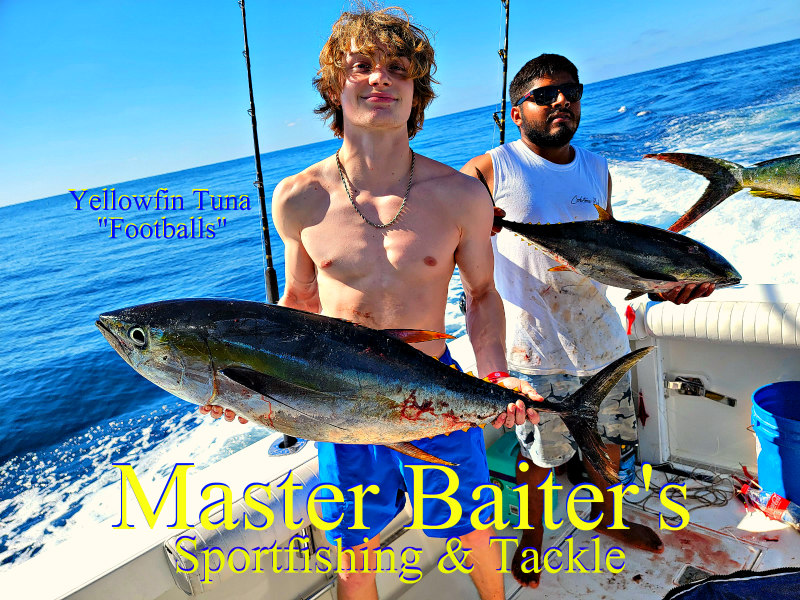 So here we go again, transitional season, pull your hair out trying to figure out what we "have" here in Puerto Vallarta's fishing grounds. As you should expect with dropping water temperatures in mid-January things can get confusing. Dorado are still in the area, but that's not saying much. We are still seeing Blue Marlin, but nothing automatic. Sailfish have bugged out, but now Wahoo are starting to make an appearance. I told people all last week to forget about Dorado in the bay and then Wham! Dorado are in the bay. The only thing I can say for sure is Corbetena and El Banco are hardly showing a pulse!
First, Corbetena and El Banco are barely showing a pulse as I just mentioned. Cool water is the primary reason. Those heading this week to Corbetena went to the fallback position of jigging for Cubera Snappers or Amberjacks. Either that or come in closer to shore where your chances of great action are better. Don't fret, the afternoon bite is good right now. The most positive thing this week was that larger sized Spinner Dolphin have move back into the area and they're running with 45 lb Yellowfin Tuna. And, believe it or not, larger Jack Crevalls. For every ten fish caught, six will be Tuna, four will be large Jack Crevalles. Striped Marlin are finally moving in, Wahoo are starting to show up in limited numbers and of course there are about three Blue Marlin over 200 lbs per week being boated in this area and that's the story here. Since we're moving into the "off season" for summer species, it's time to think "shorter days" amigos.
So, here we are thinking an eight hour day is better for the average guy right now and you'd be right. The only real question is: Where? For this moment, the best option is to head out from Punta Mita on a heading of 330 to no more than twelve miles out. There you'll find Dorado in great numbers! Why? Who knows, but there is a lot of 3 inch Squids and the Dorado are "chowing down" on these. Nothing is easy, so expect a challenge. You'll catch fish, Bonito are picking up in numbers and size running 20 lbs and great tasting. Stripers are also in the area so anything can happen. Jack Crevalls closer to Punta Mita, Rooster fish possible on sandy beaches. Throw in Sierras and you've got a pretty accurate snapshot of the moment. The good news is the water is clean and the fish there waiting for you now!
Inside the bay is "Action City". Jack Crevalles are circulating throughout the bay from Bucerias to Nuevo Vallarta in the 35 to 50 lb range and are strong fighters. You'll find jack Crevalls everywhere so they're hard to avoid. There have been several pictures of Dorado in the bay this week and it turns out that there has been debris in the middle of the bay and that's where many of the Dorados have been boated. You do need six hours in the bay to find fish, they're that spread out. What you can expect in a six hour trip is something like this: 30 bonitos, 15 Mackerels, possible Jack Crevalls and an outside chance of a Dorado. For now the bay is probably your best bang for your fishing dollar. With possible Rooster fish and possible Yellowfin Tuna near Yelapa. There is plenty of fishing action in the bay, feeling lucky?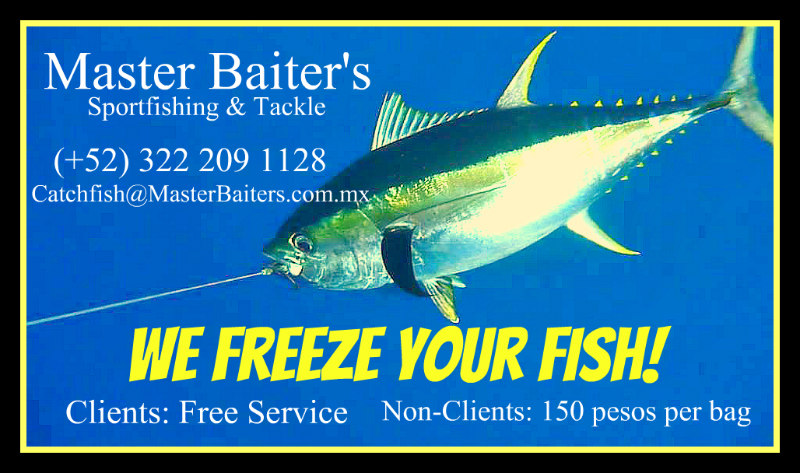 The bite has been a funny thing. The morning bite is now about 09:00 and the afternoon bite is about 14:00 or 2 P.M. which has been strong. If heading out in the morning don't forget Sierra Mackerels bite even earlier in the bay! Bait is plentiful, maybe too plentiful again with Squids and assorted types of whale food which the "locals" also indulge in. Try every bait you have right now including dead baits and lures. Fickle fish are choosing what they hit, so use all your knowledge and tricks out there. Water temperatures will continue to drop as we move into winter fishing and are presently 74 degrees in many areas. There is a large spot off Punta Mita about ten miles in diameter where the water is 78 degrees! Naturally this is where the action is. Find warm warmer water, find fish, that easy.
Looking for tours, Airport transfers and somebody to freeze your catch, call us, we'll fix you up.
Until next week, don't forget to kiss your fish!
Web page: www.MasterBaiters.com.mx , Local Phone at: Our international number is: +52 322 209 1128. #MasterBaitersSportfishing on Instagram, Facebook: Master Baiter's Sportfishing & Tackle. The trade mark Master Baiter's ® Sportfishing and Tackle is protected under trade mark law and is the sole property of Stan Gabruk.