Written by Stan Gabruk, owner Master Baiter's Sportfishing & Tackle
It seems sometimes that Puerto Vallarta's fishing grounds are always changing. Seasonal changes and daily changes in fishing conditions can be frustrating for sure. We're now at the time of the year where we have warming water temperatures with swirling cold currents, a frustration dream for sure. We're transitioning, Cold water species like Jack Crevalles, Sea Bass, Snappers and Sierra Mackerels are our "bread and butter" species. With warmer currents moving in these species are moving out. Soon the warm water species will fill the void. But right now it's a mixed bag and the fishing is on and off at best. This is nothing new and the local Captains know to target what species are abundant. Fishing is never "bad" in Puerto Vallarta, but to be fair, some days are better than others.
I can go ahead and tell you what happened last week, but what is going to happen is in the forefront of my thoughts. For now we're going to see some strange stuff. Water temperatures will be up and down with swirling currents. This is normal for spring. Things will really change after we see the dirty water from the current clashes, this is on the way in the next few weeks or so. Once this happens, normally around the end of May to early June, then the summer fishing season gets legs under it. For those with the fishing bug, the thing to do is target what you can get. Forget about the fantasy fishing where you're looking for a "bucket list" fish.
For now we're still seeing Striped Marlin, aka Stripers all over the place. Corbetena is no acceptation. Sailfish are sparse but picking up slightly in numbers. Bonito for bait has thinned out and can be difficult to find at the rock so be sure to make some bait or catch bait if you see it on the way out. Yellowfin Tuna in the 40 lb range. Especially if you find Spinner Dolphin, which are running the area right now. Blue Marlin are slowly picking up in numbers. And Amber Jacks are starting to move into the area but aren't thick enough to count on catching one. Dorado are tiny in the area, but they will get bigger in the weeks to come. We're happy to see Dorado this early in the season, last year it was July before we say Dorado. The year before was September. So there's a whole story there, with my limited space we'll have to tell that story at a later date.
At El Morro, it seems to be the Captains choices for fishing right now. With Striped Marlin, Possible Sailfish and Possible Wahoo, anything is possible. There have been some reports about Amber Jacks. If targeting Amber Jacks they're hitting green and blue Runners. Use a shiny spoon jig to catch them and you'll have some great action. That's a secret for just us! Jack Crevalles are still there but thinning. Not much to say here, but this is a great area for the moment if heading out of the bay. Punta Mita is still sporting Stripers, Possible Dorado if you find any floating debris or logs. Sailfish and Rooster fish north of Sayulita and frankly anything is possible so be ready.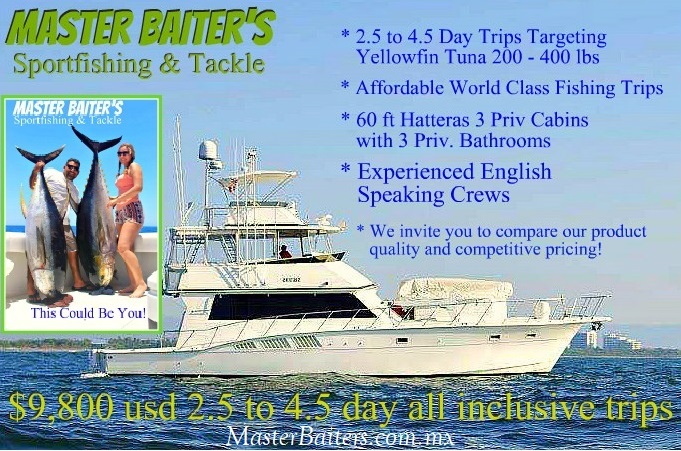 Inside the bay we've some good days and some horrible days. We're seeing what looks like fickle fish, but in reality there is this tiny bait, no bigger than 3 cm, they're clear and they're like rice bait to fish. So when they're "there" and you can't get them to take bait, this is why. If you come across any species and they aren't taking baits, move on. Jack Crevalls are popular at la Cruz and Nuevo Vallarta. Sierra Mackerels are super thin and surprised you can still get them in the bay with the warmer water. Bonito have thinned out as well for some reason. Dorado have showed up in the bay, they're tiny at five pounds and not keepers at all. But they're here and soon they'll be larger so this is good news for now. Yellowfin Tuna Footballs possible near Yelapa and of course there is always smaller snapper action around the structure.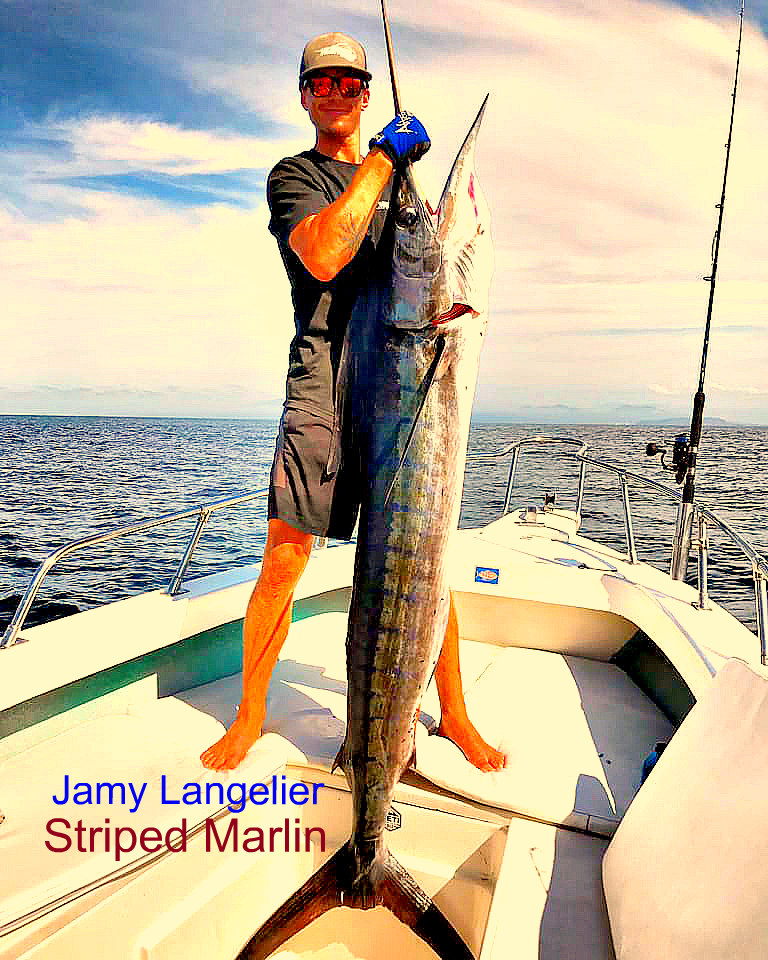 With water temperatures swirling one day we'll see the bay temps at 68 degrees, then the next day they're back up around 80. Frustrating yes, but normal. Corbetena has had some strange and drastic drops in water temps as well. The good news is the water is still mostly blue. Five miles off Punta Mita the water is clean as well. So the secret is look for warm, clean water and you'll find the action amigos. The bite is steady 09:30 in the morning and about 3 in the afternoon. With so much "rice sized" bait in the area it's hard to make a suggestion. But this will change shortly, these tiny fish normally move out in a few days.
Until next week, don't forget to Kiss Your Fish!
Master Baiter's has expanded into doing Tours (about time), Airport Transfers where we pick you up at the airport and of course private tours making us a one stop shopping network. And we won't try and sell you a timeshare! Web page: www.MasterBaiters.com.mx , Local Phone at: 322 779 7571 or our international number is: (011 52) 322 209 1128 10 to 9 local time. #MasterBaitersSportfishing on Instagram, Facebook, http://www.facebook.com/pages/Master-Baiters-Sportfishing-Tackle/ ..The trade name Master Baiter's ® Sportfishing and Tackle is protected under trade mark law and is the sole property of Stan Gabruk.