Written by Stan Gabruk, owner Master Baiter's Sportfishing & Tackle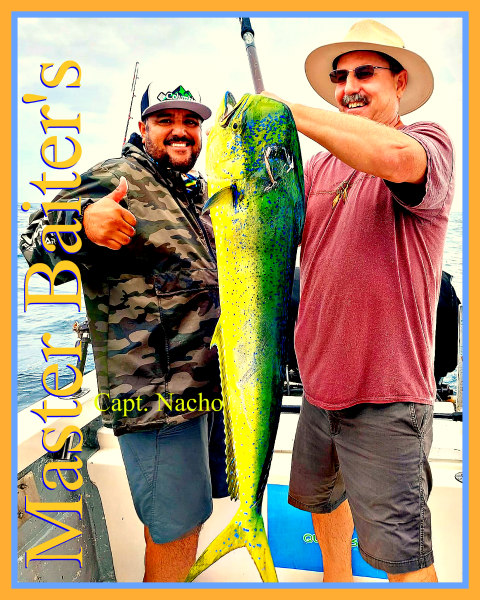 Almost two weeks after Hurricane Nora we finally have fish moving back into the area. We're still having the seasonal rains so the bay will mostly have river fed dirty water. We also have mature trash lines which is a fisherman's friend. After the Hurricane we still have a massive amount of floating debris in the form of tree stumps, logs, furniture, you name it, it's out there floating. Needless to say it's a navigation hazard. But for Dorado, debris like this is heaven. The deep water fishing grounds have great, if not perfect fishing conditions as they "reload" with Sailfish, Dorado and more. We always have fishing challenges, the "payoff" is when you find the "solution"!
Well here we are folks, about two long weeks after a Hurricane. the fishing returns! Last week at Corbetena it was a nightmare. Naturally we know when a Hurricane passes by, in this case right over Corbetena, fish are going to "bug out". Currents get weird, the fish feel the "pressure" and they move out. This can be a good thing or a bad thing depending on if the fish are moving in or moving out! We felt the pain last week, thankfully it's in the lowest part of the low season. But we're in "high season" for fishing so things change quickly which means fishing has returned to the entire area. Corbetena right now has Blue Marlin from 350 to 600 lbs and could be larger. Black Marlin are thin, that's unusual. Dorado on the other hand have finally showed up at the rock. Sailfish are also running the area and will pick up in numbers now on a daily basis. Yellowfin Tuna are in the 25 to 40 lb range, perfect bait size. For now we're happy to have fish, we'll complain next week about what's lacking.
The area from Punta Mita to El Morro right now is your best "bang for your buck" fishing. The entire area is full of floating debris as mentioned earlier and with Trash lines. Captains know how to use these natural advantages or obstacles depending on how you look at it. Having said that, again any debris is a possible 25 lb Dorado Gold Mine! Sailfish are running in the area as are Blue Marlin about ten to fifteen miles off the point. Rooster fish can be around sandy beaches. Nice sized Rooster fish at 30 – 40 lbs, Jack Crevalls could be in the area also but they're not reliable or predictable. Plenty of bait in the area along with plenty of Skipjack Tuna, Goggle eyes, flying fish, green runners, you name it. I'd say it's well worth an 8 hour trip to Punta Mita. UPDATE: Suddenly Dorado have invaded the entire area. Could be the tropical storms pushing Dorado into our world famous fishing grounds. This could be a short lived thing so get out there ASAP!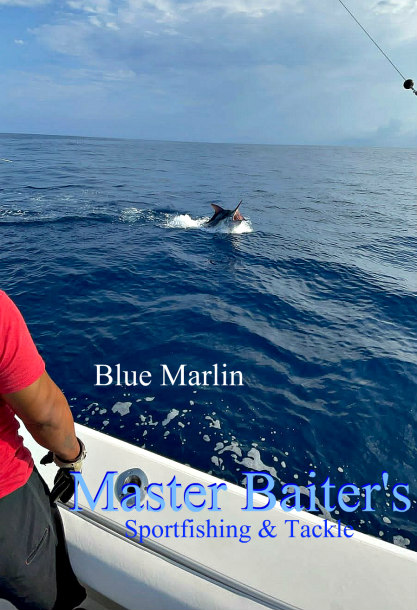 Inside the bay is less than exciting. Last week it was happening, probably a result of the Hurricane. But for now things have changed. Jack Crevalles are still in the area, but they're iffy and many times aren't taking baits. Dorado can be in the areas south of Los Arcos. Yellowfin Tuna have been taking baits at Yelapa. Rooster fish off Punta Negra but they could be very small. There is always action around the rocks and structure as well. You'll need six hours to get into clean water and have time for actual fishing. You'll catch fish in the bay, no problem there. But it's not going to be automatic. Feeling lucky?
OK, here's some ugly news, it looks like we're moving into a La Nina year. Water temperatures right now are still at 88 degrees. Not bad, but they should be warmer. Watching the news in So. Cal made me look for La Nina Information and yep, we're coming into it, stay tuned. The bite hasn't changed and it's freaky. Heading out to your favorite fishing spot, the bite is still between 9 and 10 in the morning. Baits are a moving target, but Blue with white and silver lures are working. Guacamayos are working well and as always run one live bait or one lure. Good luck.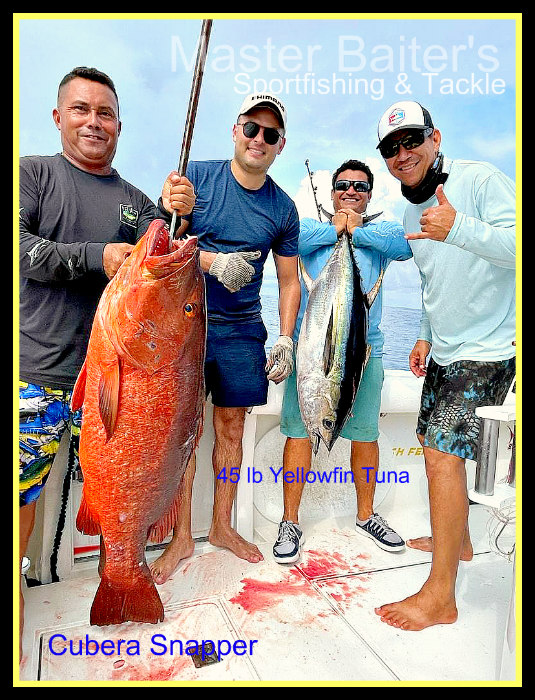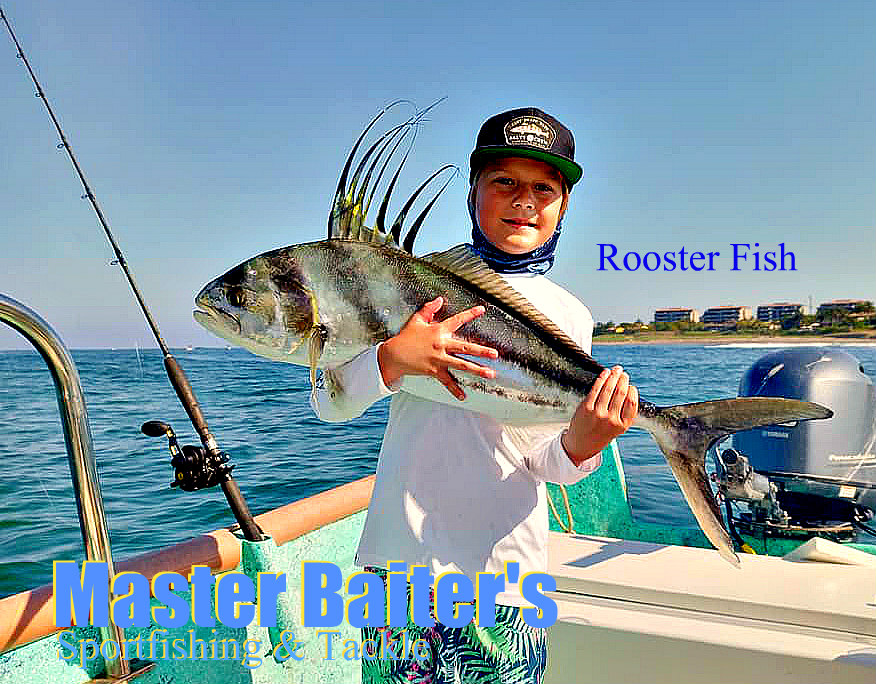 We're coming into Tournament season and Master Baiter's is there for you. We have a complete line of world class fishing boats and crews. Not all are priced the same, but you'll be on a boat that will put you in the game! We already have a couple of boat in the tournament, why not join us and enjoy the party!
Until next week, don't forget to kiss your fish!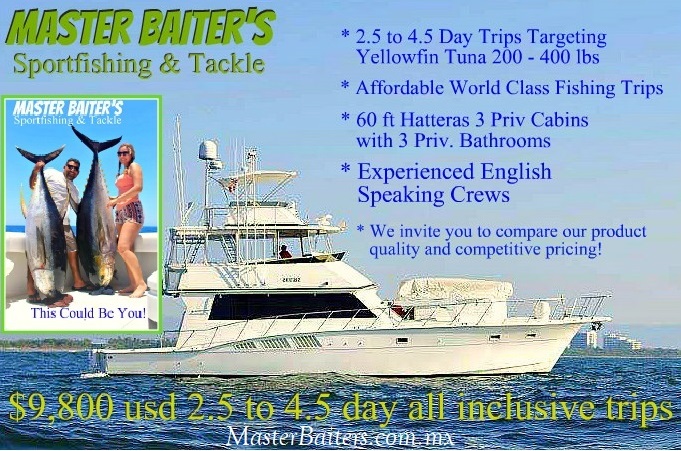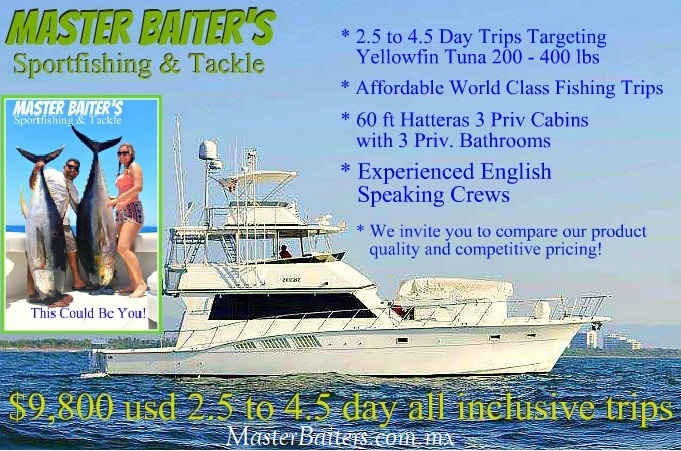 Web page: www.MasterBaiters.com.mx , Local Phone at: 322 779 7571 or our international number is: (011 52) 322 209 1128 10 to 9 local time. #MasterBaitersSportfishing on Instagram, Facebook, http://www.facebook.com/pages/Master-Baiters-Sportfishing-Tackle/ ..The trade name Master Baiter's ® Sportfishing and Tackle is protected under trade mark law and is the sole property of Stan Gabruk.