Written by Stan Gabruk
This past week was full of rain and wind, but the fishing is still improving. As far as unexpected weather surprises go, we're doing pretty well. Just the normal seasonal rains. You'd think rain would be bad for fishing but in reality it's best in the rain! Fish get excited and come to the surface, which makes your chances of boating an "excited" fish much better. Naturally with rain, areas near the river mouths will be coffee colored, not a preferred condition at all. But in the areas away from the mud in the bay, things have improved as well. When it comes to the deep water fishing grounds, Dorado are both picking up in numbers and size! Sailfish are also picking up in numbers as you'd expect. Haven't seen any Black Marlin this year, that's not normal at all. But on the other hand, we're happy to still having Yellowfin Tuna at Corbetena! At this time of the year the deep water locations is where your best fishing will be for the near term. Inside the bay, there is still great fishing, but you won't find Marlin, Sailfish and Tuna for the most part.
Corbetena this week has been "satisfying", which means you'll catch fish and come back happy. With Yellowfin Tuna at 40 to 60 lbs, Sailfish, Blue Marlin at 350 to 500 lbs, Cubera Snappers, Sailfish and more. How can you go wrong? With high visibility blue water and plenty of Skipjack Tuna for bait, Corbetena is finally looking like the Corbetena we've come to know and love. Fishing in Puerto Vallarta is improving by the minute and right now the rock is a great place to be.
The biggest "story" this week has been happening between El Morro and Punta Mita if targeting Dorado and Sailfish. If near a sandy beach or structure, Rooster fish in the 35 to 45 lb range. With all the rain, we naturally have mature trash lines and floating debris. This is heaven for those targeting Dorado and they're in the 25 lb range and a little bigger. Striped Marlin are not in the area, a few stragglers for sure, but they're in Cabo right now. Rooster fish have been at Estela Dera and at the other end of the bay at Punta Negra. Jack Crevalles for some reason are up and down, as well as fickle. Fun to catch, but for now they're out of season. Dorado at Los Arcos and south of the bay. Yellowfin Tuna have been coming up at Yelapa at 40 lbs. If you're serious and willing to take the chance, Cabo Corrientes, the southern area of the bay ignored, could be well worth your efforts. Dorado are possible as well… Feeling lucky? Update: With the continued seasonal rains the dirty water is almost everywhere. Heading to the area between El Morro and Punta Mita is mostly dirty. Now this will change quickly with currents and a lack of rain would help. For now you have to get past the Marietta Islands distance wise to find clean, blue water. If you do, there is plenty of debris, I should call them Dorado Gold Mines! Keep this info to yourself… ja ja. Deep Sea fishing in Puerto Vallarta can change by the day.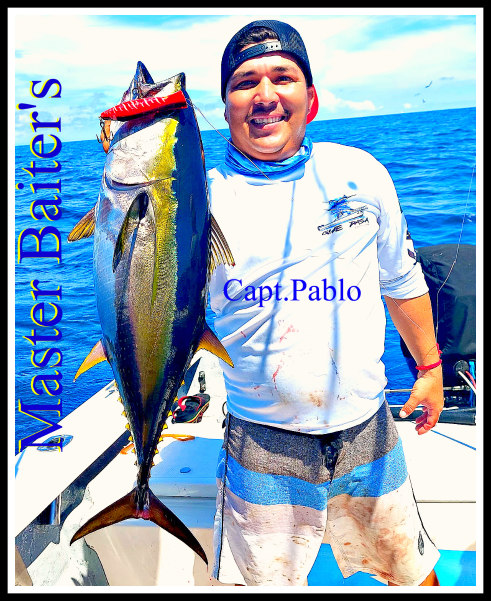 I know this week's report didn't sound much different from last week, but that's a good thing actually compared to the weeks prior. The "bite" is locked in concrete I guess, so heading out too early isn't helping your cause. The bite is still after 09:00 so plan accordingly. Bait is abundant and live bait is king. But if running lures start with Dorado mimic colors of green, yellow and black design. Water temperatures are a solid 88 degrees and this is surprising. Normally we'd be looking at 90 degree water, which is just a point supporting the La Nina moving in.
Just a reminder it's tournament season and we have plenty of boats and world class captains waiting for you to step up and enter. Now we have several local tournaments and we can fix you up with all of them. Naturally the November tournament from the Club De Pesca is our highlight, the Marina Vallarta Marlin Tournament will be happening this year and it's never too early to reserve a great boat and crew!
Until next week, don't forget to kiss your fish!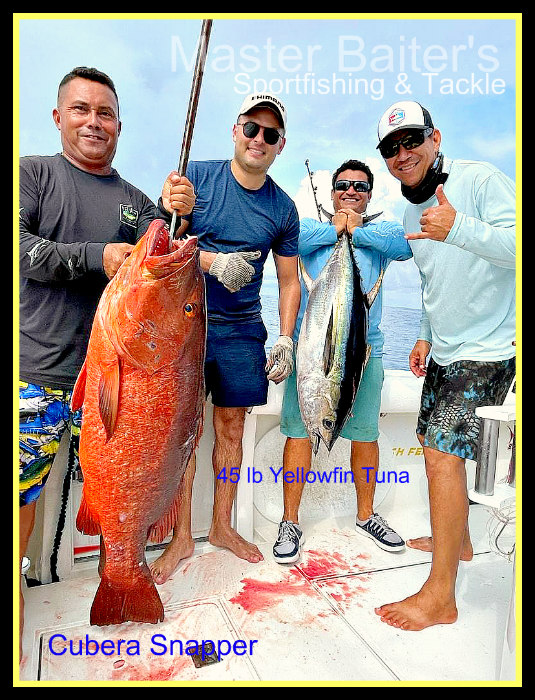 Web page: www.MasterBaiters.com.mx , Local Phone at: 322 779 7571 or our international number is: (011 52) 322 209 1128 10 to 9 local time. #MasterBaitersSportfishing on Instagram, Facebook, http://www.facebook.com/pages/Master-Baiters-Sportfishing-Tackle/ ..The trade name Master Baiter's ® Sportfishing and Tackle is protected under trade mark law and is the sole property of Stan Gabruk.