Punta Mita Explodes with Sailfish and Dorado
Written by: Stan Gabruk owner of Master Baiter´s Sportfishing & Tackle
Welcome back to another week of exciting fishing. We've seen several weeks where the fishing has gone from great to terrible, then back to great again. Now I can't say the fishing is "great" but I can say it's very good. The conditions are hard to beat right now, it is warm and humid but that's to be expected especially at this time of the year. We've seen some swings as to "hot and cold" fishing, again that's normal. One thing that is keeping the fishing good is the amount of Sailfish and Dorado available for the last week or so, this makes the fishing good. Now if Corbetena or El Banco would get their act together then maybe we could call it all "Great".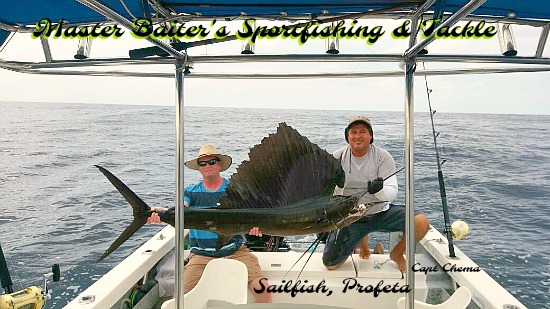 Last week Corbetena was cooking, today it's more of slow simmer. Same can be said for El Banco or The Bank as we call it in English. Normally at this time of the year we see some heated action on these spots. One issue has been we had a tropical storm from over the Bay of Banderas which of course pushed the "pressure" up considerably. Fish feel this, hell I can feel this. You know when the pressure is high, you feel like you're in low grade pressure cooker that just is unbearable until the rain starts then it's more comfortable. Well until the sun comes out and the process starts again. For now with no real boats heading this direction be sure you check the conditions before heading out. I will say this, there were some strange currents in the area as well so this could have been the biggest problem for fishing in this area. Just remember slow today is hot in a few days, stay positive and it will be to your advantage amigos. Water temperatures have risen in these areas to close to 90 degrees. When this happens Yellowfin Tuna will hand in deeper water where they can more easily regulate their body temperatures. So a sounder and downrigger is essential if fishing in this area. The simple fact that not many are heading in this area, that is until somebody starts boating fish again, means you own those fishing grounds and with some insight it could be a fishing trip to remember. Then again, maybe not…
The big surprise this week is the point off Punta Mita. For a few days last week it was on fire with Sailfish and Dorado, then everything changed shortly after I wrote last week's article. Then in a few days, like I always say, everything broke loose and the bite was on. With three boats out at the Point of Punta Mita there were 25 Sailfish Strikes and the Dorado are in the 20 to 30 lb range. It was surprising how fast things snapped back to action, but that's fishing for you. The minute the Tropical Storm that formed over the bay moved out to sea, the fishing exploded again which brings up to date. For now this area is your best band for your fishing buck. Just hit the point, take a heading of 310 or and eight miles later you'll be where you want to be amigos. Now last week dead bait was the secret, this week they're hitting super baby YF Tuna "babies" all over the area as are Flying fish with Sardines around the shore in limited amounts. Eight hours will get you a nice length day, not too intense and fish for everyone. This should continue as long as there are small baby YF Tuna the size of a dollar bill, buy the billions I should say so hopefully they grow into "cows"! The area around the Marietta Islands have had fish, mostly Needle fish, fun to catch and good tasting, but not a primary trophy species for sure. They're fun to catch, even taste great, but weird looking and it has a bill, like a Sailfish but much smaller. Jack Crevalls to 30 lbs, maybe a freak Rooster Fish but you should consider yourself lucky if you boat one, not skillful. Off the El Morro Island there have been Sailfish and some Blue and Black Marlin circulating in the area, about seven miles toward Corbetena, but not something you can count on. But if in the area, give it a shot. Remember dead baits were working better than live bait as late so have at least one dead bait and a Petrolero lure out for sure. Update 8/15/217: Today we saw the Arrival of Striped Marlin, Blue Marlin at 250 to 350 lbs and a marked increase in Sailfish Numbers off Punta Mita. Anywhere from Los Animas to Nuevo Vallarta and frankly up to La Cruz area. Dorado are thin, but picking up with several boated the last couple of days, but not automatic. Where are they? Take a heading of 300 off the point and five to eight miles out some billfish will find your baits. The fishing just got even better. 
The other best place to find action once again is inside the bay. You have a possibility of some smaller Yellowfin Tuna to 15 lbs around Yelapa, with some luck they could be larger. Sailfish are still taking baits and are more abundant than you might thing in front of the Los Arcos area. There have also been some freak Dorado over 15 lbs in the same general area, so be positive. Jack Crevalls at 30 lbs are thinning in numbers as you would expect, but with ample bait in the bay they've been hanging around in warmer water than they normally like. Needle fish are anywhere from 10 lbs to 40 lbs and while a strange looking fish, they're great tasting and great fighters. They like to jump a lot which is a visual treat to be sure. If around structure or rocks you can always jig for Snappers or more. All and all the bay is still great fishing and when you can save a few bucks and still have great action, where's the down side? Update: As mentioned earlier Sailfish are in front of Los Arcos, and frankly anywhere from Los Animas to La Cruz you have a better than "fair"  shot at a Sailfish inside the bay! 
Water temperatures have been raising slightly and it depends on where you are as to what the water temps are. Inside the bay it's 86 degrees, cool rain water pouring in the bay can make the difference here. At the Marietta Islands it's 88 degrees and at the rock (aka Corbetena) it's closer to 90 degrees as mentioned earlier and can be an issue. Bait this week is a little different. As mentioned if you're around the Punta Mita Point there are just massive bait balls of tiny Yellowfin Babies the size of dollar bills. Not good for eating, but good tasting to a Sailfish or Dorado. Dead baits are still working nicely, Petrolero lures are also working well as are Rapallas with silver and black markings. Update: for now the lures that are working and they're working best right now are Tuna Lures with Blue and Gold coloring, Green Lures, and Pink with Blue Lures. They're striking these because the baby YF Tuna in the four inch range are even thicker. The bite has been all over the place lately, but for the last few days the bite has been around 9 a.m. Be sure to get out early and be where you want to be at this time, you'll improve your chances and it's cooler in the morning hours. Just a reminder, it's rainy season here in PV and while it normally doesn't rain in the morning hours, it can. Rain is never an excuse to not go fishing as the fish bite better in the rain. Strange but true, the splashes on the water from a fishes point of view looks like baby baits re-entering the water. They get excited and you can really be on the lucky end of that stick. If it does rain the morning it's normally short lived and it won't be long before you see blue skies. So remember, rain or shine, the boats go out and nobody will return a deposit if you're made out of sugar!
Special Announcement: I can finally announce we've opened a new location on the Boardwalk or Malicon in Spanish, right next to Sr. Frogs and we're very excited. We are behind the Light House or El Faro in the open area near the Arches amphitheater area. I included a map as to the location for your convenience as I could probably describe where we are better. We vacated the location on Basillio Badillo and Insurgentes. There is another fishing shop there looking to pick up my unknowing customers there, but you'll see it's not us. An old employee may be wearing a Master Baiter's shirt to make you think it's Master Baiter's, but it isn't so keep that in your back pocket and come to the new location. I also have a new employee, Carmen Amores, she speaks both Spanish, Spanglish and English so she can understand whatever you're "speaking". Ben is also there and even I put time in so come by, say hello and if you say you came in at my invitation we'll sell you my classic Corporate Logo shirt for ten dollars. That's half off for our loyal friends and clients!
Until next week, Don´t forget to kiss Your Fish!
Master Baiter´s is located in Marina Vallarta between docks A and B on the boardwalk
Web page:  www.MasterBaiters.com.mx , Local Phone at: (044) 322 779 75 71 Facebook: http://www.facebook.com/pages/Master-Baiters-Sportfishing-Tackle/88817121325
The trade name Master Baiter's ® Sportfishing and Tackle is protected under trade mark law and is the sole property of Stan Gabruk.