Written by Stan Gabruk, owner Master Baiter's Sportfishing & Tackle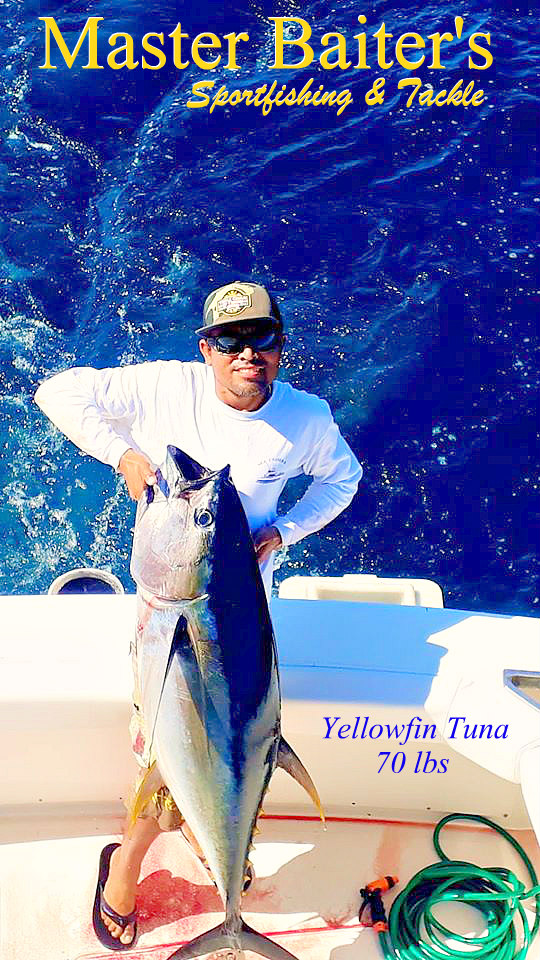 Our Amazing Fishing Season Continues, Yellowfin Tuna, Marlin, Sailfish and Dorado!
Starting with Corbetena, you can find Yellowfin Tuna out there between 60 lbs and 200 lbs or larger. Sailfish are still strong in the area and are happy to take you bait. Blue Marlin have are here as well running the area all along since June. We're finally seeing some Black Marlin in the 300 to 700 lb range. Dorado are still in the 30 lbs range. Cubera Snappers are fair sized from 35 to 55 lbs for those interested in Jigging. With high visibility blue water and perfect water temperatures, not to mention making bait is easy, it's a perfect time for you to target that fantasy bucket list fish amigos. This sort of fishing doesn't last all year and we're in the middle of the best fishing we've had for years. If the purse is a little empty, grab the wifeys credit card, if you get caught, tell her I said it's "OK"… Put the blame on me! El Banco, anything is possible, Blacks have been spotted but no pictures.
The whole area from Corbetena to the back side of El Morro is alive with roaming Sailfish and Dorado. Something interesting this week my friend Brad Benter and I were talking about how this area has been ignored for a long time by the local fisherman and that I'd drop baits there and head towards the Rock, aka Corbetena. Brad boated a 60 lb Yellowfin Tuna, so keep that in mind. Dorado are still around any floating debris but the numbers seem to be down a bit. Sailfish naturally are everywhere, but normally are thick in this area. Throw in Jack Crevalls that are moving in, Bonito and possible Rooster Fish in the sandy beach surf line, anything is possible amigos.
Inside the bay it's incredible. We're seeing Sailfish from La Cruz area to Los Arcos, Capt Scooby boated two the other day off La Cruz to the point of Punta Mita! Dorado are still running the area off Los Arcos but again some days are better than others. Bonito to 15 lbs, Jack Crevales in some cases to 50 lbs. There is massive amounts of bait and "Whale" food in the bay. One down side is when Whales are in the area fish leave. Why? Because they don't want to be a whales breakfast! So if nothing is happening in a certain area consider moving.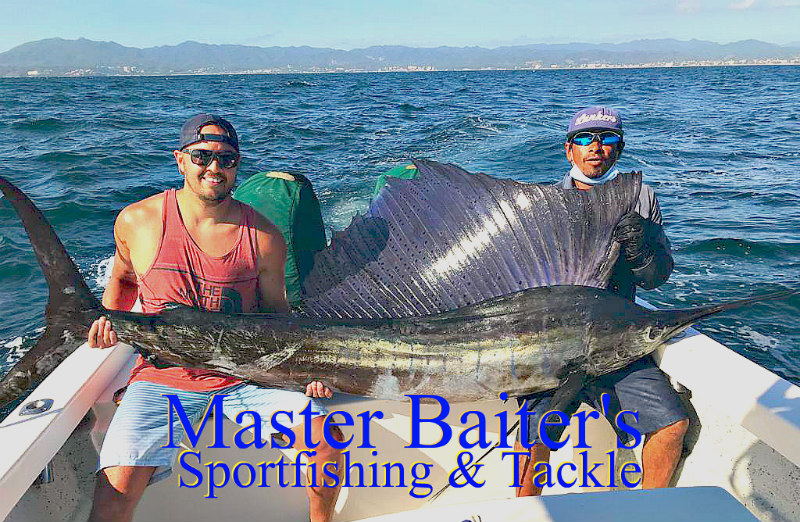 We're in a full moon right now and that makes Yellowfin Tuna eat all night. When this happens the afternoon bite could be better than the early bite. You see Tuna will use the Moon light to see bait and just chow down all night. For this reason the afternoon bite should be strong, keep this to yourself, but being at the rock or Corbetena around 5 in the early evening could be the "ticket"! Bite: The bite is still happening in the mid-morning timeframe unless targeting YF Tuna. Water temperatures are still 84 degrees but the bay water is cooler, 75 degrees in many areas. Use the water temperatures to help determine which species to target. Bait, try everything, lure, live bait, dead bait, they all seem to be working.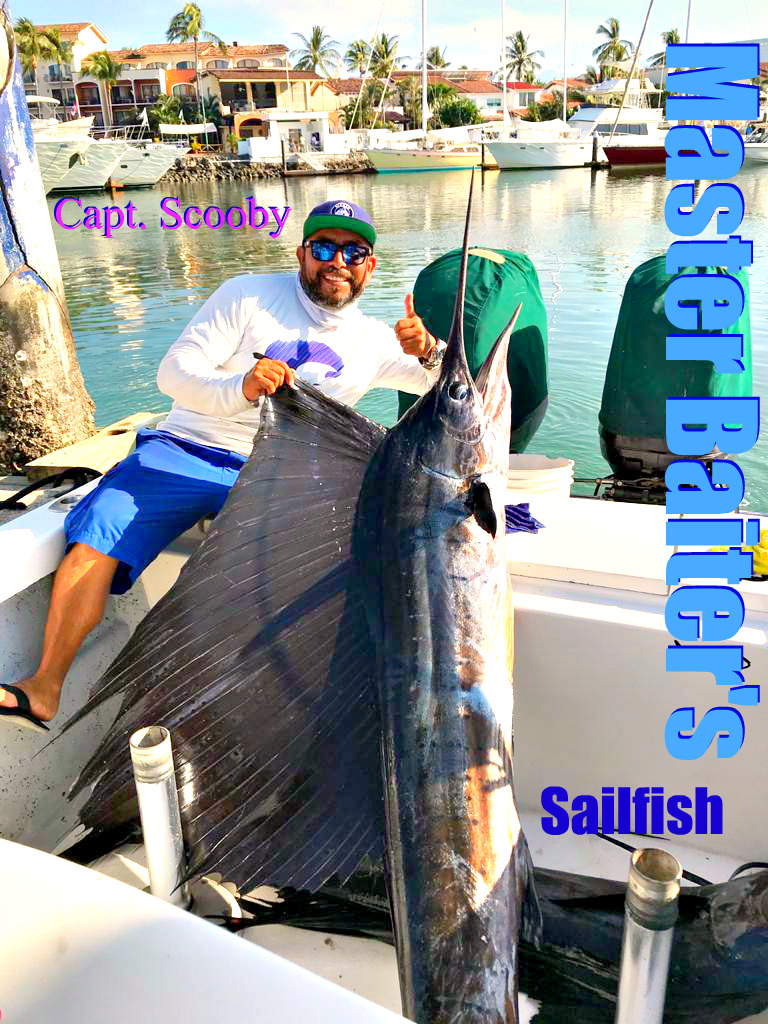 My tour expert Benjamin at Benjamin@masterbaiters.com.mx can handle all your tour needs, but popular and the fun unknown tours. Airport transfers / Private Excursions and custom day trips. Whale watching is huge right now and we can put you or your group on a boat and save you some serious money. PV is wide open and Covid is not killing tourism. We're wide open and ready to go! PV is among the safest places in the world right now. Hotels, restaurants, bars, gyms and movie houses are open with the standard restrictions. So PV is open and waiting for you to arrive amigos, stay safe.
Until next week, don't forget to Kiss Your Fish!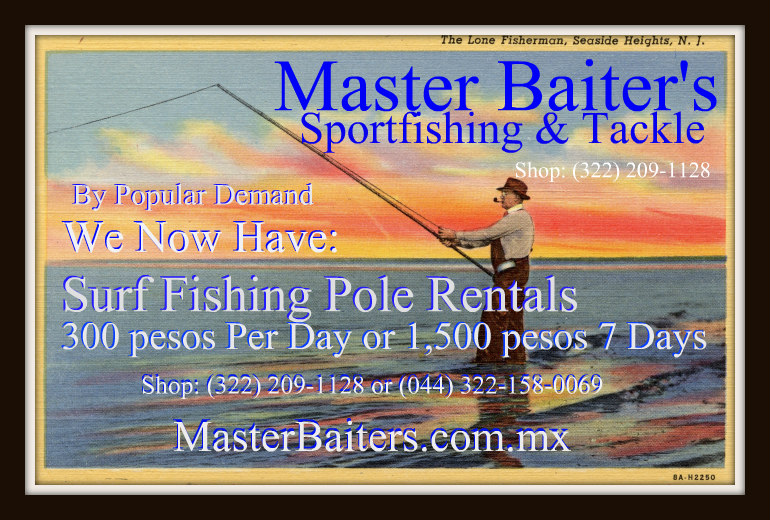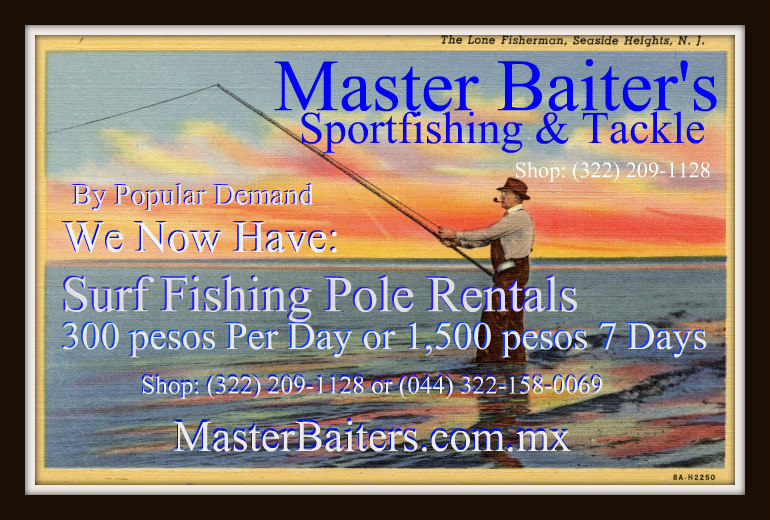 Web page: www.MasterBaiters.com.mx , Local Phone at: (044) 322 779 7571 or our international number is: 011 52 322 209 1128 10 to 9 local time. #MasterBaitersSportfishing on Instagram, Facebook, http://www.facebook.com/pages/Master-Baiters-Sportfishing-Tackle/ ..The trade name Master Baiter's ® Sportfishing and Tackle is protected under trade mark law and is the sole property of Stan Gabruk.