If you've been reading my weekly reports you know that we're now in the middle of the best time of the year to get that "Bucket List" fish of a lifetime. But that doesn't mean fishing is a "No-Brainer" at all. There are always challenges when fishing and sometimes a blessing can turn into a challenge as well. For now we've seen the action take a step back as more of those Krill Shrimps move into the area. Dorado, Sailfish etc. are still taking baits, but when you open up the "bait", they're full of Krill. Not impossible to overcome, but when you're on fish and they won't take your bait, it could be the Krill!
Corbetena has been interesting this week, with mostly dirty water out to Corbetena the fishing is a bit weird. We should be seeing Black and Blue Marlin but they're absent without leave aka AWOL. There are a few out there of course, but nobody has had a hookup. Now that's the bad news, the good news is we still have Yellowfin Tuna in the 40 to 80 lb range. Dorado are still running at 25 to 35 lbs, Sailfish in close to tournament winning sizes. Cubera Snappers are also taking trolled baits and are running in the 50 to 60 lb range. Mostly blue water in the area with increased bait. Krill normally move out in a few days and I predict the Dorado fishing will pick up again shortly. With mature trash lines and increased bait in the area a ten hour trip is well worth the fuel dollar!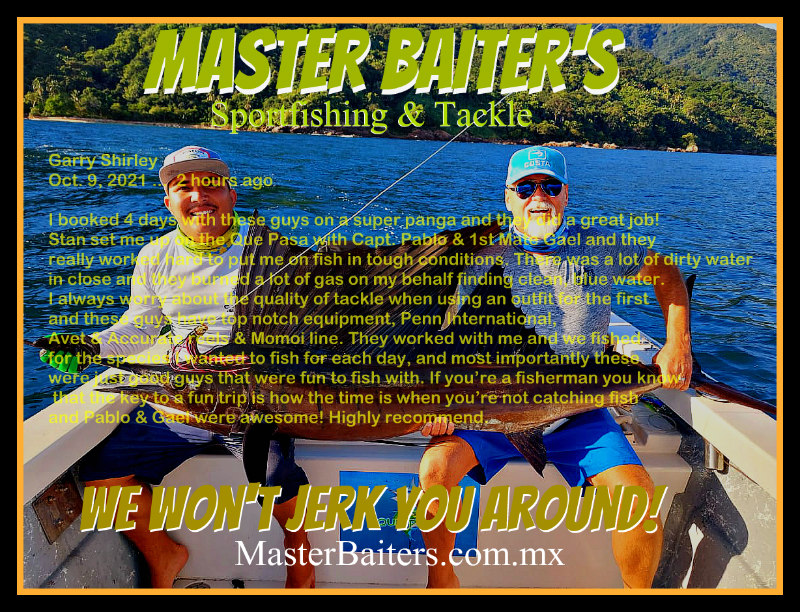 Pretty much the full area from Punta Mita, El Morro to Corbetena is Dorado city. Find a mature trash line, floating log or a dead horse, those are "bucket list" conditions amigo. Dorado heaven might be a better way to describe what this means. Sailfish are in the area as well, but they're eating this Krill also, but will take baits if you hit the "bite" right. Skip jack Tuna in the whole area to 12 lbs or so, huge for a Skippie. Jack Crevalles at 30 lbs, Needle fish which are weird looking but fun to catch and frankly good eating. Fileting one of these is like fileting a fire hose, but with practice it gets easier. Bonito and baby Bonito are thick as well. There is even a slight chance of rooster fish as Sardines move in massively. Right now I'd say eight hours is a great option for those targeting Dorado!
Inside the bay last week was surprising with Dorado in the 25 lb range being caught and boated in the middle of the bay. Capt. Pablo boated eleven in four hours and he didn't have to go far. Clients were just excited with almost non-stop arm burning action in a four hour trip. That was lucky, but the fact Dorado are still, finally in the bay! Jack Crevalle numbers are picking up at 35 lbs. Even Sierra Mackerels have shown up but personally I haven't seen any. We still have dirty water in the bay, that's normal. But if you're in the south end of the bay there is blue water and with no rivers to pour dirt water into the bay, this is an advantage. Last week there were some nice sized Yellowfin Tuna at Yelapa, but that can be "hit or miss".
The fact of the matter right now is that except for weak numbers on Marlin, the fishing is great and I expect this level of action to continue into the first week of January. The bite is still later in the morning but I'd be where you want to be before 09:00. With massive amounts of Sardines, Flying fish, Green runners and more the conditions couldn't be better. Everything is feeding on the Krill delicacies. So give it a minute or a few days, the Krill will move on. At that point we'll see Sailfish numbers double and hopefully our normally reliable Marlin show back up. Blame La Nina and the currents hitting Cabo and Southern California head on. La Nina, what are you going to do? Water temperatures are decent, a touch cool at 86 degree for this time of the year, we'll keep an eye on the action and let you know what's happening.
Until next week, don't forget to kiss your fish!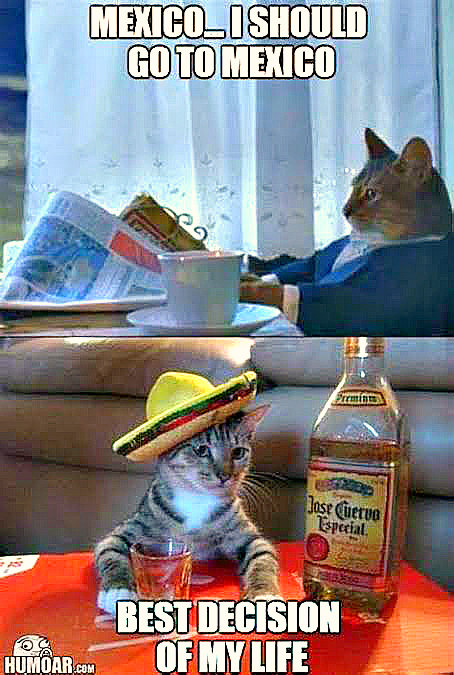 Web page: www.MasterBaiters.com.mx , Local Phone at: 322 779 7571 or our international number is: (011 52) 322 209 1128 10 to 9 local time. #MasterBaitersSportfishing on Instagram, Facebook, http://www.facebook.com/pages/Master-Baiters-Sportfishing-Tackle/ ..The trade name Master Baiter's ® Sportfishing and Tackle is protected under trade mark law and is the sole property of Stan Gabruk.