Download Video with Vixy.net | YouTube MP3 Converter | Advanced Video Downloader
                   Find Blue Water, Boat A Marlin or Sailfish!
Written by: Stan Gabruk, owner Master Baiter´s Sportfishing & Tackle
As we come to the end of August we move deeper into the meaty part of Fishings High Season here in Puerto Vallarta aka ¨Fish City¨.  As you already know if you´ve been reading my weekly articles that the water due to strong and swirling currents is still dirty, coffee colored water. This is of course due to the muck being stirred up on the Sea and Bay floor bottom. But there seems to be some good news, things are getting a little better and soon we´ll be seeing some clean water, hopefully. For those adventurous souls who brave the ¨dirty tide¨ and head out past Punta Mita, you´ll find high visibility blue water. In that blue water is Sailfish and larger Black and Blue Marlin.
This is going to be a short report this week because it´s a single subject article. For now we´re seeing dirty water all over the place. That´s the bad news, the good news is the dirty water is getting spotty. The normal south to north currents that we enjoy in the summer have drastically changed and in fact show indications right now that they´ve reversed and that´s the reason the bay and local area is ¨stirring¨ things up.
Starting with Corbeteña and El Banco, dirty water, very little happening. Last week we had clean areas which were a little spotty, this week is another thing. Dirty water has chased out any species of Marlin or Sailfish from the area. Every species except Cubera Snapper have bugged out for now. Indicators show that this should only be a few more days because one day the dirty water is in, the next day it recedes, then comes back. So it´s in and it´s out, but it can´t do this much longer. Ten miles of so past Corbeteña we´ve seen lots of spinner Dolphin, but they don´t always run with Tuna. For now some Spinner Dolphin pods have football Yellowfin with them, but it´s a luck thing.
Just outside the Marietta Islands there was some blue water last week, this week forget about it, in your best Italian accent. You can still find Bonito in the 30 lb range, Sailfish off El Morro if there´s a clean area last time I looked. Small Rooster fish are turning up around the area, but they´re only around15 lbs. Jack Crevalls are also in the area. Lots of bait, lots of people waiting for things to change. Hang in there it´s been like six weeks we´ve seen this and it can´t last forever.
The two bright spots are: The Point off Punta Mita where eight miles north on a heading of 300 to 340, you´ll be coming onto El Banco and there a large, beautiful Black Marlin to 800lbs, Sailfish which have been golden and large. Lots of flying fish and assorted baits all over our world famous fishing grounds. Small Dorado under 15 lbs are invading the area. Hopefully this means we´ll see Dorado move in. Dorado numbers for years have been dropping due to illegal fishing companies shipping Dorado out of the county unrestricted. This is changing now and Dorado can only be shipped now by ¨legal¨ companies with the correct permissions. This will hopefully help the future, but for now it should make fishing Dorado illegally much less profitable. It won´t stop them from selling them to the local fish markets, but they only consume so much. The volume exported monthly is staggering and after years and years of this ¨Dorado Abuse¨. So for now, you would want at least eight hours, ten hours would be better and improve your chances. So be patient, blue water is coming!
The other favorable location is in the bay in front of the river mouths. Rooster fish at 15lbs are hanging around the sweet water that flows into the bay. Snappers to 25 lbs, Snook to 35 lbs and a host of other fish looking to feed on the organic granola of leaves, twigs, seeds, you name it. A short day can pay off nicely on the dinner table.
Four hours is a great fishing trip for adults and younglings alike. The other best option is a ten hour trip targeting Marlin and Sailfish. With some luck we´ll see clean water flush out the dirty bay water and we´ll have blue water again around the Marietta Islands and El Morrow.
The Tres Maria Islands are showing Monster Tuna Signs with Yellowfin in the 250 lb range in the legal fishing areas. It´s a long day, it´s a long way and it´s not really affordable except for groups. I have a new boat I am working with shortly that will do bare bones fishing trips, this means you bring your gear, tackle, etc and we´ll get you there. Still developing this trip, stay tuned!
The water temperatures are still over 88 degrees. But with the changing currents it could bring some cooler water and hopefully fish will come with the currents. The bite is in the earlier hours right now, be where you want to be before 9:00 a.m. or you may just miss the bite! Don´t be late.
Until next time, don´t forget to ¨Kiss Your Fish¨. . .
Check out these articles: (http://www.washingtonpost.com/blogs/capital-weather-gang/wp/2015/07/20/el-nino-intensifying-could-rival-strongest-in-history/ here`s another: http://www.accuweather.com/en/weather-news/el-nino-to-be-one-of-strongest/50081969  or NOAA the Authority site with list of articles at: http://www.elnino.noaa.gov/forecast.html ).
Master Baiter´s has changed locations in Marina Vallarta between docks A and B on the boardwalk. Email your Questions to me at: CatchFish@MasterBaiters.com.mx  Web page:  www.MasterBaiters.com.mx , Local Phone at: (044) 322 779 75 71 or if roaming: 011 52 1 322 779 75 71 cell phone direct Facebook:http://www.facebook.com/pages/Master-Baiters-Sportfishing-Tackle/88817121325 The trade name Master Baiter's ® Sportfishing and Tackle is protected under trade mark law and is the sole property of Stan Gabruk.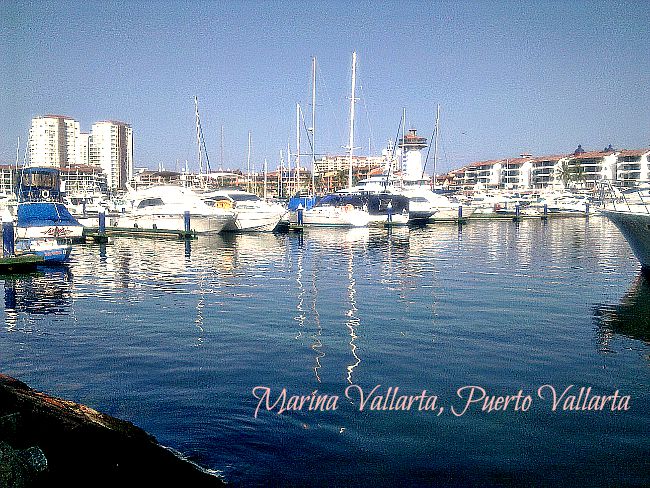 Download Video with Vixy.net | YouTube MP3 Converter | Advanced Video Downloader
CLICK HERE FOR CURRENT WEATHER CONDITIONS:  http://www.weather.com/weather/tenday/l/MXJO1136:1:MX
Tackle and Equipment: You can have high expectations when it comes to us, things like fresh line, fresh / working drags, plenty of lures, colors and types. When it comes to lures and a wide selection of top notch tackle and equipment like Shimano, Cal Star Poles, Seeker, Penn, Flourocarbon leaders, down riggers, out riggers, advanced electronics, you won´t have to worry you didn´t boat fish because of an Equipment shortage!  We´ll put you in the best position possible to boat Monster Yellowfin Tuna here in Puerto Vallarta.  at our world famous fishing grounds.
Established in 2000, Master Baiter's Sport Fishing Fleet regularly boat most of the World Class Species availabe in our worm tropical waters. Yellowfin Tuna, Black / Blue / Striped Marlin, Mahi Mahi, Rooster Fish, Cubera Snapper, Sailfish and the list goes on will keep you out of breath with burning arms!
Master Baiters with our years of experience have at our disposal the finest and most experienced multi-generational Captains and First Mates in Puerto Vallarta. It all comes down to catching fish, big talk can keep walking in our camp!  We have been recommended in Fodors Travel Guide, Lonely Planet and others for years, not to mention Trip Advisor. We work regularly with  travel agents and understand the challenges of group charters. Once you speak or communicate with Stan, our Chief Master Baiter, your concerns of not dealing with professionals will fade rapidly. Master Baiter´s is the Premier Fishing charter company in Puerto Vallarta!
Call Us Anytime from the US or Canada: 011 52 322 209 1128
We are the best!
Download Video with Vixy.net | YouTube MP3 Converter | Advanced Video Downloader
When our boats leave the dock we have only one goal: "Get the Fish"!
Fuel cost, lost lures, re-spooling reels is just part of the game, and that's why our captains do what it takes to give you the best possible chance of boating your target fish. Late August, September and October are in my opinion the best months for Monster Yellowfin Tuna. This time is considered the High Season for Fishing here in Puerto Vallarta. With the possibility of hooking into YF Tuna over 350 lbs. a real probability! Come and see why our company-owned boats with bilingual Captains & crews use the best equipment on the market: professionally known and tested names like Calstar rods, Shimano reels, Izorline, Penn, Fluorocarbon leaders, Aftco gaffs, along with too many lures to count. We have air conditioned boats, we're fast and comfortable. Not common on Charter Boats!
All of our line is regularly changed so you won't lose your fish and you won't find half full reels. Our boats are fast so you get out there fast giving you more fishing time. After all, you're paying for time with your line in the water, not a tug boat to china.  Why take a chance? We have a proven record & an impeccable reputation. Recommended in Fodor's Travel Guide for 2007 and 2008 is something we're proud of, validation enough for Travel Agents.
Contact Master Baiter's Sport Fishing & Tackle to reserve a day you'll never forget. You'll never lose a fish due to equipment failure! That's why our tag line is: "We Won't Jerk You Around."
Reservations: We require a 50% Deposit, with the balance due the day or night before your fishing trip. The client is responsible for damages due to negligence. No refunds or exchanges. We strongly promote catch & release for Billfish, Marlin & Sailfish.
15% customary Captain Tip: (not included in price.) Charters generally depart at 7 am, unless arranged for prior to trip day!
What to Bring: Sunglasses, hat, sun block, camera, food & drink.
INCLUDED IN ALL CHARTERS: Ice, 10 bait (unless unavailable), LICENSES, Equipment, Fuel, and an English speaking, knowledgeable Top Captain & Deckhand.
Trip Durations / Locations:
4 – 6 hr. Trip: Targeting in general Chorras, Snapper, Needle fish, Dorado, Jack Crevalle, Rooster fish, Roballo, Torros, Mackeral and more..
8 hr. Trip: Generally targeting Tuna (Atun) up to 50 lbs., Sailfish (Pez Vela), Dorado (Mahi Mahi), Jack Crevelle, (Torros) and Sierra Mackerel, Rooster Fish, Snapper or Pargo, and many others.
10 hr. Trip: Targeting Huge Tuna up to the 400 lb. range! Striped, Blue and Black Marlin up to 1000 lbs., Sailfish, Dorado, Jack Crevalle, Rainbow Runner, Wahoo, Pargo.

"AT MASTER BAITER'S SPORT FISHING & TACKLE: WE WON'T JERK YOU AROUND"
Now Drop us a line, so we can take you out to drop one of your own! 
Call Us Anytime from the US or Canada: 011 52 322 209 11 28
Watch My Video Please!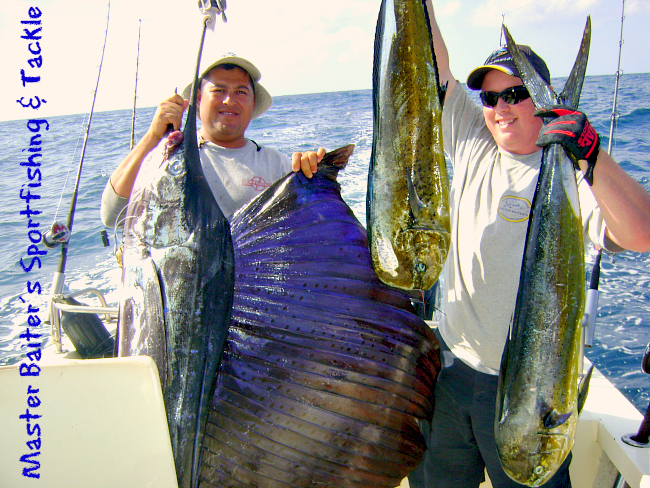 Call Us Anytime from the US or Canada: 011 52 322 209 11 28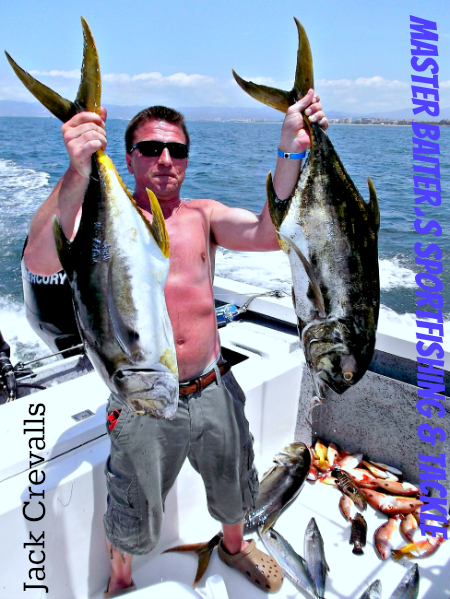 Sailfish & Dorado abundant at Corbetena
Call Us Anytime from the US or Canada: 011 52 322 209 11 28

Call Us Anytime from the US or Canada: 011 52 322 209 11 28