Dorado Finally Return to Puerto Vallarta
Written by: Stan Gabruk owner of Master Baiter´s Sportfishing & Tackle
The big news this week is the return of Dorado in our world class fishing grounds. Late,yes they are. But like the old saying ¨better late than never¨. Marlin are in and out,mostly in. Sailfish are everywhere,Blue Water,plenty of Bait,smooth seas,it´s all a fisherman's dream and those lucky enough to be here are looking at Prime Time Fishing! We´re still seeing some crazy days when we´ll have like three days straight of great fishing with Marlin,Sailfish and even Dorado are picking up nicely in numbers. But you´ll still have a day or two a week when it seems the fish have disappeared. With strong changing currents and warm water all up and down the coast to points well north of California it´s like open range. Fish move and with an abundance of bait,they may be ¨stuffed¨ before you find them. Other days are off the hook,Sails,Dorado and Marlin are all possible in the same day! The Water is High Visibility Blue in color and in almost all cases the fishing is hard to beat. For those taking one day to go fishing,it´s always possible to get skunked,so multiple days insure a great experience. I had a long term client head out asking for a specific Captain the other day,very capable and experienced captain,got one or two small fish,nothing major. The next day,same captain,same places,boated a big Black Marlin,released two sailfish. Same everything. So fishing is never an exacting sport,but right now,you want to make sure you are at your chosen fishing grounds no later than 8 in the a.m. to catch the bite. So what we´re doing now is planning on ten hour trips,head to the Punta Mita point,take a heading of 300,head out about ten miles and drop your baits. From there start trolling towards Corbetena. Now Corbeteña may not have a Marlin in sight,but we don´t know this until we get there.,Magnifico,650 pxls,MBText" src="http://masterbaiters.com.mx/wp-content/uploads/2015/11/11-09-2015-Hill-Party-Magnifico-650-pxls-MBText.jpg" width="293" height="520" />Corbetena this week was the place to be,most days. It´s been kinda weird,fish that would normally ¨hang¨ around the rock with all the varied underwater terrain,are in and out. Blue and Black Marlin are in the area running from 250 lbs to over 600 lbs. Sailfish are still in the 125 lb range,nice sized. Bonito 35 lbs,Jack Crevalls 30 lbs,and the Cubera Snappers or Dog Tooth Pargo at 50 lbs are coming to the surface to take trolled baits. One problem around Corbeteña and El Banco is there are large Bottle Nose Dolphin which are taking your bait right up to the hook,then bug out. The first time this happened to me I thought it was ¨kinda cool¨. But when they took almost all my baits,it wasn´t so funny and they´re doing that same exact thing now. So you´ve been warned. No Yellowfin Tuna to speak of,but this can change in twenty minutes! The point off Punta Mita is once again the secret location. As mentioned earlier,hit the point,aim the boat at Corbeteña or El Banco and drop baits. There have been days where the area between Corbeteña and Punta Mita is where all the fish are. But,a day or two of trolling around this area with nothing can make you wonder what the deal is. Well,don´t analyze a fish,they´re worse than my ex-wife!  Same Fish,Marlin,Sails,Dorado,Snapper around the reef. We have lots of floating logs mixed with all sorts of organic stuff from the rivers and the Dorado are loving this! Find a patch of these leave,seeds and stumps and you have Dorado running 25 to 35 lbs amigo,finally!,Dorado heaven" src="http://masterbaiters.com.mx/wp-content/uploads/2015/11/11-08-2015-floating-debrix-Dorado-heaven.jpg" width="585" height="211" />The Marietta Islands and El Morro,it´s Sailfish city,but again,you´ll be going around this area off Punta Mita as a spring board. Most are boating at least one sailfish and many times two,released I might add. Bonito to 35 lbs,Skip Jack Tuna,Snapper for those who don´t mind jigging. All and all,not a location to spend much time in.,Magnifico,10 hrs,650 pxls MBText" src="http://masterbaiters.com.mx/wp-content/uploads/2015/11/11-09-2015-shannon-Hill-Magnifico-10-hrs-650-pxls-MBText1.jpg" width="293" height="520" />Inside the bay,well it´s the bay and the fishing for now is average. Jack Crevals around Nuevo Vallarta beaches,Bonito in the 25 lb range. Some smaller Snook around the river mouth(s). For the lucky there have been some nice sized football Tuna around Yelapa. Sailfish off the Los Arcos Rocks,again for the lucky. But the north end of the bay was dirty for a few days,so check conditions before heading inside the bay. The bite time this week is all important. We´re not exactly in the full moon stage,but the bite has been happening in the morning mostly. Be where ever you´re heading by 8:00 a.m. after about 1:00 it will be a touch slower. But around 4:00 it picks up again,use this info wisely grasshopper!Water temps are still in the 85 degree range,I expected things to cool a bit,but they´re hanging in there. It makes me think we may have warm water well past January this year. If so things could be very interesting this winter,stay tuned. Lures: Blue,Pink,Purple in color are favorable,nothing new with these colors. Petrelaros are their reliable selves so give them a shot at least. Live bait is king,but with so many type of live bait right now,it´s best to make bait at the fishing ground,but still stop by and buy the Goggle eyes as insurance. My weekly Video Fishing Report on my web page is a huge success and I even have clients coming in saying how much they love the straight forward approach. Hell I may even do it as a selfie type report if I have to. But the information is fresh and great,I normally post on Friday so you´ve got ¨Reel Time¨ information designed for locals heading out. It´s a lot of fun actually,but it´s done with a Cell Phone Camera and my computer program,so expectations of a super production values should be left next to your mouse. It´s  ¨Reel Time¨  information designed to be used tomorrow! Shared boats: We´re also doing what we can to help those looking to share a Super Panga or large ¨hook-up¨. We are now focusing on 8 hrs or 10 hr shared trips to enable me to keep my sanity with those switching and changing minds. So contact me and we´ll fix you up,I have more names by the day so you´re chances of ¨Hooking Up¨ are great!  We´re still doing shared charters just contact me with your date and we´ll see if we can hook you up. Naturally the more that are interested in shared pangas,the better it works. So tell your friends and share this article,could save you money amigos! Those on a budget you can still catch world class fish on vacation with this option!,10 hrs No 3 650 pxls MBText" src="http://masterbaiters.com.mx/wp-content/uploads/2015/11/11-07-2015-Magnifico-10-hrs-No-3-650-pxls-MBText.jpg" width="256" height="455" />Until next time,don´t forget to ¨Kiss Your Fish¨. . . Master Baiter´s has changed locations in Marina Vallarta between docks A and B on the boardwalk. Email your Questions to me at: CatchFish@MasterBaiters.com.mx  Web page:  www.MasterBaiters.com.mx ,Ll6uj5um77M&wmode=opaque" >


Artiss YouTube Embed: The YouTube ID of FBzEawecPCc

Artiss YouTube Embed: No video/playlist ID has been supplied

is invalid.
CLICK HERE FOR CURRENT WEATHER CONDITIONS:  http://www.weather.com/weather/tenday/l/MXJO1136:1:MX
Tackle and Equipment: You can have high expectations when it comes to us, things like fresh line, fresh / working drags, plenty of lures, colors and types. When it comes to lures and a wide selection of top notch tackle and equipment like Shimano, Cal Star Poles, Seeker, Penn, Flourocarbon leaders, down riggers, out riggers, advanced electronics, you won´t have to worry you didn´t boat fish because of an Equipment shortage!  We´ll put you in the best position possible to boat Monster Yellowfin Tuna here in Puerto Vallarta.  at our world famous fishing grounds.
Established in 2000, Master Baiter's Sport Fishing Fleet regularly boat most of the World Class Species availabe in our worm tropical waters. Yellowfin Tuna, Black / Blue / Striped Marlin, Mahi Mahi, Rooster Fish, Cubera Snapper, Sailfish and the list goes on will keep you out of breath with burning arms!
Master Baiters with our years of experience have at our disposal the finest and most experienced multi-generational Captains and First Mates in Puerto Vallarta. It all comes down to catching fish, big talk can keep walking in our camp!  We have been recommended in Fodors Travel Guide, Lonely Planet and others for years, not to mention Trip Advisor. We work regularly with  travel agents and understand the challenges of group charters. Once you speak or communicate with Stan, our Chief Master Baiter, your concerns of not dealing with professionals will fade rapidly. Master Baiter´s is the Premier Fishing charter company in Puerto Vallarta!
Call Us Anytime from the US or Canada: 011 52 322 209 1128
We are the best!
Download Video with Vixy.net | YouTube MP3 Converter | Advanced Video Downloader
When our boats leave the dock we have only one goal: "Get the Fish"!
Fuel cost, lost lures, re-spooling reels is just part of the game, and that's why our captains do what it takes to give you the best possible chance of boating your target fish. Late August, September and October are in my opinion the best months for Monster Yellowfin Tuna. This time is considered the High Season for Fishing here in Puerto Vallarta. With the possibility of hooking into YF Tuna over 350 lbs. a real probability! Come and see why our company-owned boats with bilingual Captains & crews use the best equipment on the market: professionally known and tested names like Calstar rods, Shimano reels, Izorline, Penn, Fluorocarbon leaders, Aftco gaffs, along with too many lures to count. We have air conditioned boats, we're fast and comfortable. Not common on Charter Boats!
All of our line is regularly changed so you won't lose your fish and you won't find half full reels. Our boats are fast so you get out there fast giving you more fishing time. After all, you're paying for time with your line in the water, not a tug boat to china.  Why take a chance? We have a proven record & an impeccable reputation. Recommended in Fodor's Travel Guide for 2007 and 2008 is something we're proud of, validation enough for Travel Agents.
Contact Master Baiter's Sport Fishing & Tackle to reserve a day you'll never forget. You'll never lose a fish due to equipment failure! That's why our tag line is: "We Won't Jerk You Around."
Reservations: We require a 50% Deposit, with the balance due the day or night before your fishing trip. The client is responsible for damages due to negligence. No refunds or exchanges. We strongly promote catch & release for Billfish, Marlin & Sailfish.
15% customary Captain Tip: (not included in price.) Charters generally depart at 7 am, unless arranged for prior to trip day!
What to Bring: Sunglasses, hat, sun block, camera, food & drink.
INCLUDED IN ALL CHARTERS: Ice, 10 bait (unless unavailable), LICENSES, Equipment, Fuel, and an English speaking, knowledgeable Top Captain & Deckhand.
Trip Durations / Locations:
4 – 6 hr. Trip: Targeting in general Chorras, Snapper, Needle fish, Dorado, Jack Crevalle, Rooster fish, Roballo, Torros, Mackeral and more..
8 hr. Trip: Generally targeting Tuna (Atun) up to 50 lbs., Sailfish (Pez Vela), Dorado (Mahi Mahi), Jack Crevelle, (Torros) and Sierra Mackerel, Rooster Fish, Snapper or Pargo, and many others.
10 hr. Trip: Targeting Huge Tuna up to the 400 lb. range! Striped, Blue and Black Marlin up to 1000 lbs., Sailfish, Dorado, Jack Crevalle, Rainbow Runner, Wahoo, Pargo.

"AT MASTER BAITER'S SPORT FISHING & TACKLE: WE WON'T JERK YOU AROUND"
Now Drop us a line, so we can take you out to drop one of your own! 
Call Us Anytime from the US or Canada: 011 52 322 209 11 28
Watch My Video Please!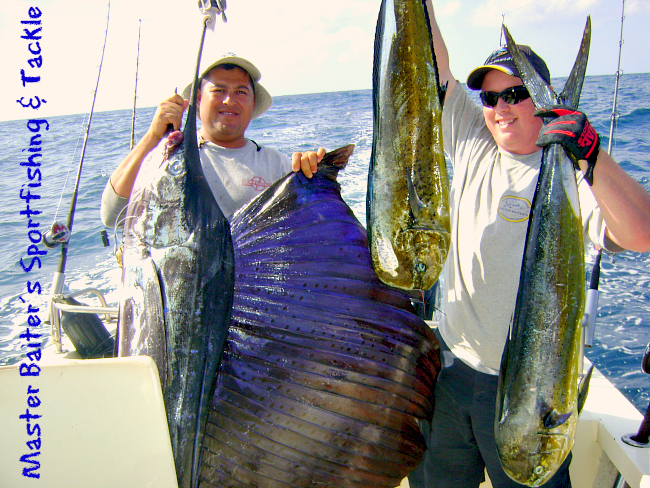 Call Us Anytime from the US or Canada: 011 52 322 209 11 28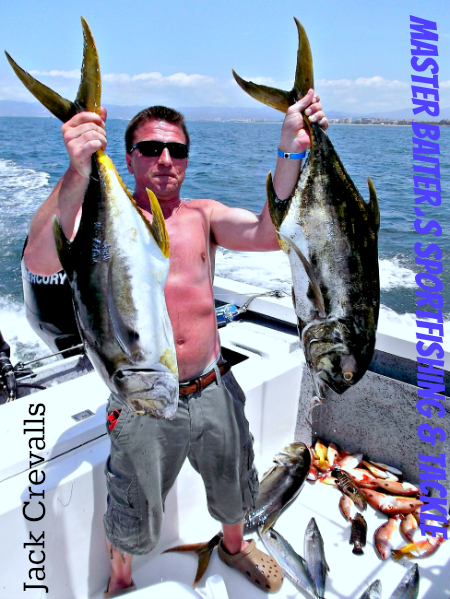 Sailfish & Dorado abundant at Corbetena
Call Us Anytime from the US or Canada: 011 52 322 209 11 28

Call Us Anytime from the US or Canada: 011 52 322 209 11 28
Permanent link to this article: http://masterbaiters.com.mx/