[
               It´s Fish City: Yellowfin Tuna, Dorado, Marlin at Corbeteña and El Banco!!
Written by: Stan Gabruk owner of Master Baiter´s Sportfishing & Tackle
What a difference a week can make and man have things changed so lets get into it! El Banco, Blue Marlin in the 400 lb plus range have returned to the high spots. Yellowfin Tuna are in the 150 to 200 lb range and they´re taking bullet skip jack tuna as favorite bait. No worry, they´re plentiful all around the bay so make bait early and get out there!! Dorado at 25lbs, good size, have also shown up  Sailfish, Cubera Snappers to 60 lbs. Targeting YF Tuna, here´s the secret, if you´re not using a kite, you won´t boat a tuna. Naturally we have Jack Crevalls, Bonito, with Bait, bait and more bait. Blue Water, it´s as close to perfect as it will get amigos, if this doesn´t draw you out of your man-cave nothing will.
Corbeteña: Much the same, Blue Marlin over 400 lbs, Stripe Marlin around 150 lbs, Sailfish, Yellowfin Tuna 120 to 200 lbs again using kites and running Skippie bullets as bait will pay off. No Dorado, no Black Marlin either for the moment. Wahoo have taken a powder for the moment and of course we always have Cubera Snappers, Amber Jacks and some Rainbow runners. It´s fish city for the moment and conditions are perfect.  Throw in the locals of Jack Crevalls, Bonito and the list goes on….
El Morro, Punta Mita and the Marietta Islands are all on fire as well, finally. Ten miles off Punta Mita Striped Marlin to 175 lbs are all over the place. Sailfish, naturally. The big news in this area is Rooster Fish, they´re back and they´re hungry. Head north of Punta Mita point to the Malinal Reef area and cast six inch Diamond jigs and get ready for some intense arm burning action amigos, YeHa!! No Dorado in the area but that should change very soon, they may already be out there! Watch for a trash line in the area and they´ll be plenty of fish looking for a free breakfast!
Inside the bay is downright freaky! Sailfish, yes Sailfish are being boated in front of Marina Vallarta, not miles, but blocks out in the bay. Sailfish are all around Los Arcos and La Cruz Marina as well! You may ask why this freaky activity is happening now, well all I can say is Bait, Bait and more Bait! Pick a bait, it´s out there in monstrous amounts. Jack Crevalls to 45 lbs, Bonito to 35 lbs, Sierra Mackerals to 15 lbs, Possible Snook in front of the river mouths, they love the ¨Agua Dulce¨ or fresh water pouring into the bay. Dorado will feed all day long on a Trash Line and because of this Dorado should turn up in the area soon so stay tuned.
Bait, boy do we have bait, Sardines, Bullet Bonito, Bullet Skip Jack Tuna or as I call them bullet Skippies. We have Goggle eyes, flying fish and more to temp these finned fantasies. I would suggest to still purchasing bait in the morning on the way out, but making bait will not be an issue anywhere.
The seasonal rains have begun again so you can expect a trash line around any river dumping into the ocean. Dorado are the normal feeders on these trash lines, but they´re not here yet. What does that mean, well something is eating on this organic fish granola and they´ll be waiting for you to present them a bait they just can´t refuse. Four to six hour trips in the bay are perfect for those taking the family out or looking for decent fishing and having to go to El Banco or Corbeteña to find it. If you don´t know what a ¨trash line¨ is, when we get the seasonal rains normally beginning by the second week of June, the rains was all the loose leaves, roots, tree stumps, you name it runs into the rivers which of course empty into the Bay of Banderas. You will find a ¨trash line¨ near rivers where the water has a floating edge where the water behind it is a shallow dirty coffee colored. In front of the trash edge is clean water. Fish love to feed on this organic granola of seeds, leaves, roots, insects, all sorts of good stuff for fish to eat. So the trash line will normally produce Dorado, Bonito, maybe some snapper on occasion. Smaller fish normally, that in turn draw larger fish. So you can have big fish in the bay at times chasing smaller baits feeding on the trash line. The Trash Line is our friend and with the right equipment it can be a fun time for sure!
Conditions: Well we have perfect, high visibility blue water to start with. Water temperatures are a solid 81 degrees and as mentioned bait is not an issue…. The bite is still happening a little later in the morning, so I suggest being at your fishing grounds before 8:30 a.m. and you´ll be ¨Right on time¨. If running Lures this week use color the best working color combinations have been small lures of 3-4 inches in pink. Or same size but Blue with Gold coloring would be the best combinations to begin with.
Until next time, don´t forget to ¨Kiss Your Fish¨. . .
Master Baiter´s is located in Marina Vallarta between docks A and B on the boardwalk. Email your Questions to me at:CatchFish@MasterBaiters.com.mx  Web page:  www.MasterBaiters.com.mx  , Local Phone at: (044) 322 779 75 71 or if roaming: 011 52 1 322 779 75 71 cell phone direct. Come like me on Facebook:http://www.facebook.com/pages/Master-Baiters-Sportfishing-Tackle/88817121325
The trade name Master Baiter's ® Sportfishing and Tackle is protected under trade mark law and is the sole property of Stan Gabruk.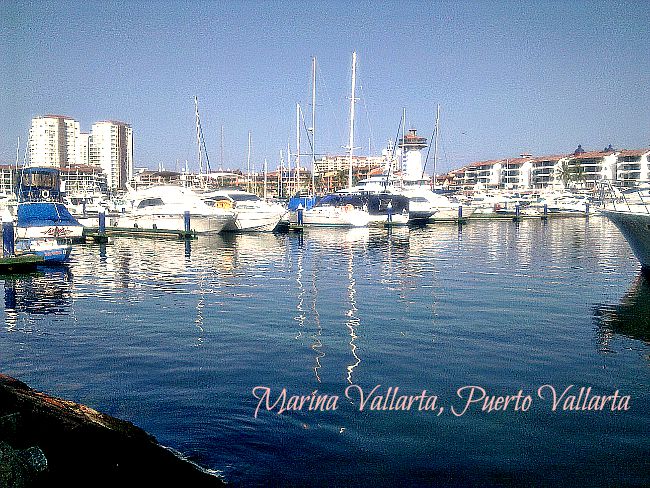 CLICK HERE FOR CURRENT WEATHER CONDITIONS:  http://www.weather.com/weather/tenday/l/MXJO1136:1:MX
Tackle and Equipment: You can have high expectations when it comes to us, things like fresh line, fresh / working drags, plenty of lures, colors and types. When it comes to lures and a wide selection of top notch tackle and equipment like Shimano, Cal Star Poles, Seeker, Penn, Flourocarbon leaders, down riggers, out riggers, advanced electronics, you won´t have to worry you didn´t boat fish because of an Equipment shortage!  We´ll put you in the best position possible to boat Monster Yellowfin Tuna here in Puerto Vallarta.  at our world famous fishing grounds.
Established in 2000, Master Baiter's Sport Fishing Fleet regularly boat most of the World Class Species availabe in our worm tropical waters. Yellowfin Tuna, Black / Blue / Striped Marlin, Mahi Mahi, Rooster Fish, Cubera Snapper, Sailfish and the list goes on will keep you out of breath with burning arms!
Master Baiters with our years of experience have at our disposal the finest and most experienced multi-generational Captains and First Mates in Puerto Vallarta. It all comes down to catching fish, big talk can keep walking in our camp!  We have been recommended in Fodors Travel Guide, Lonely Planet and others for years, not to mention Trip Advisor. We work regularly with  travel agents and understand the challenges of group charters. Once you speak or communicate with Stan, our Chief Master Baiter, your concerns of not dealing with professionals will fade rapidly. Master Baiter´s is the Premier Fishing charter company in Puerto Vallarta!
Call Us Anytime from the US or Canada: 011 52 322 209 1128
We are the best!
When our boats leave the dock we have only one goal: "Get the Fish"!
Fuel cost, lost lures, re-spooling reels is just part of the game, and that's why our captains do what it takes to give you the best possible chance of boating your target fish. Late August, September and October are in my opinion the best months for Monster Yellowfin Tuna. This time is considered the High Season for Fishing here in Puerto Vallarta. With the possibility of hooking into YF Tuna over 350 lbs. a real probability! Come and see why our company-owned boats with bilingual Captains & crews use the best equipment on the market: professionally known and tested names like Calstar rods, Shimano reels, Izorline, Penn, Fluorocarbon leaders, Aftco gaffs, along with too many lures to count. We have air conditioned boats, we're fast and comfortable. Not common on Charter Boats!
All of our line is regularly changed so you won't lose your fish and you won't find half full reels. Our boats are fast so you get out there fast giving you more fishing time. After all, you're paying for time with your line in the water, not a tug boat to china.  Why take a chance? We have a proven record & an impeccable reputation. Recommended in Fodor's Travel Guide for 2007 and 2008 is something we're proud of, validation enough for Travel Agents.
Contact Master Baiter's Sport Fishing & Tackle to reserve a day you'll never forget. You'll never lose a fish due to equipment failure! That's why our tag line is: "We Won't Jerk You Around."
Reservations: We require a 50% Deposit, with the balance due the day or night before your fishing trip. The client is responsible for damages due to negligence. No refunds or exchanges. We strongly promote catch & release for Billfish, Marlin & Sailfish.
15% customary Captain Tip: (not included in price.) Charters generally depart at 7 am, unless arranged for prior to trip day!
What to Bring: Sunglasses, hat, sun block, camera, food & drink.
INCLUDED IN ALL CHARTERS: Ice, 10 bait (unless unavailable), LICENSES, Equipment, Fuel, and an English speaking, knowledgeable Top Captain & Deckhand.
Trip Durations / Locations:
4 – 6 hr. Trip: Targeting in general Chorras, Snapper, Needle fish, Dorado, Jack Crevalle, Rooster fish, Roballo, Torros, Mackeral and more..
8 hr. Trip: Generally targeting Tuna (Atun) up to 50 lbs., Sailfish (Pez Vela), Dorado (Mahi Mahi), Jack Crevelle, (Torros) and Sierra Mackerel, Rooster Fish, Snapper or Pargo, and many others.
10 hr. Trip: Targeting Huge Tuna up to the 400 lb. range! Striped, Blue and Black Marlin up to 1000 lbs., Sailfish, Dorado, Jack Crevalle, Rainbow Runner, Wahoo, Pargo.

"AT MASTER BAITER'S SPORT FISHING & TACKLE: WE WON'T JERK YOU AROUND"
Now Drop us a line, so we can take you out to drop one of your own! 
Call Us Anytime from the US or Canada: 011 52 322 209 11 28
Watch My Video Please!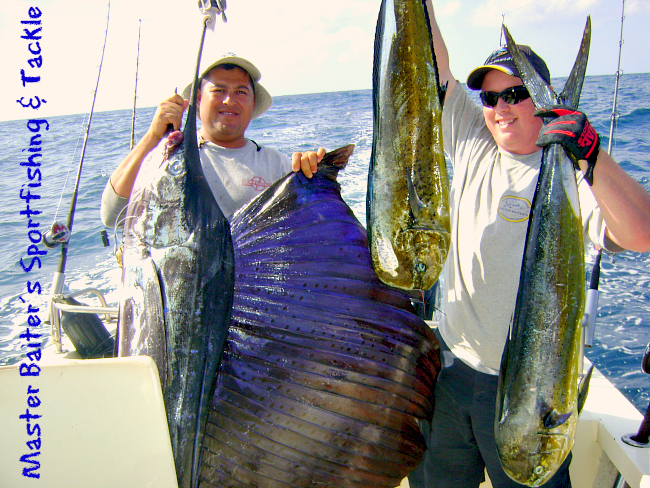 Call Us Anytime from the US or Canada: 011 52 322 209 11 28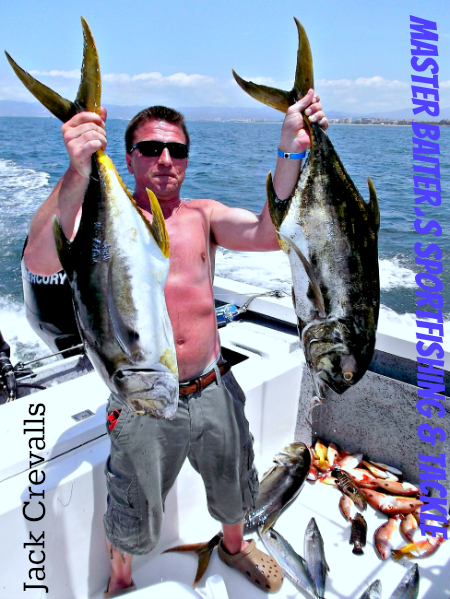 Sailfish & Dorado abundant at Corbetena
Call Us Anytime from the US or Canada: 011 52 322 209 11 28

Call Us Anytime from the US or Canada: 011 52 322 209 11 28