YouTube Embed: The maximum URL length has been exceeded. Please reduce your parameter and/or playlist.
CLICK HERE FOR CURRENT WEATHER CONDITIONS:  http://www.weather.com/weather/tenday/l/MXJO1136:1:MX
Tackle and Equipment: You can have high expectations when it comes to us, things like fresh line, fresh / working drags, plenty of lures, colors and types. When it comes to lures and a wide selection of top notch tackle and equipment like Shimano, Cal Star Poles, Seeker, Penn, Flourocarbon leaders, down riggers, out riggers, advanced electronics, you won´t have to worry you didn´t boat fish because of an Equipment shortage!  We´ll put you in the best position possible to boat Monster Yellowfin Tuna here in Puerto Vallarta.  at our world famous fishing grounds.
Established in 2000, Master Baiter's Sport Fishing Fleet regularly boat most of the World Class Species availabe in our worm tropical waters. Yellowfin Tuna, Black / Blue / Striped Marlin, Mahi Mahi, Rooster Fish, Cubera Snapper, Sailfish and the list goes on will keep you out of breath with burning arms!
Master Baiters with our years of experience have at our disposal the finest and most experienced multi-generational Captains and First Mates in Puerto Vallarta. It all comes down to catching fish, big talk can keep walking in our camp!  We have been recommended in Fodors Travel Guide, Lonely Planet and others for years, not to mention Trip Advisor. We work regularly with  travel agents and understand the challenges of group charters. Once you speak or communicate with Stan, our Chief Master Baiter, your concerns of not dealing with professionals will fade rapidly. Master Baiter´s is the Premier Fishing charter company in Puerto Vallarta!
Call Us Anytime from the US or Canada: 011 52 322 209 1128
We are the best!
When our boats leave the dock we have only one goal: "Get the Fish"!
Fuel cost, lost lures, re-spooling reels is just part of the game, and that's why our captains do what it takes to give you the best possible chance of boating your target fish. Late August, September and October are in my opinion the best months for Monster Yellowfin Tuna. This time is considered the High Season for Fishing here in Puerto Vallarta. With the possibility of hooking into YF Tuna over 350 lbs. a real probability! Come and see why our company-owned boats with bilingual Captains & crews use the best equipment on the market: professionally known and tested names like Calstar rods, Shimano reels, Izorline, Penn, Fluorocarbon leaders, Aftco gaffs, along with too many lures to count. We have air conditioned boats, we're fast and comfortable. Not common on Charter Boats!
All of our line is regularly changed so you won't lose your fish and you won't find half full reels. Our boats are fast so you get out there fast giving you more fishing time. After all, you're paying for time with your line in the water, not a tug boat to china.  Why take a chance? We have a proven record & an impeccable reputation. Recommended in Fodor's Travel Guide for 2007 and 2008 is something we're proud of, validation enough for Travel Agents.
Contact Master Baiter's Sport Fishing & Tackle to reserve a day you'll never forget. You'll never lose a fish due to equipment failure! That's why our tag line is: "We Won't Jerk You Around."
Reservations: We require a 50% Deposit, with the balance due the day or night before your fishing trip. The client is responsible for damages due to negligence. No refunds or exchanges. We strongly promote catch & release for Billfish, Marlin & Sailfish.
15% customary Captain Tip: (not included in price.) Charters generally depart at 7 am, unless arranged for prior to trip day!
What to Bring: Sunglasses, hat, sun block, camera, food & drink.
INCLUDED IN ALL CHARTERS: Ice, 10 bait (unless unavailable), LICENSES, Equipment, Fuel, and an English speaking, knowledgeable Top Captain & Deckhand.
Trip Durations / Locations:
4 – 6 hr. Trip: Targeting in general Chorras, Snapper, Needle fish, Dorado, Jack Crevalle, Rooster fish, Roballo, Torros, Mackeral and more..
8 hr. Trip: Generally targeting Tuna (Atun) up to 50 lbs., Sailfish (Pez Vela), Dorado (Mahi Mahi), Jack Crevelle, (Torros) and Sierra Mackerel, Rooster Fish, Snapper or Pargo, and many others.
10 hr. Trip: Targeting Huge Tuna up to the 400 lb. range! Striped, Blue and Black Marlin up to 1000 lbs., Sailfish, Dorado, Jack Crevalle, Rainbow Runner, Wahoo, Pargo.

"AT MASTER BAITER'S SPORT FISHING & TACKLE: WE WON'T JERK YOU AROUND"
Now Drop us a line, so we can take you out to drop one of your own! 
Call Us Anytime from the US or Canada: 011 52 322 209 11 28
Watch My Video Please!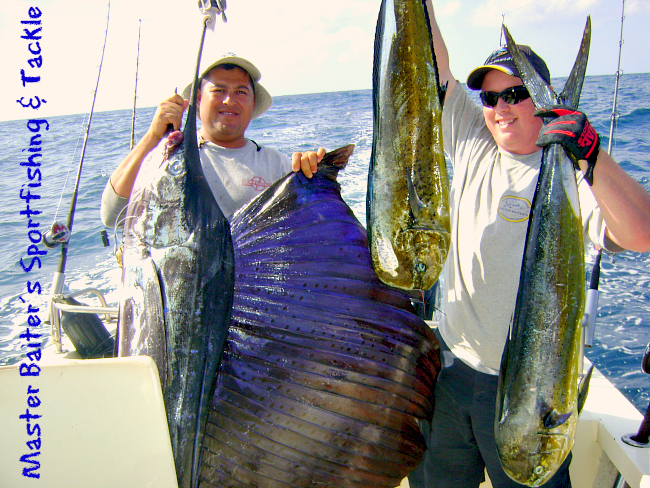 Call Us Anytime from the US or Canada: 011 52 322 209 11 28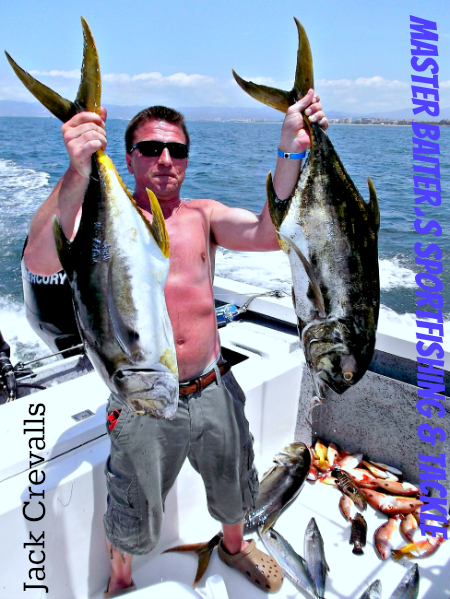 Sailfish & Dorado abundant at Corbetena
Call Us Anytime from the US or Canada: 011 52 322 209 11 28

Call Us Anytime from the US or Canada: 011 52 322 209 11 28