Written by Stan Gabruk, owner Master Baiter's Sportfishing & Tackle
It happens every year. We know it's coming and it looks like were in a transition period about a month early. It's a La Nina year and we never know what that's going to bring us when we talk about fishing in Puerto Vallarta. Water temperatures have been holding steady, but the water conditions are changing. Bait is plentiful, but our famous summer species are starting to thin in numbers as winter species like Jack Crevalles, Amber jacks and Snappers begin to move into the area. For now the fishing is still good, but with the changes that are happening now it could change things. The good news is Striped Marlin are moving in as we're seeing the beginning of another transition season.
First, fishing is always great in Puerto Vallarta, that's a no brainer. Fishing conditions are always in a state of change and we're getting ready to "change" again. Normally I hope for a few more weeks before this all happens. But again we're in a La Nina Year which means things get unpredictable. Take Corbetena this week, Blue water, plenty of bait and getting a fish to turn its head was difficult at best. Then one day Magnifico discovered the real bite was happening after 13:00 in the afternoon. It was like a light came on. There was another reason for this as well, massive amounts of tiny baits. Every species smaller than fifty pounds are just chowing down on these macaroni sized fish. Striped Marlin are moving in, they take larger live baits.
Dorado are still in the area as are Sailfish. Cubera Snappers are also taking trolled baits and Yellowfin Tuna 60 to 120 lbs are difficult, but there. Here's the secret, cold clean green water has taken over the area. About ten miles north of the rock, there is a drop off where it goes from 300 ft. to 700 plus feet down and this is where the blue water is and the fishing is best. Chunk / Chum with chopped up Skip Jack Tuna or Goggle eyes, mixed in with something that looks like fish scales and it could be a wonderful day. But keep an eye on the bite and water temperatures. Blue water is the secret. Another little secret is the midway point between El Banco and Corbetena is where you'll have a good chance to find blue water and big fish, feeling lucky?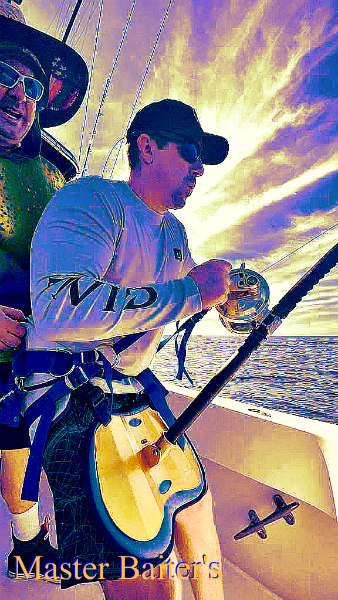 Moving in, clean green water is here as well, but Amber jacks are moving in around El Morro and the Marietta island area. Jack Crevalls from 30 to 50 lbs, Bonito and Sailfish possible if you can get them to turn their head! If you're off the point of Punta Mita, heading out 12 to 15 miles you'll most likely find blue water. Which puts you close to Corbetena. Punta Mita has been less than exciting, but things can change in a moment so keep your ears open amigos! UPDATE: The "Clean Green" water is thinning out and may already be a thing of the past. Blue water has returned outside of the bay. Suddenly Sailfish, Pompano, Snappers and Amber Jacks have moved in. Cold water species yes, but then again, it's December and these new species just add to the list of Gamefish available to you now!
Inside the bay still remains your best bang for your fishing dollar. Yes there is the "Clean Green" water here as well, but at the southern end of the bay is blue. In this area Dorado, Jack Crevalls, outside chance of Sailfish, Bonito and of course all kinds of Snappers and reef type fish around structure. Sierra Mackerels are small by comparison at 10 lbs, but they taste great and are fun for the smaller members of the family catching their first fish! I'd suggest six hours fishing and who knows, you may see some Whales while you're at it.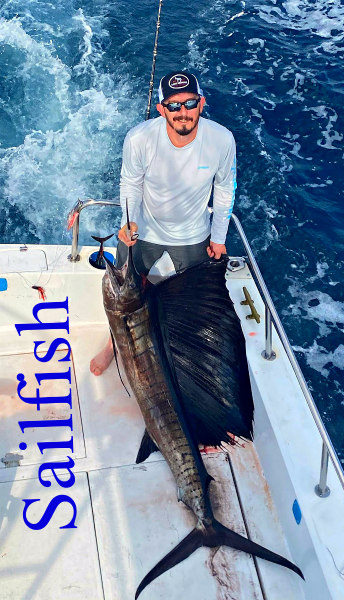 We are back to Sharing Boats again. You can now sign up for my weekly video fishing reports on YouTube. If you need tours, private or group, or even airport transfers, why not handle it all in one place, we make it easy!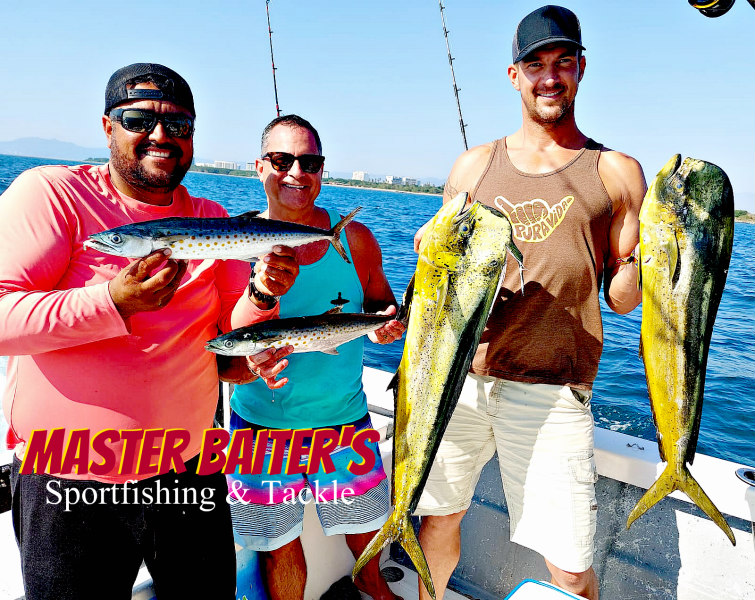 Until next week, don't forget to kiss your fish!
Web page: www.MasterBaiters.com.mx , Local Phone at: Our international number is: +52 322 209 1128. #MasterBaitersSportfishing on Instagram, Facebook: Master Baiter's Sportfishing & Tackle. The trade mark Master Baiter's ® Sportfishing and Tackle is protected under trade mark law and is the sole property of Stan Gabruk.