Written by: Stan Gabruk owner of Master Baiter´s Sportfishing & Tackle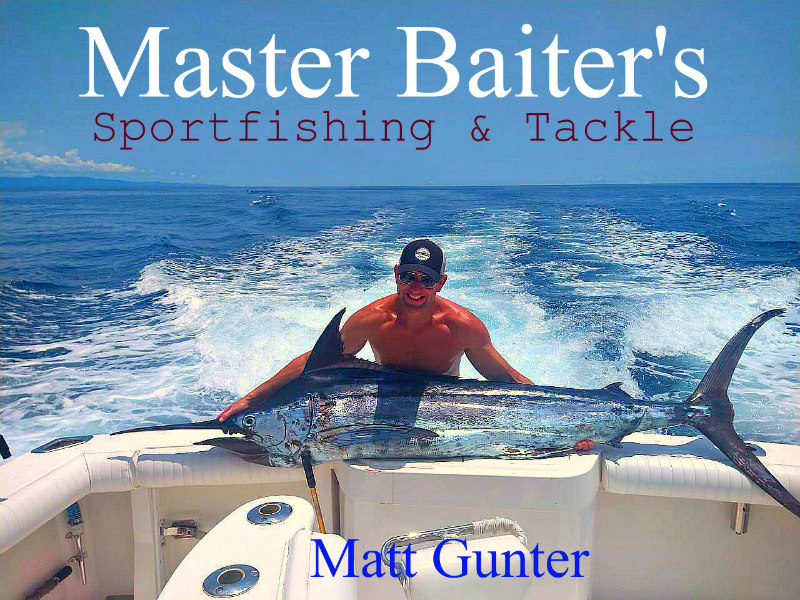 It seems every week that there are changes, but not often are these changes drastic. But change is a constant and one change this week is the arrival of Black Marlin and an increase in the number and size of the Blue Marlin. Dorado continue to be abundant but are increasing in size. Sailfish are all over our world famous fishing grounds. Bait abundant, perfect water temperatures and high visibility blue water. Our "High Season" for fishing is shaping up nicely as we enter August and some of the best fishing of the year!
Corbetena this week once again is much the same with some small changes. The most exciting change is of course the arrival of Black Marlin which are running 350 to 500 lbs. Believe it or not this is not "big" for Black Marlin, but they're still full of fight. Sailfish are larger and thicker in numbers, Dorado are up to 25 lbs with the average still be at 15 lbs. Bait is "crazy" available and frankly the fishing is fantastic. Yellowfin tuna are mostly in the 40 lb range this week but there are always larger ones in the area. No word on Spinner Dolphin. Cubera Snappers for the jiggers but not too many with warmer water temps. El banco could have much the same but we don't have any reports from this area. You may find a fishing wonderland at El Banco amigos, feeling lucky?
The area from El Morro to Punta Mita this week has seen a nice improvement in the availability of Sailfish, Blue and Black Marlin off the point and now we're seeing the arrival of some smaller but nice Rooster fish. Roosters are off Estela Dera and trolling a baby Bonito or baby Skipjack Tuna will have favorable results measured in arm burning action! With a mature trash line about 5 to 8 miles off Punta Mita the Sailfish are schooling around a nice Mature Trash line. Dorado of all sizes are there as well and around any floating log or debris. Blue Marlin and Blacks too are ten miles or so off the point and behind El Morro anything is possible. An eight hour trips is well worth the coin and the time and should remain as such for the following four to five months!
Around the bay things are normal for summer fishing. The bay is always alive with action, but with smaller action. Sailfish have been springing up around the trash line just before you come into the Yelapa area! Dorado are still smaller but a little larger this week from 15 to 20 lbs. Jack Crevalls and more Sailfish are off the marina in La Cruz. Lots of Skipjack Tuna around 8 lbs in the bay. For now you need a six hour trip in the bay to get to first tine the trash line then to work it. Four hours will still get you fish, but they'll most likely be Jack Crevalls and Skippies aka Skipjack tuna. Snook could be around the river mouths and of course anything can happen. Well worth a fun day on the water no matter what you are looking to do.
We're seeing a full moon and cloudy nights. It can work both in favor and against us. With white cloudy evenings it can reflect the city lights and the moon light that gets through so fish can be feeding all night in that scenario. If it's just thick clouds and black at night, that change how fish react. So bite could be a bit of a moving target. For now if not targeting Yellowfin Tuna he bite is about 09:00. If targeting Yellowfin tuna I'd be ready to fish at sunup or earlier. Water temperatures are constant this week at 85 degrees with plenty of blue water. We have has some rains lately, fairly heavy so this is helping with new trash lines helping the bait conditions as well. If trying lures the Guacamayos and Dorado colored lures are working but live bait is still king. Just a reminder at this time of the year so much floating obstructions we're all heading out about 07:00 so we can move a little faster with better visibility. Slower boats earlier get you to the fishing grounds at the same time.
Until next week, don't forget to kiss your fish!
Web page: www.MasterBaiters.com.mx , Local Phone at: (044) 322 779 7571 or our international number is: 011 52 322 209 1128 10 to 9 local time. #MasterBaitersSportfishing on Instagram, Facebook, http://www.facebook.com/pages/Master-Baiters-Sportfishing-Tackle/88817121325
The trade name Master Baiter's ® Sportfishing and Tackle is protected under trade mark law and is the sole property of Stan Gabruk.
Come check out our world famous T-shirts, hats and souvenirs in our Marina Vallarta Store