Yellowfin Tuna, Blue Water, Big Marlin
                                                                    ……All That And A Bag of Potato Chips
Written by: Stan Gabruk owner of Master Baiter´s Sportfishing & Tackle
It's nice this year to be able to report some great and improving action and conditions. For the last several years we've been less than happy with the way the fishing season started. Granted we've been dealing with the mother of all El Niño's, but that's over now. Water and bait conditions couldn't be better. It's low season as the thermometer continues to climb, hand in hand with heavy amounts of humidity. It may be the off season for tourism, but when it comes to fishing for world class species in world class fishing grounds, you need look no further. Yes folks High Season for Fishing is developing nicely
Believe it or not, things are much the same as last week, I don't mind some cookie cutter articles when the fishing is great. But we've had some nice "adjustments" to the fishing this week at El Banco or The Bank to us Gringos. For the last several weeks I have suggested any fishing grounds before el Banco as it's been dead, not the fishing machine we all know and remember so well. Everything will change if you give it enough time and "it's" been enough time. Having said that there have been some Yellowfin Tuna 3 to five miles to the west of the high spots in the 40 to 100 lb range, finally! There is a bit of a challenge as these YF Tuna are not exactly taking your bait easily or enthusiastically at all. There are tons of these tiny "shrimp cocktail" sized shrimps all around the bay. When you do get Tuna to take a bait, their stomachs are stuffed full of these tiny pink shrimp. Blue and Black Marlin are anywhere from 300  to possible over 600 lbs. Dorado, yes I said Dorado are hanging out around the high spots at 25 lbs. Sailfish are in the area and they have an appetite for dead baits,  go figure. All and all the fishing here is outstanding and lets face it, when El Banco is producing it can be hard to beat and "They're always bigger at The Bank"!
Corbetena this week is much the same as El Banco, but a little different. The Dorado at Corbetena are 25 lbs as well, but they're five miles before you come to the "rock". Naturally Corbetena is closer to Marina Vallarta than el Banco so the fuel expense is always a consideration. For now unless you're coming in from the north for some reason, the rock is producing and it's closer. You'll have to make a judgment call. Now remember there are some huge ridges between Corbetena and The Bank that have produced many a tournament winning Marlin so don't forget about these fishing grounds "in between".  It's rocking here right now, don't think, just get on a boat already!
The Marietta Islands remain disappointing once again this week. There were some reports of Rooster fish caught on the reef, we're not supposed to be there fishing, so that's an issue.  Bonito to 30 lbs, Jacks to 40 lbs, other misc. species. All and all not many reasons to hit this area. El Morro on the other hand, just a bit south is producing nice sized Sailfish and a few miles out from two dome rocks you'll find Dorado in the 25 lb range and we're thanking our lucky stars for this as last year it was the end of August before we saw any sustained Dorado run in the area. So this is a good sign. Needle fish are also picking up in numbers and are at 30 lbs. The point off Punta Mita has been on fire the last few days with nice sized Dorado to 30 lbs, Sailfish increasing in numbers daily and about three to seven miles off the point you have a strong chance of Blue Marlin and a stray Black Marlin in the 350 lb range. Maybe even a Striped Marlin, but the water temperatures are a touch warm for them, so they'll be heading north to Cabo where the water is always a touch cooler than PV.
Inside the Bay, with the seasonal rains and Hurricane activity we are seeing the return of the Trash Line. A band of seeds, weeds, leaves, twigs, you name it, it's organic and the smaller fish in the bay love it. It attracts smaller fish, and that attracts bigger fish, it's a beautiful thing. Football Yellowfin Tuna to 45lbs at Yelapa, but they're finicky, and they too are full of Red Tuna Crabs, tiny pink shrimps and the list goes on when it comes to available baits in the bay. Needle fish to 35 lbs, Sailfish in the Los Arcos area about three miles out, Possible Dorado to 15 lbs (possibly larger), Bonito at 30lbs and at the Ameca River mouth there have been some large Sea Bass over 35 lbs and looking for your bait. Jack Crevalls are still everywhere. The bay is a great value for everyone right now and it's almost criminal not to get on the water right now, we'll make it affordable.
Conditions  are always changing so I do what I can to keep you up to date when it comes to things that will affect your day(s), this week we see water temperatures hanging around the same level they were last week at 82 degrees Fahrenheit (or 28  degrees Celsius). Perfect for most species, no complaints about water temperatures and the water is a high visibility blue once you get close to leaving the bay. Bait conditions: It's a cornucopia of bait all around the bay. Flying fish 5 inch, Rainbow Runners (green and blue included), Goggle eyes, Tuna Crabs, Tiny pink Shrimp,
Bullet Bonito, Skippies and the list is incredible. With all this bait it can be a touch frustrating to them interested if you're at the right place, but the wrong time. The bite is still weird, anything can happen between 9 am and 3 PM. Get there early, be prepared, you'll catch fish amigos. Lures, I always say you should run a lure on the outrigger. The regular lures, old reliable are working so give it a try. Petroleros like normal of purple and green are working well as usual. Cedar plugs will work so don't be afraid to run one. Also try lures with blue and pink combinations. Red print is working well as are orange and black print combos. Things always change, but these colors are a good place to start.
We are seeing our big game species of Marlin and Yellowfin Tuna hanging around the deep water locations for extended periods now and this is a great sign. Coming out of El Nino this spring it was a washing machine for fishing with currents, wildly fluctuating water temperatures and available species at times limited to Bonito and Jack Crevalls. As yet we have not seen any Rooster fish move into the area now and they're about five months late now. Normally they will follow the Sardines, not so this past spring, surprising. So it's encouraging to see El Banco come back to life as we were wondering if it still had a pulse, it does! Fishing is a roller coaster, one day up, on day down. For now we're "Up" and it looks like it will be this way for the coming months, it actually looks like we could have a normal season this "fishing season", let's hope.
For those looking to participate in the Puerto Vallarta fishing tournament come mid November is already getting attention. If you're like to participate in this or any of the local tournaments Master Baiter's has reasonably priced world class boats and captains accustomed to winning tournaments. We are already seeing interest in booking boats for this famous local tournament. If you plan on coming down to the tournament and participating make sure you contact us at Master Baiter's, we can make it all happen. Come be part of Team Master Baiter's, the shirt alone would be worth the entry fee…. Ok, maybe not..Ha ha.
Special Announcement:  Master Baiter's is expanding and opening a new location on the Malicon, board walk to us gringo types, next to Sr. Frogs clothing stores at the Light House. We are very excited and will be putting new and different Master Baiter's Products we have not sold in many moons.  We open our doors on July 15th, we'll have a Grand Opening party so keep your eyes peeled. We will be getting back into our branded tackle and fishing products as time moves on. You will also be able to book fishing trips, book tours, or just get real information from real people. And remember, at Master Baiter's we won't sell you a timeshare!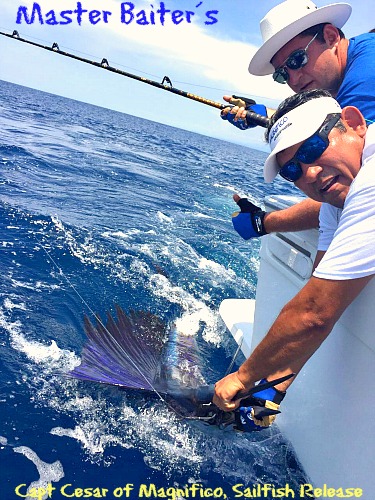 Shared Boats: We're still sharing boats, save some money and we'll try and fix you up with other nice people, $275 usd, half a super panga for eight hours, hit me up with an email and get your name on the list,  we'll do what we can to "Hook you up".  We are still smoking fish as well, we take half as payment, so it's free for clients. Jack Crevalls are many times considered a less than desirable fish for eating. Smoked jack Crevalls are great tasting especially with beer. Marlin, Sailfish also taste wonderful, Dorado is incredible… so keep this in mind the next time you give that trash fish to your crew. We'll come get it and leave you information on the whole process.
Until next week, Don´t forget to kiss Your Fish!
Tours: If coming to Puerto Vallarta and you plan on doing tours Benjamin can handle your request and put a whole fishing and tour package put together making your life easy and Ben a bit of a commission.
For those of you who don't know, Mexico has just increased fuel prices. They are being gradually increased so we're going to have to increase pricing to account for this soon. If coming to PV soon I would suggest you lock in lower prices that will be honored at a later date.
Master Baiter´s is located in Marina Vallarta between docks A and B on the boardwalk
Web page:  www.MasterBaiters.com.mx , Local Phone at: (044) 322 779 75 71 Facebook: http://www.facebook.com/pages/Master-Baiters-Sportfishing-Tackle/88817121325
The trade name Master Baiter's ® Sportfishing and Tackle is protected under trade mark law and is the sole property of Stan Gabruk.