"What goes up, must come down", or so the old saying goes. In the world of fishing, the equivalent saying would be "Fishing is Fishing". What that means is you never really know what the conditions are going to be until you get "out there". That was the case this week. After last week and the drastic increase in water temps, the fish were shocked and they took off. Now with the same water temperatures we're seeing our deep water fishing grounds of El Banco / Corbetena are beginning to look like 15 yrs. ago. Even inside the bay has seen some surprising species, throw in a trash line and abundant bait and you've got close to a fisherman's dream.
( Please be sure to subscribe and share with your interested friends, appreciated!)
For the first time in a long, long time, we're going to start with El Banco, that's right folks El Banco after years of disappointing fish counts is showing a stronger and stronger pulse. It looks like the "good old days". We're seeing Yellowfin Tuna in the 40 to 60 to possibilities of over 100 lbs of pure arm burning action. Finally I can suggest El Banco and a 12 hr. trip to "fish city". Corbetena is much the same, but the tuna are just a touch smaller. At both locations we're seeing Blue Marlin moving in. For now the Blues are about 300 to 450 lbs, they're taking bait and they'll be increasing in size as the weeks and months move forward. Dorado, yes Dorado in the 25 lb range have been boated off the High spots of El Banco, but not many as yet. With floating trash lines all over the place form the heavy seasonal rains, Dorado are possible all over the place. Pick a location, Dorado will most likely be there. Now they may be on the smaller side, but we're sportsmen and we throw the younger females back, always! Keep the bulls, the females are always full of eggs and when you kill a female, you kill hundreds of potential future catches. Sailfish are also in the area as are Striped Marlin. Highly unusual to have Stripers in 86 degree water temperatures. Only real reason this is happening is the super abundant and varied baits available. We've seen some swells from wind in the afternoons, but the water is blue, warm and full of bait. Not a bad place to start. Time to hit El Banco and Corbetena. Now remember, be prepared to move water, anyplace between The Rock and El Banco are fertile fishing grounds and 258 miles apart! Many times a tournament winner will be pulled from the "in-between" areas. So think area, not specific location! I didn't mention anything about Black Marlin, but they're out there. It's "off season" for tourism, it's hot and humid, so there are few boats heading out these days. For now you can have world class fishing grounds pretty much to yourself, priceless…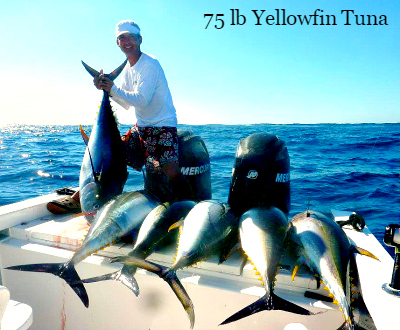 Surprisingly Rooster fish have finally, after about two years now, have shown up in decent size ranges from 30 to 40 lbs around the Punta Mita area. From El Morro to eight miles off Punta Mita on the heading of 330, you will find Sailfish, Dorado in the 15 lb range and up, Striped Marlin and Blue Marlin. Many trash lines throughout the area, even more debris. Point of caution, if heading out before sunup, be aware of dead heads or obstacles under the water line heading out. No hot-shots heading out quickly or you'll be looking for new supports, shafts and props! Leave early, go very slow, out past the bay things open up. Take care and enjoy your day amigos, but first and foremost is always safety.
Inside the bay, it's a "fish Disneyland". With several rivers we have more trash lines than you can count. I get asked all the time what a "trash line" is. To answer that question, a "trash line" is the small organic debris that comes down the mountains in the form of leaves, twigs, seeds and everything else you can imagine. In front of the "debris and organic trash" you will have blue water. Behind the trash line you'll have coffee colored water with silt from the Adobe Mountains surrounding the area. The dirty water can be only a few feet thick, so fish will feed under and in front of this dirty water. Diamond jigs, poppers and Rapallas are perfect lures to use along with smaller baits. So there you go amigos, confusion gone. With the Trash Line we're seeing smaller Dorado, 10 lbs and up, babies. Sailfish have even been boated in the bay, Sierra Mackerels to 20 lbs, Bonito to 30 lbs, even Jack Crevalls. Mostly smaller fish in the bay, but then again these days anything is possible so be prepared. It seems the "hot spots" are a moving target. For that reason a four hour trip is not as good as a six hour trip, it allows you to find Dorado in the bay.
So it's obvious that the fishing in the Puerto Vallarta area is picking up as we'd expect. As we move into the August and September Marlin and Tuna will only pick up in size and numbers. It's exciting to see what is happening in the area. It appears the Mexican Gov.'s new law to require licenses to export Dorado seems to be helping the number increase. With Rooster fish returning in the Punta Mita area, it's another indication of positive fishing energy. So we've got any style or species right now you could hope to catch. Perfect for the family, the professional and everyone in between.
Out world famous Yellowfin Tuna Fishing grounds are still producing like a machine. From now until Mid-January you can boat a world record Yellowfin Tuna every time your line hits the water and this is no baloney! 250 lb YF Tuna are an average right now, with Marlin, Sails and every other species on your bucket list. We've got some great and affordable 2.5 day options as well as 3.5 day trips in pure luxury on a party boat budget!
The bite is still happening around the 10:00 hour, so sleep in or go slow, they both work. Water temperatures look to have dropped a touch to 86 degrees, we'll take it! Live bait is working well, but running a Petrolero or Ballyhoos would work to your advantage. It's exciting out there and the fishing is great by any measurement. We wait all year for this August to arrive, don't let it pass you buy and let some other guy catch your bucket list finned fantasy!
Until next week, Don´t forget to kiss Your Fish!
Web page: www.MasterBaiters.com.mx , Local Phone at: (044) 322 779 7571 or our international number is: 011 52 322 209 1128 10 to 9 local time. #MasterBaitersSportfishing on Instagram, Facebook, http://www.facebook.com/pages/Master-Baiters-Sportfishing-Tackle/88817121325
The trade name Master Baiter's ® Sportfishing and Tackle is protected under trade mark law and is the sole property of Stan Gabruk.