The "years" between May and mid-June can seem like forever as we wait for the summer species to replace the cold water fish that for the most part are still in the bay! Water conditions are great. Plenty of bait, plenty of sun, smooth seas and now we're seeing Blue Marlin coming in. Corbetena is showing some hopeful signs of Yellowfin Tuna, Striped Marlin and Green Runners of good size. But the exciting news to me is we have Yellowfin tuna at Corbetena and around El Banco!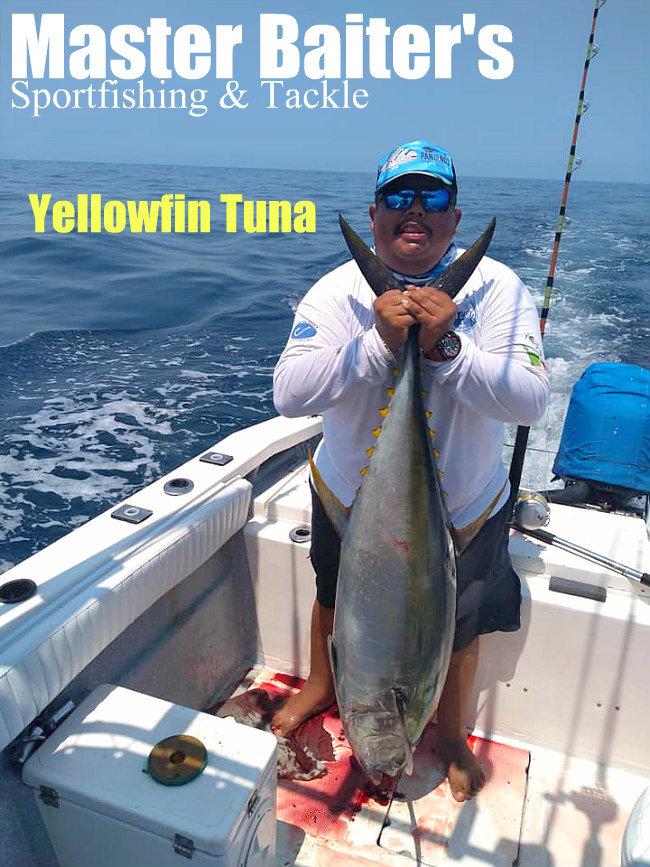 We normally hear about specific locations, Corbetena, El Banco, El Morro, and the golden Triangle as I like to call it. Last week it was pretty much the same conditions. Now why is this important, because your best chance to boat a Blue Marlin, Sailfish, or Yellowfin Tuna is in between these three specific points. Or in the golden triangle. So what this means if you're looking to catch fish of any size, you'll be moving some water, or I should say using fuel! These days in the war against increasing prices, most boats are selling area, not fishing. That's a problem, fish move. The cheaper or average priced boats I should say scrimp on fuel. I can't blame them, trying to keep fishing prices down in an expensive sport is difficult at best. You got that, when you're paying lower prices, you're not actually paying to catch fish, you're hoping there are fish in the area you paid to get to. In the world of fishing these are two different worlds. Heading out slowly is another way to save fuel at your expense. You may ask yourself, then what if there are fish a few miles away, will we go for them? Good Question, my first point is unless you speak Spanish, there is no real way of you knowing fish are in the area. Your captain, not looking for a conflict between and his boss will not say anything!? It's at that moment you begin to understand what you paid for. Remember, fish move, they don't stay in one area and you have to be ready and willing to use fuel to get to where the fish are today. To me this is a problem because people expect the best effort. For now, to be sure, If you're not paying for a full tank, you're not really in the game. With fuel at California ever increasing cost it's important to understand the cost associated with a real fishing trip where you go to where the fish are. These guys running boats are not making a fortune and they struggle to make a profit and still get clients. You'd be better off spending a few hundred dollars more and get a fishing trip! Not just a location. Something to think about amigos. You won't hear this from anyone but me, so again, keep that in mind, know the product you're purchasing, enough said for now.
As I say this, I can't report every single area, so we work with set locations like Corbetena and El Banco. Speaking of which these locations are now showing signs of "summer" as we have Sailfish starting to pick up. Blue Marlin have started to trickle in at both Corbetena and El Banco! Yellowfin Tuna are running 60 lbs or so, but there are some in the 100 lb range. Sailfish are thin in numbers, but we're not going to complain. Green runners to 45 lbs. Put Jack Crevalls and Bonito to 25 lbs and you've got a day of action. But again, it could cost you fuel to find the fish, not just a location. Good luck!
Now we're seeing lots of sea weed and floating debris coming down from northern storms. If you can find some debris don't ignore it, you could be passing up 20 lb Dorado. Now if you're looking for Dorado, the area around Punta Mita to El Morrow it's very possible. If not around floating debris Dorado will be small, 10 lb average. Sailfish are north of Sayulita of decent size and of course there are still Striped Marlin but with warming water temperatures they would be expected to go north toward Cabo. But this isn't happening because of massive bait in the bay!
Jack Crevalls are still in the bay, Sierra Mackerels, Bonito to 25 lbs, Striped Marlin as well. The Stripers are thinning out after the last three weeks of surprising strong fishing in the bay, but to me Stripers in the bay is kinda "freaky". If looking for Dorado it may be difficult, but they're picking up in numbers. Six hours are still your best bang for your fishing dollar right now (Corbetena could change this if Tuna continue to pick up in size and numbers).
We've seen the bite move back to later in the morning around 10:00 a.m., so sleep in a bit. Water temperatures are still at 81 degrees but this will gradually increase in the coming weeks. Now when it comes to bait, just too much to list, but to name a Sardines, Flying fish, small shelled Squids at Corbetena and El Banco. If running lures, you know by now there are basically three you should start with. For now Guacamayos, Petroleros are the best lures to start with. Funny thing has been dead bait has been working as well so you never know what these fish will hit, so start there, keep trying until something works?!
Until next week, Don´t forget to kiss Your Fish!
Web page: www.MasterBaiters.com.mx , Local Phone at: (044) 322 779 7571 or our international number is: 011 52 322 209 1128 10 to 9 local time. #MasterBaitersSportfishing on Instagram, Facebook, http://www.facebook.com/pages/Master-Baiters-Sportfishing-Tackle/88817121325
The trade name Master Baiter's ® Sportfishing and Tackle is protected under trade mark law and is the sole property of Stan Gabruk.