Our Best Fishing in Two Years, It´s Fish City in PV!
Written by: Stan Gabruk owner of Master Baiter´s Sportfishing & Tackle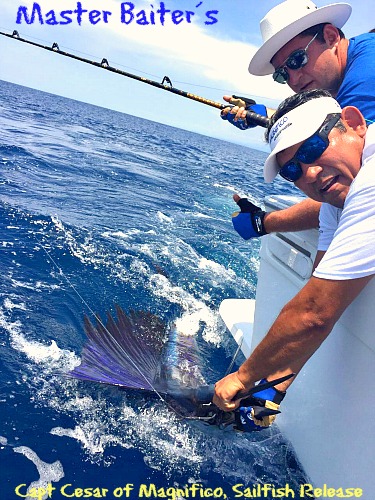 Puerto Vallarta is not one of those tropical destinations that just gradually warm up after the preferable climate of winter. No we just sort of start warming up mid May, then BOOM it´s June and it´s hot and humid. Now I say hot and humid to the California types, to the Houston, Florida and other humid areas, PV is mild to your summer standards. But when it does get warm, the warm currents come with it and with the currents come Puerto Vallarta´s Fishing Reputation as being one of the top ten fishing locations in the world! Right now Puerto Vallarta is living up to that reputation with abundant ¨Bucket List¨ trophy gamefish and happy Anglers, YeHa!
The report this week is much the same as last week, with small variances that make a difference. At Corbeteña it´s been another spectacular week. Yellowfin tuna are no longer over 100 lbs, what we´re seeing now is Spinner Dolphin moving into the area and with Spinners we normally find Tuna running with them. And they´re running anywhere from 20 lbs to 60 lbs. Smaller yes, but great tasting and large numbers of these smaller succulent YF Tuna are fun to catch, they don´t take hours to boat, the meat has a great flavor and remember everything counts in large amounts! Then we have Blue Marlin starting at 400 lbs and up, Black Marlin at 600 lbs, Striped Marlin to 225 lbs, Sailfish of trophy size are picking up in increasing numbers, Amber Jacks at 50 lbs, Cubera Snappers to 60 lbs and more! Bait is off the hook and readily abundant, get the bait in the morning, but check the bait in the area when you arrive at the fishing grounds to see what baits are in the area. Mahi Mahi or Dorado are moving into the area now, not many to speak of around the rock, be patient, next week this should change, more to come. With the fishing this good, it´s insane to wait for things to get ¨better¨.… YF Tuna of any larger sizes, that would be better but not much… stay tuned.
El Banco, normally these two areas will be about the same, with small differences. This week is no different with the simple fact they´re seeing Yellowfin Tuna to 60 lbs when you find the spinners. Remember, if you´re looking for big fish, they´re normally larger at El Banco if they´re ¨there¨. El Banco can be temperamental, but for now, it´s well worth the time, fuel and verbal abuse you´ll receive from the ¨little woman¨ for taking off on the spot to catch some world class fishing! And don´t forget the area in between these two locations, many a tournament winning fish have been caught ¨in between¨.
Those with a limited budget will still find world class action around the point off Punta Mita. Eight to twelve miles off the point on a 285 heading you´ll find nice sized Dorado in the 25 to 35 lb range (mostly 25 lbs). Sailfish are everywhere and surprisingly thick, Striped Marlin to over 225 lbs. Rooster fish in the surf line and around the reefs, but not like two weeks ago. Still this eight hour trip is affordable and full of action! Around the Marietta Islands you´ll still find the normal players of Bonito to 35 lbs, Jack Crevalls to 40 lbs, Amber Jacks to 30 lbs and with some luck you could run into a Dorado or Sailfish.
Inside the bay we´re about the same as last week, but a little different. It´s the subtle differences that make all the difference. One strange thing is Sailfish are all over the bay! Now I can remember reports where I have said it´s impossible to find Sailfish in the bay, well these days I have changed my tune. I know of at least eight Sailfish that were brought in and many more hook-ups that were lost. Right now you´ll find Sailfish around Los Arcos, Mid Bay, La Cruz, and points in between! Jack Crevalls are still the dominant species to 45 lbs. The trash line is in when we have rain and small Dorado of 10 lbs have been feeding on this organic trail mix nicely. Bonito to 35 lbs, Football YF Tuna to 40 lbs at Yelapa, Snapper in front of the River mouths with Snook to 25 lbs. The list goes on, you can´t lose fishing in the bay so grab the family and have some fun.
Water temperatures are still a perfect 84 degrees. Around the bay the water is mostly clear green, not bad, the fish don`t seem to mind, but once you get five miles off the point of Punta Mita it´s all High Visibility Blue water! Baits: most of the Marlin this week were caught on dead bait (surprised me) and lures. Marlin like the Blue with pink marking or Petrelaros of green, brown, purple skirts! Sailfish are looking for Green with Yellow color combinations. Start with these colors in your pattern. Bite: It´s been a moving target lately, the last few days it´s been 11:00 to 1:00 before they seem to get serious about taking baits, so sleep in, be patient and it will all pay-off amigos.
In Summary: With the way things are forming up, it looks like we could have larger and more abundant Dorado in the coming days. Remember it was August last year before we saw ten pound babies while San Diego got the bulk of our Dorado. This year it looks like we´ll be in a more normal pattern. Striped Marlin in the area to me is a little surprising since they normally like the cooler waters of Cabo. Last I heard Cabo waters were still chilly so we´ll consider this a ¨windfall¨ and be thankful in PV for that. Very seldom will you have the three different species of Marlin, we have all in the same area at the same time. Sailfish are thick and will be thick until January, but not normally in the bay!! Yellowfin Tuna it´s still a little early for us, but we´re knocking on the door for Prime time Tuna Fishing so stay tuned.  And as always we´ve got some great summer deals for family fishing so call us and let's get you on the water!
Right now we´re running a special for the month of July, 4 hrs, four people max, Ice, bait, captain, crew, licenses, on insured boats with English speaking captains is only $250 usd for a ¨Full Service¨ fishing Trip. You´ll have a shot at Striped Marlin, Sailfish, Rooster fish in the surf and around reefs, and with some luck Dorado. For those looking to just get on the water and do some basic fishing our 4 hr trip from Marina Vallarta to Los Arcos trolling for smaller game fish is only $195 usd, four people, same as the 250 trip but you´ll be limited on distance. Air fares are cheap, hotels are all running specials and the fishing grounds for the most part is still empty.
Until next time, don´t forget to ¨Kiss Your Fish¨. . .
Master Baiter´s is located in Marina Vallarta between docks A and B on the boardwalk. Email your Questions to me at: CatchFish@MasterBaiters.com.mx  Web page:  www.MasterBaiters.com.mx  , Local Phone at: (044) 322 779 75 71 or if roaming: 011 52 1 322 779 75 71 cell phone direct. Come like me on Facebook: http://www.facebook.com/pages/Master-Baiters-Sportfishing-Tackle/88817121325
The trade name Master Baiter's ® Sportfishing and Tackle is protected under trade mark law and is the sole property of Stan Gabruk.